Donald Trump spokesman Michael Cohen made such a bold claim to CNN anchor Jake Tapper Monday that it had the cable news host asking one just question: "Seriously?"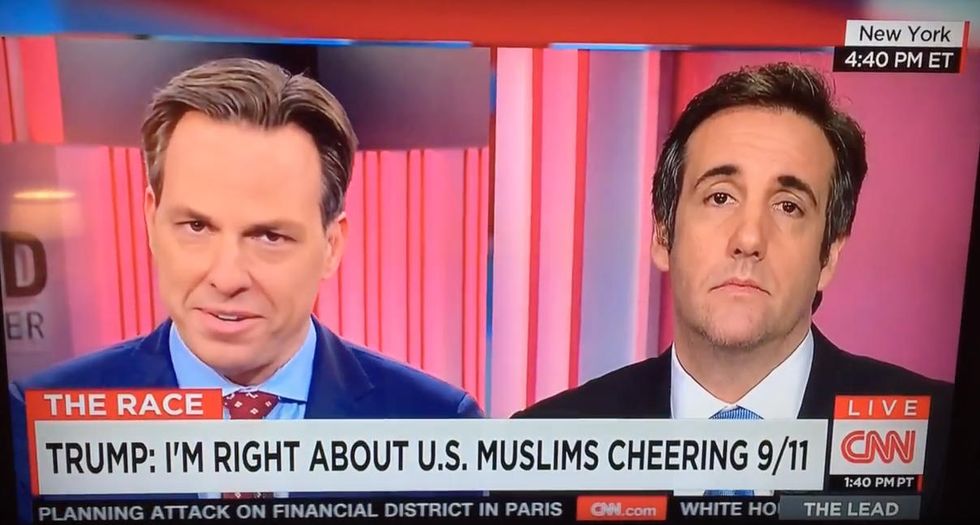 Image source: YouTube
Cohen was defending the Republican front-runner's statement that he saw "thousands" of people in New Jersey on 9/11 "cheering" as the twin towers came down. But as Tapper noted, there is no known evidence of that ever happening.
"How do you explain that there's no evidence — no video evidence — for what Mr. Trump claims he saw on television?" Tapper asked.
Cohen first disputed that there isn't any evidence and then praised his longtime boss' "fantastic" memory.
"I'm not so sure that's true, and I've worked for Mr. Trump now for a long time, and I can tell you that Mr. Trump's memory is fantastic and I've never come across a situation where Mr. Trump has said something that's not accurate," Cohen said.
Tapper was about to move on to the next question but, before he did, pressed the Trump spokesman on his bold assertion.
"Seriously?" Tapper said.
–
Follow Jon Street (@JonStreet) on Twitter