© 2023 Blaze Media LLC. All rights reserved.
"He doesn't believe the things that he's saying."
During his self-titled radio program Tuesday morning, Glenn Beck compared Republican presidential front-runner Donald Trump to Saul Alinsky, a famed socialist and alleged mentor to President Barack Obama.
Beck made the comparison after radio co-host Pat Gray said of Trump, "Everybody is afraid of him. The media, I think, is afraid to talk about him right now. The other candidates are afraid to talk about him."
According to Beck, it is because Trump will "isolate" and "polarize" anyone who takes issue with him.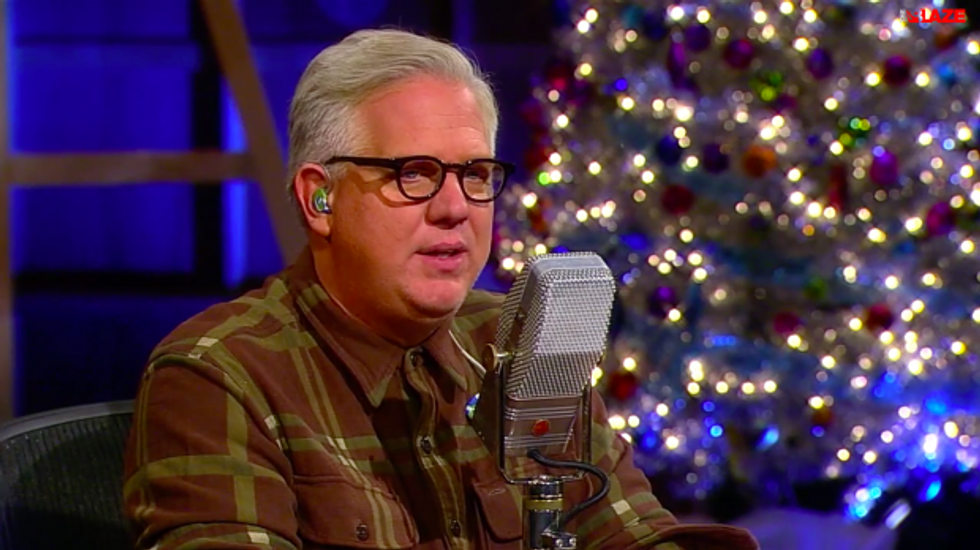 Image source: TheBlaze TV
"He is Saul Alinsky," Beck said. "He will isolate and polarize you, and he will take you out."
Beck went on to say he believes the real estate magnate spends money with Tea Party groups and churches to "own them."
Later in the show, Beck said the GOP is "making themselves a horrible, horrible bed" if they "run campaigns against him." Beck was likely referring to former Republican Party strategist Liz Mair's proposed plan to rally other GOP candidates against Trump.
"WSJ reports that GOP getting ready to treat me unfairly — big spending planned against me," Trump tweeted last month after hearing about Mair's proposition.
Should the party launch an attack on Trump, Beck believes it clears the way for the billionaire to launch a third-party bid, which he ultimately said could be intentional in order to receive "massive payback" from the Clintons.
"What are the odds that he is a spoiler?" Beck asked. "What are the odds that he got into this because he's friends with the Clintons and he'll get massive payback? ... Can you imagine if Hillary Clinton gets in because he ran third party, do you know the favor they're going to owe him?"
Beck said that Trump's candidacy "makes no sense" unless he's looking for favors from the Clintons, claiming that the GOP hopeful does not actually believe the political things he's saying on the campaign trail.
"He doesn't believe the things that he's saying," Beck said. "Like you said, 2012, 'Mitt Romney is too extreme on the border.' Now he is a 'round them up and put them in camps' kind of guy. Where did that happen? How did that happen?"
During the 2012 presidential cycle, Trump blamed the GOP's "mean-spirited" rhetoric about immigration for Republican presidential nominee Mitt Romney's loss.
"It's more logical to believe that [Trump is expecting massive payback] than he's all of a sudden changed and he had no pivot point in his life to change like this," Beck concluded.
Complimentary Clip From TheBlaze TV The full episode of The Glenn Beck Program, along with many other live-streaming shows and thousands of hours of on-demand content, is available on just about any digital device. Click here to watch every Glenn Beck episode from the past 30 days for just $1!
—
Follow Tré Goins-Phillips (@tregp) on Twitter
Want to leave a tip?
We answer to you. Help keep our content free of advertisers and big tech censorship by leaving a tip today.
more stories
Sign up for the Blaze newsletter
By signing up, you agree to our
Privacy Policy
and
Terms of Use
, and agree to receive content that may sometimes include advertisements. You may opt out at any time.