Mark Benden's father owned a machine shop and when he was just 12 years old, he started to work alongside him.
"I was probably the last generation of a true father-son apprentice in a trade situation," Benden told TheBlaze.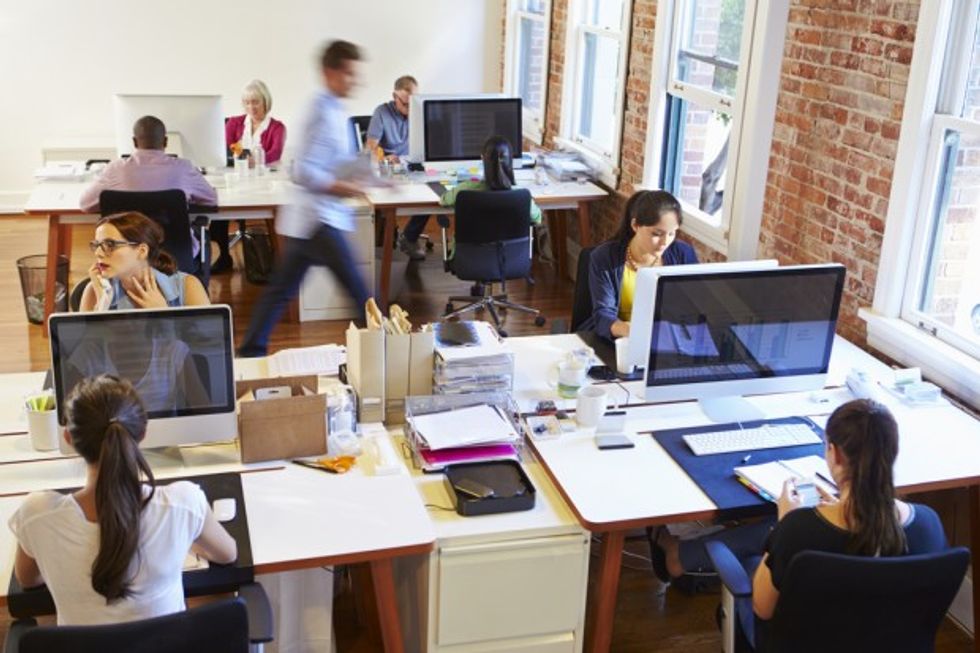 Many studies have shown the ill effects of a sedentary lifestyle. Further research is showing the benefit of standing on both calorie burn and engagement in school children. (Photo credit: Shutterstock)
He also remembers very distinctly once sitting down on the job to work on a metal part. That's when "old timers" called him out.
"What are you doing?" he remembered them asking.
When he explained to them the obvious, that he was sitting down while working, they said, "No you're not, you can't work sitting down."
"To them it was a complete insult that I would attempt to perform my job while seated. That's for break and lunch time," Benden, now an associate professor at the Texas A&M Health Science Center School of Public Health, said.
"Stand up," they said.
Benden said he remembers a lot of the same mantras when he was in the U.S. Army, like "Get on your feet!'
But between the time when Benden was working in his father's shop and in the Army to present day, something shifted.
Many jobs became more sedentary and focused around computer work. Outside of work, entertainment activities that encouraged sitting over movement — television, video games, tablets and the like — became more popular as well.
And then there's the fact that there was a whole movement to make chairs more comfortable and ergonomic for optimal sitting.
In fact, Benden was part of that movement and said he now feels guilty about it.
"We got carried away. We did a little bit too well," Benden said of creating comfy chairs.
Dozens of studies published in recent years have found that sitting too much can result in an increased risk for various diseases, such as cancer, cardiovascular disease, type 2 diabetes and more.
Benden has returned to his roots and is now researching the possible benefits of standing vs. sitting.
He has not only published several studies and a book on the topic, but he says he now looks at how uncomfortable he can make a chair.
"[I want people to] use it as a break, but you're not in it all day," he said.
The standing desk movement has taken office culture by storm and is moving into other traditionally seated realms as well. A 2012 New York Times article reported that office furniture maker Steelcase saw a fivefold increase in sales for its standing and treadmill desks at the time.
"It started out very small, but it's not a niche market anymore," Allan Smith, Steelcase vice president for product marketing, told the Times.
Benden though takes it a step further, saying it's not just standing that's important but moving. In fact, he said if he had to rewrite his book — "Could You Stand to Lose? Weight Loss Secrets for Office Workers" — today, he would title it "Could You Stand to Move?"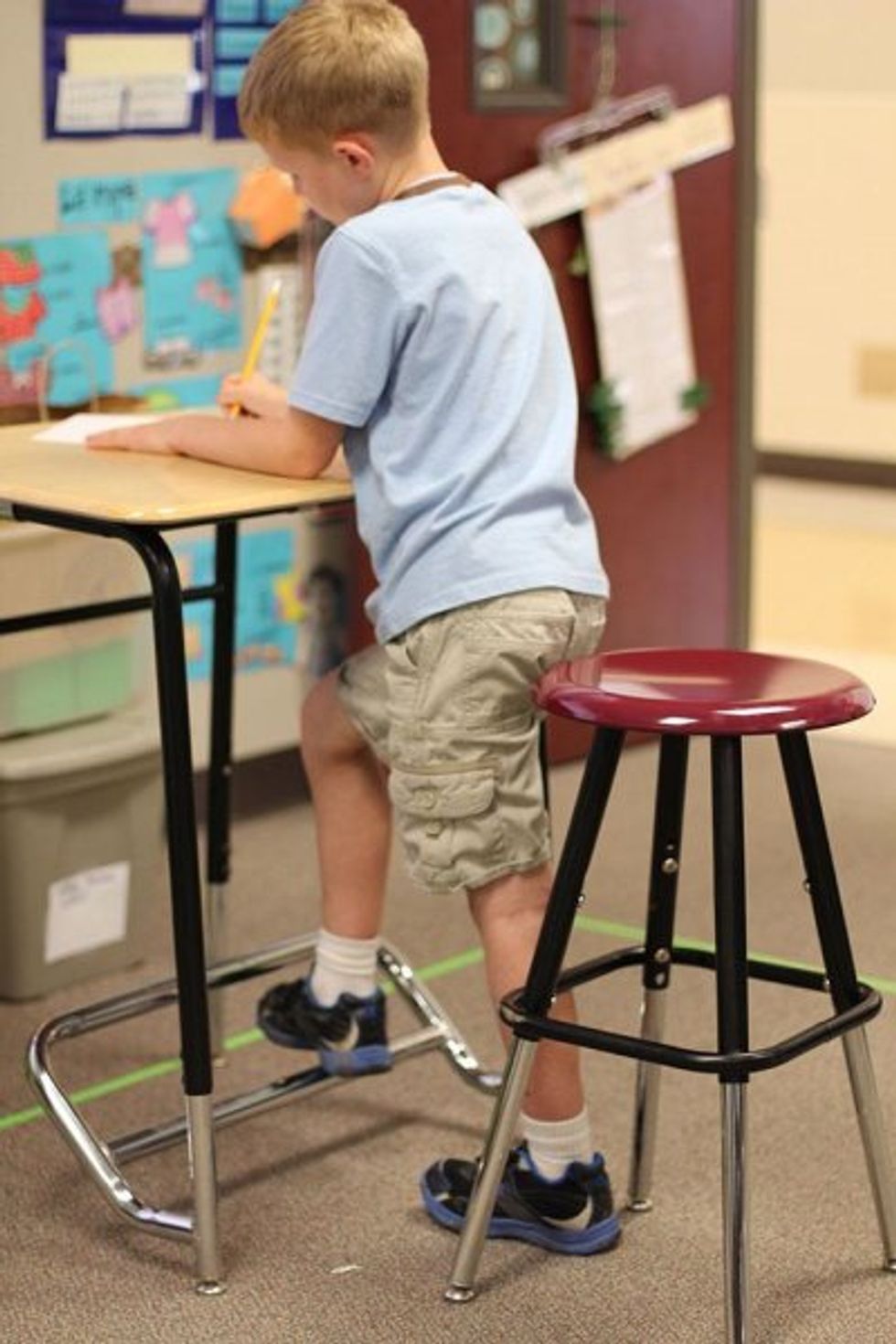 Photo credit: Texas A&M
And Juliet Starrett count not agree more on this front.
"We have a saying that your best position is your next position," Starrett, a Crossfit gym owner in San Francisco who has championed bringing standing desks into school classrooms, said. "The goal is to create an environment where kids and adults alike can move a lot."
Founding Stand Up Kids, a nonprofit organization dedicated to bringing standing desks into schools, Starrett helped Vallecito Elementary School in San Rafael, California, become the first all standing desk school.
For kids in these classrooms, standing is the norm and sitting the exception. Instead of standing still like a statue though, they're moving side to side or using a wiggle bar, and that's exactly what Starrett and Benden are going for.
A study by Benden and other researchers at Texas A&M published in 2014 found that elementary school students who used standing desks burned 15 percent more calories than those using seated desks. Obese children saw an even more dramatic increase in calorie expenditure, burning 25 percent more.
Knowing that childhood obesity and preventing other health issues are only one side of the coin, Benden and his team conducted research on the role of standing on cognition. The study involved IQ tests, measuring oxygenation levels, tracking brain activity and more.
Benden said he and his colleagues saw the same increase in cognition in students who used standing desks as those who had an exercise-oriented after school program.
On an anecdotal level, Edie Hedge-Dalton, a teacher who used standing desks for five of her 18 years in the field, said she noticed an increased level of focus among her students when they used them.
"I always felt like they performed better on tests, they were more engaged and focused [when standing,]" Hedge-Dalton said.
Benden's research confirmed this too. In a study published earlier this year in the International Journal of Health Promotion and Education, the research team saw that elementary school students were 12 percent more engaged with in the classroom while at a standing desk. This, according to the study, translates to an extra seven minutes of attention to instruction per hour.
Engagement was so strong in some of the classrooms participating in Bendon's studies, he said, that a teacher called him out of the blue and told him she was mad at him.
Why?
"This is first time I'm finishing one of my lessons before Thanksgiving, and I am mad because I've got to go write some more lessons," Benden recalled the teacher saying.
Hedge-Dalton also noticed that when a traditional seated desk was the only option, like in the computer lab, many of her first grade students of their own volition pushed their chairs aside and opted to stand. Parents were telling her that they had a hard time getting their child to sit even at the dinner table.
Watch this report on the standing desks in elementary schools:
Last year, moving from Texas to Arkansas, Hedge-Dalton said she was sad to leave the standing desks she had grown to appreciate behind.
"It was really really difficult for me to teach that year. There were a lot of things different, ... but I really missed the standing desks. I felt like they were an asset in my classroom," she said.
Don't think you or your kids live a sedentary lifestyle? You might be surprised when you tally up all the time you spend sitting and Stand Up Kids has an online calculator to help you tabulate it.
At this point, Starrett's organization is hoping to raise $1 million in donations so it can receive a matching grant. If that goal is met, each time a teacher requests standing desks, their project will be 50 percent funded by the grant. The other 50 percent to purchase the desks, they will need to crowd-fund on their own.
"This is a single fixed cost. They will last 15 to 20 years — that's thousands of kids over the lifetime of the desks," Starrett said. "This could have a significant, major health impact on kids' bodies and minds."