Republican presidential candidate Texas Sen. Ted Cruz slammed opponent Florida Sen. Marco Rubio by likening him to Hillary Clinton and "Washington neo-cons" — especially with regard to foreign policy positions and Libya.
In an interview with Bloomberg Politics, Cruz hit his fellow Cuban-American on foreign policy and excoriated his views as "military adventurism."
"Senator Rubio emphatically supported Hillary Clinton in toppling [Muammar] Qaddafi in Libya. I think that made no sense," Cruz told Bloomberg Politics while in Iowa. "Qaddafi was a bad man, he had a horrible human rights record. And yet ... he had become a significant ally in fighting radical Islamic terrorism."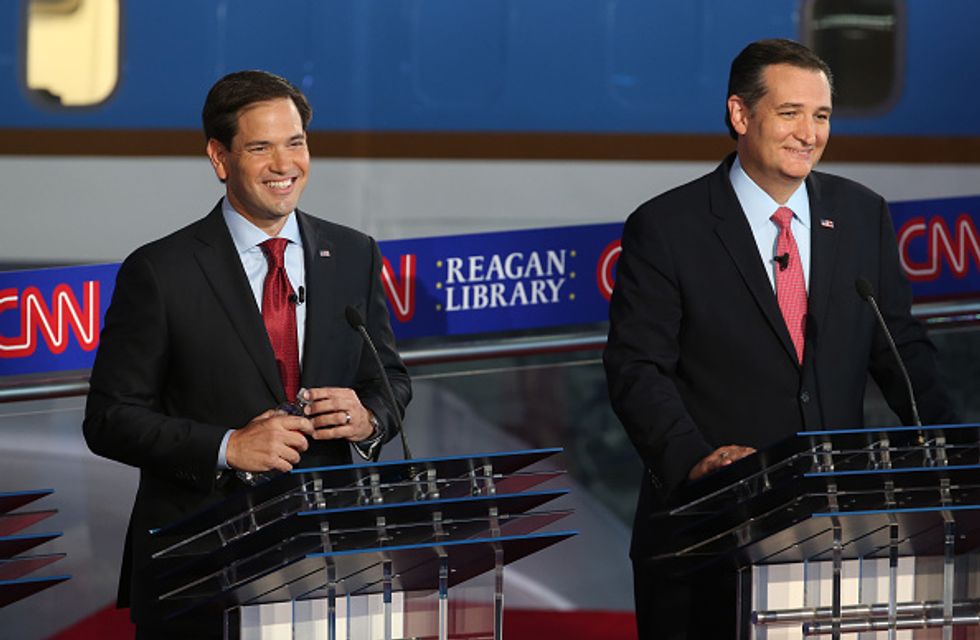 Republican presidential candidates Sen. Marco Rubio (Fla.) and Ted Cruz (Texas) appear onstage during the GOP presidential debates at the Reagan Library in Simi Valley Sept. 16. (Justin Sullivan/Getty Images)
"The terrorist attack that occurred in Benghazi was a direct result of that massive foreign policy blunder," the Texas senator said.
According to Bloomberg, Cruz aimed at presenting himself as a candidate midway between Kentucky Sen. Rand Paul's non-interventionist policies and other pro-interventionist positions such as that of Rubio. 
"If you look at President Barack Obama and Hillary Clinton and for that matter some of the more aggressive Washington neo-cons, they have consistently mis-perceived the threat of radical Islamic terrorism and have advocated military adventurism that has had the effect of benefiting radical Islamic terrorists," Cruz said.
Rubio's campaign spokesman, Alex Conant, declined to address most of Cruz's attacks to Bloomberg Politics and instead focused on surveillance.
"While Senator Cruz voted to gut US intelligence programs and make Americans less safe, nobody has shown a better understanding of the threats we face in the 21st Century than Marco," Conant said.
(H/T: Bloomberg Politics)