President Barack Obama has announced that he will veto a bill pending in the Senate that would defund and reverse parts of Obamacare, including money for Planned Parenthood, and reduce deficits by $130 billion over 10 years.
"This legislation is being considered by the Senate just days ahead of the December 15 deadline for Marketplace coverage that starts on January 1, 2016. Rather than refighting old political battles by once again voting to repeal basic protections that provide security for the middle class, members of Congress should be working together to grow the economy, strengthen middle-class families, and create new jobs," said the veto threat message from the Office of Budget and Management Wednesday. "If the President were presented with H.R. 3762, as amended by the Senate amendment, he would veto the bill."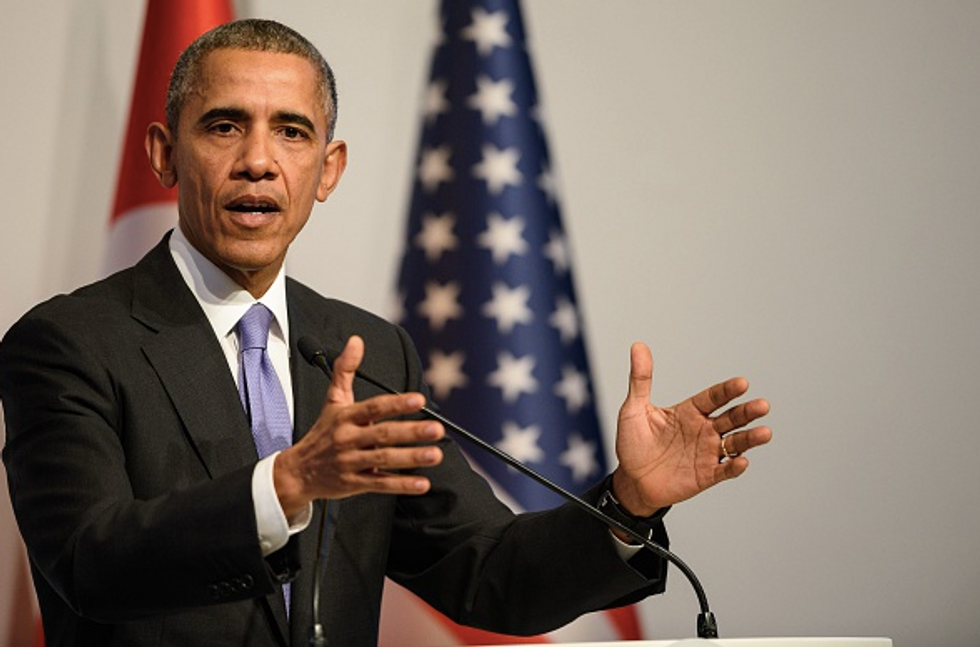 Ozan Kose/AFP/Getty Images
The bill would reverse much of Obamacare, including cutting the employer mandate, eliminating the "Cadillac tax" and redirecting federal funding of Planned Parenthood.
"Repealing key elements of the Affordable Care Act would result in millions of individuals remaining uninsured or losing the insurance they have today," the veto message said. "An estimated 17.6 million Americans gained coverage as several of the Affordable Care Act's coverage provisions have taken effect — 15.3 million since the beginning of the first open enrollment in October 2013."
Senate Majority Leader Mitch McConnell (R-Ky.) brought the bill to the Senate floor Tuesday night and spoke about it Wednesday morning.
"It resulted in millions of cancellation notices for hardworking Americans who had plans they liked, and who'd done nothing wrong. It raised premiums, co-pays, deductibles, and taxes for Americans who were already struggling. It restricted choice and access to doctors and hospitals for patients in need. We see the pain and hurt of this law all across the country. We see it where we live," McConnell said on the Senate floor. "In my home state of Kentucky, health costs have spiked. Obamacare first caused tens of thousands of Kentuckians to lose the health care plans they were promised they could keep during the first year of implementation, then victimized 50,000 more when the commonwealth's much-vaunted Obamacare co-op collapsed. Obamacare has also contributed to Kentucky hospitals being forced to cut jobs, reduce wages, and even shutter altogether."
The Congressional Budget Office and the staff of the Joint Committee on Taxation estimated the legislation would decrease deficits by about $130 billion over the 2016-2025 period.
The bill would also prohibit federal funds for one year for Planned Parenthood, which includes its affiliates, subsidiaries, successors, and clinics, while hiking funding to community health centers by $235 million in each of fiscal years 2016 and 2017.
The veto threat asserted this would "limit women's health care choices, and disproportionately impact low-income individuals."