American voters are far and away more concerned with homegrown terror than they are Syrian refugees or "radicalized visitors," a new Quinnipiac poll released Thursday found.
According to the poll, 58 percent of Americans cited United States citizens turned radicalized jihadis as the greatest terror threat facing the U.S.
Meanwhile, only 16 percent said they that believe Syrian refugees are the greatest threat, while the other 17 percent said "radicalized visitors" currently pose the greatest terror threat to the U.S.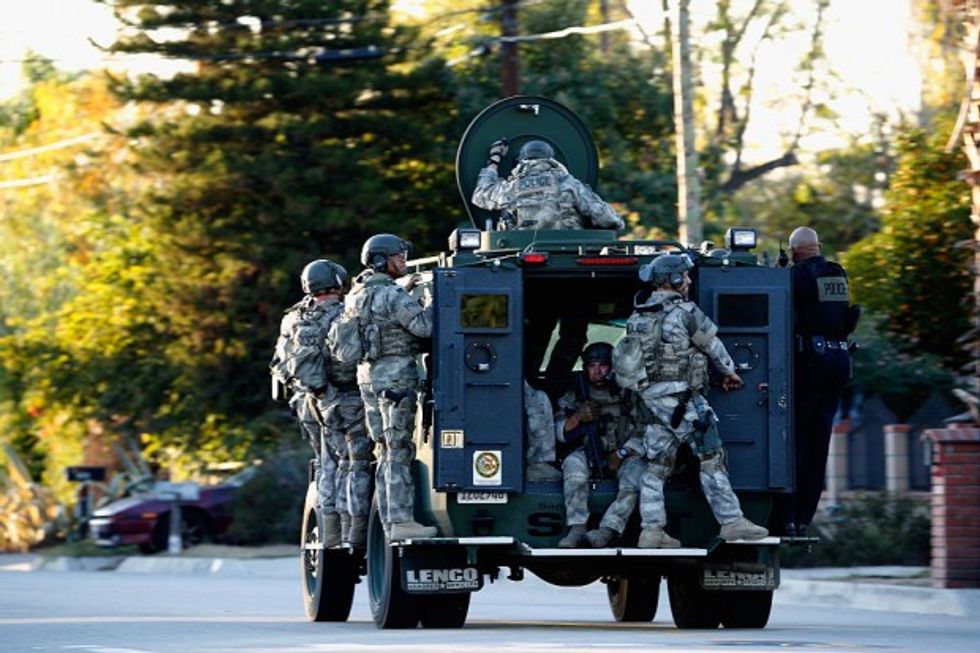 SWAT officers enter an area where suspects were believed to be after the shooting at the Inland Regional Center, December 2, 2015. (Getty Images/Sean M. Haffey)
Despite the solid majority not being as concerned about Syrian refugees, a majority of respondents, 52 percent, still said Syrian refugees should not be relocated to the U.S., and 69 percent also said they support a stricter screening process for Syrian refugees entering the country.
Overall, 62 percent of respondents said they believe the U.S. and its allies are losing in the war against the Islamic State, and most Americans, 54 percent, support sending U.S ground troops to fight the Islamic State.
When asked if those on terror watch lists should have their Second Amendment rights restricted, the poll found that 77 percent of American voters support changing gun laws to ban those on terror watch lists from purchasing guns. That question even had bipartisan support — 76 percent of Republicans and 83 percent of Democrats agreed.
Asked whether they believe there will be another terror attack on U.S. soil where a "large numbers of lives" are lost, 83 percent said yes.
The survey of 1,453 registered voters was conducted between Nov. 23-30. The overall margin of error was +/- 2.6 percent.
—
Follow the author of this story on Twitter and Facebook:
[facebook //www.facebook.com/plugins/like.php?href=