DETROIT (TheBlaze/AP) -- It's a play Mike McCarthy says the Packers practice every Saturday - because they've been victimized by this type of desperation heave in the past and want their defense to be prepared to stop it.
"I'm not real happy when the offense gets the ball," the Green Bay coach said.
But McCarthy needed the Hail Mary to work this time, and the Detroit Lions gave Richard Rodgers a bit too much room in the front of the end zone.
Rodgers came down with the 61-yard toss from Aaron Rodgers for a touchdown with no time on the clock Thursday night, giving the Packers a 27-23 victory. Detroit appeared to have the game won when Aaron Rodgers was tackled about 75 yards from the end zone, but Lions defensive end Devin Taylor was called for a facemask, giving the Packers one more chance from their own 39.
Watch the incredible play here:
61 yards. One Throw. This is how one of the craziest finishes in NFL history went down. #GBvsDEThttps://t.co/01AamoDd8J

— NFL (@NFL) December 4, 2015
The Lions, fearing the Packers (8-4) would start lateraling and force Detroit to make a tackle, did not put 6-foot-5 Calvin Johnson in the game for defensive purposes. Detroit had plenty of people in the end zone, but the Lions may have misjudged the high throw. Linebacker Josh Bynes dropped back away from Richard Rodgers to cover another potential target, allowing the tight end to drift into the end zone and haul the ball in at the front of a pack of players, with no Lions in great position to knock the pass down.
"It's written in the playbook that my job is to box out and Davante (Adams) is supposed to jump and I'm supposed to wait for a tip," Rodgers said.
There was no need for all that.
After the touchdown, the Packers took a knee rather than kick an extra point.
Green Bay (8-4) is now only a half-game behind first-place Minnesota in the NFC North. The Lions (4-8) had a three-game winning streak snapped.
"You live for days like this," Rodgers said after the game.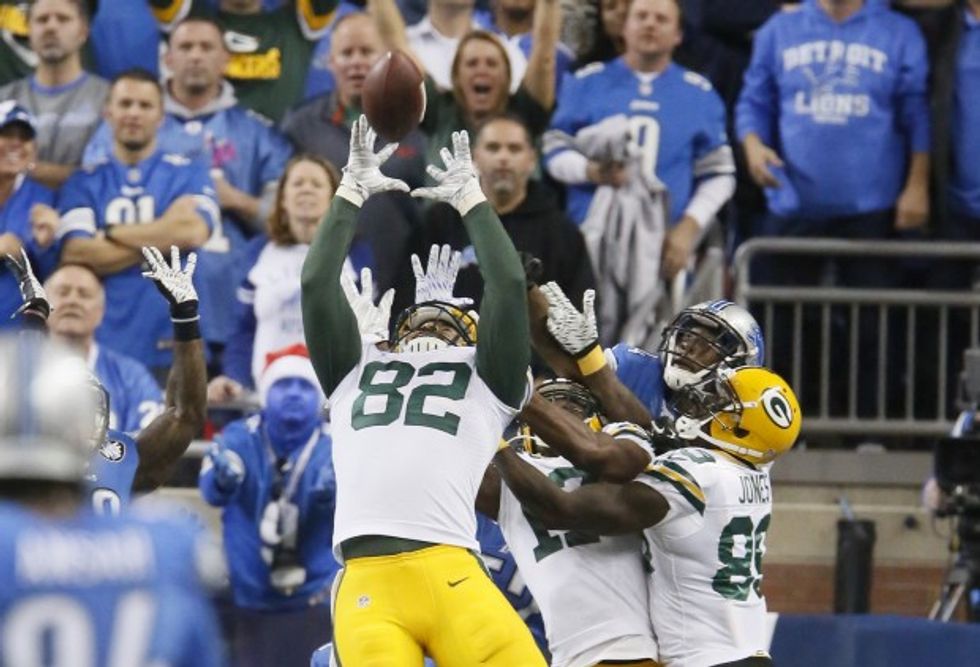 El jugador de los Packers de Green Bay Richard Rodgers (82) se estira para atrapar el pase ganador del juego en la última jugada de un partido de NFL contra los Lions de Detroit, el jueves 3 de diciembre de 2015 en Detroit. Los Packers derrotaron a los Lions 27-23. (AP Foto/Duane Burleson)
There were 6 seconds left when Green Bay snapped the ball from its own 21. Aaron Rodgers threw to James Jones about 20 yards downfield, then the Packers began lateraling. The ball got all the way back to Aaron Rodgers near the original line of scrimmage, and for a split-second, the game appeared over when the Lions closed in on him.
Taylor, however, was flagged for a facemask, giving Green Bay an untimed down.
Here are a few things we learned from Green Bay's dramatic victory:
HISTORICAL PARALLEL: Richard Rodgers' father played a role in another famous game-winning touchdown. Richard Rodgers Sr. threw two laterals on the final play of the Cal-Stanford game in 1982, when the Golden Bears went through the Stanford band and reached the end zone.
The younger Richard Rodgers - and Aaron Rodgers - both went to Cal as well.
"When I saw it, I knew I had a chance to get it." - Richard Rodgers #GBvsDEThttps://t.co/lQuZzOq7kv

— NFL (@NFL) December 4, 2015
DEFENSIVE PUSH: Green Bay's banged-up offensive line is in rough shape. Taylor had two sacks as part of a Detroit front that was overwhelming at times.
"It appeared that he was a force out there for an extended period of time," Lions coach Jim Caldwell said.
Green Bay guard T.J. Lang (shoulder) and tackle Bryan Bulaga (ankle) were inactive for the game, and center Corey Linsley left in the first half with an ankle injury.
COMPLAINTS: Caldwell disputed the facemask call. A replay appeared to show contact, but it wasn't excessively violent.
"It was called, so therefore it is and we've just got to find a way to make the play," Caldwell said.
LUCKY BOUNCE: The end of the fourth quarter wasn't the only point when fortune smiled on the Packers. Their first touchdown of the game came when Green Bay running back James Starks fumbled into the end zone, and receiver Randall Cobb fell on the ball for a TD.
CRUCIAL SCRAMBLE: The Lions looked out of sorts defensively on a crucial scramble by Rodgers. He ran for a 17-yard touchdown on third-and-long to make the score 23-21 Detroit with 3:04 remaining.
---