The term "radical Islam" has a connotation that the U.S. is at war with a religion, Democratic presidential candidate Hillary Clinton said Sunday as she defended her refusal to use the phrase.
Appearing on ABC's "This Week" Sunday morning, host George Stephanopoulos pressed Clinton on her refusal to use the phrase radical Islam — especially in the wake of recent terrorist attacks.
"Radical elements who use a dangerous and distorted view of Islam to promote their jihadist ambitions, I'm fine with that. I say it all the time, and I go after Islamic, too," Clinton said.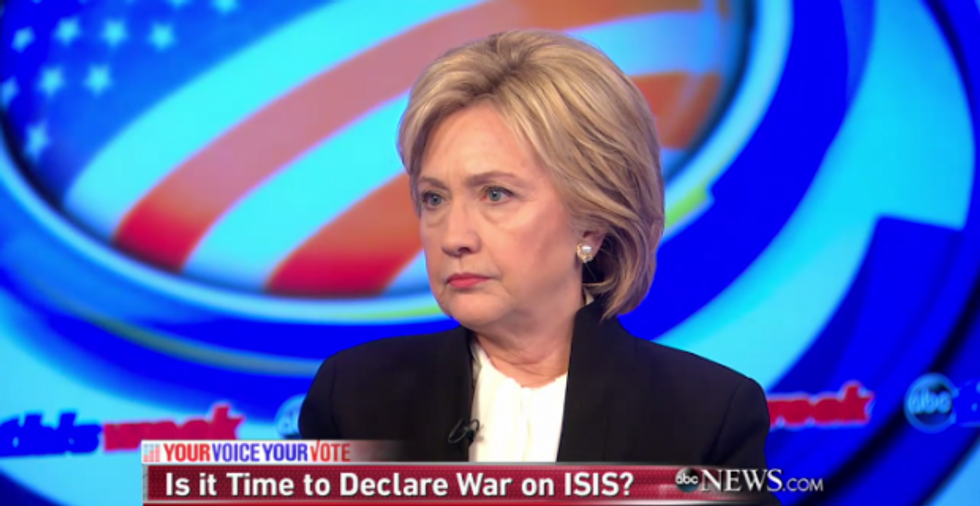 Image source: ABC News
Stephanopoulos pressed further, asking the presidential candidate directly, "what's the problem with radical Islam?"
"Well, the problem is that that sounds like we are declaring war against a religion," the former secretary of state said. "And there are radicals, people who believe all kinds of things in every religion in the world."
Clinton continued with stating that she did not want to use the term because "it doesn't do justice to the vast numbers of Muslims in our country and around the world who are peaceful people."
"It helps to create this clash of civilizations that is actually a recruiting tool for ISIS and other radical jihadists who use this as a way of saying we're in a war against the West," she said. "You must join us. If you are a Muslim, you must join us. No. If you're a law-abiding, peace-loving Muslim, you need to be with us against those who are distorting Islam."
Watch Clinton's interview below.