WASHINGTON (AP) -- There were no new policy prescriptions, no fresh military strategies and no timelines. When President Barack Obama seized the spotlight for a rare prime time address Sunday night, he came with one major message: It's going to be OK.
Standing in the Oval Office, Obama sought to calm nerves and quiet a chorus of critics who charge the president has been too slow to acknowledge the threat posed by Islamic radicalism and too tepid in his response.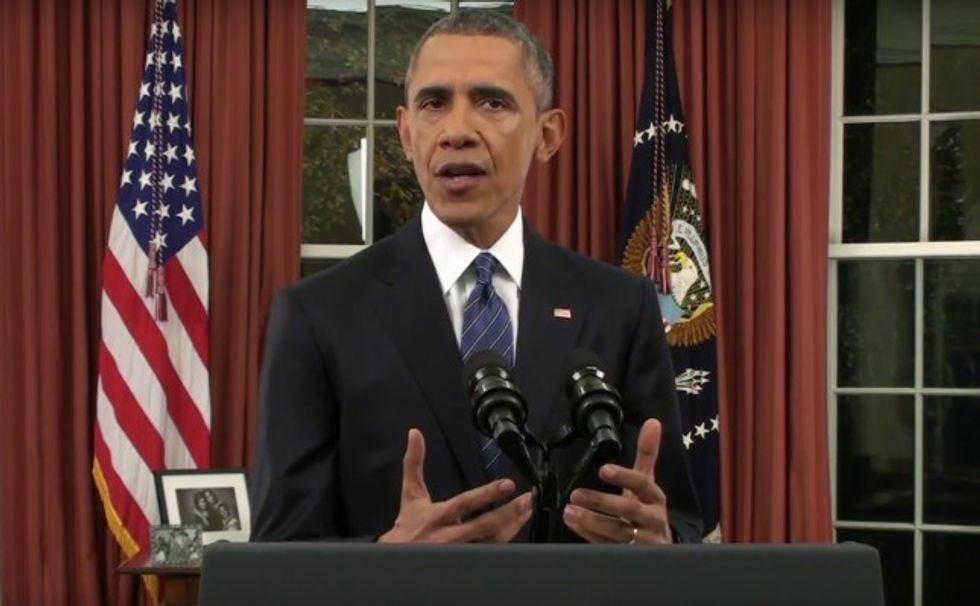 (Image source: YouTube/WhiteHouse.gov)
"The threat from terrorism is real, but we will overcome it. We will destroy ISIL and any other organization that tries to harm us," he said, using an alternative acronym for the Islamic State group. "... We will prevail by being strong and smart, resilient and relentless. And by drawing upon every aspect of American power."
Obama's short address - just 13 minutes - underscored the simple message, one that seemed to conflict with the iconic, high-profile setting. Obama has used the Oval Office as a backdrop, a favorite of past presidents, just three times since taking office seven years ago.
But the lack of new policies underscores the White House's confidence in the current approach and a paucity of good alternatives. Obama is disinclined to make dramatic changes in reaction to current climate of fear. One senior administration official, who asked for anonymity to discuss strategy, said the speech was primarily aimed at explaining the president's current plan to ordinary Americans who've been rattled by the rash of attacks in Paris, the Sinai Peninsula and, most recently, San Bernardino.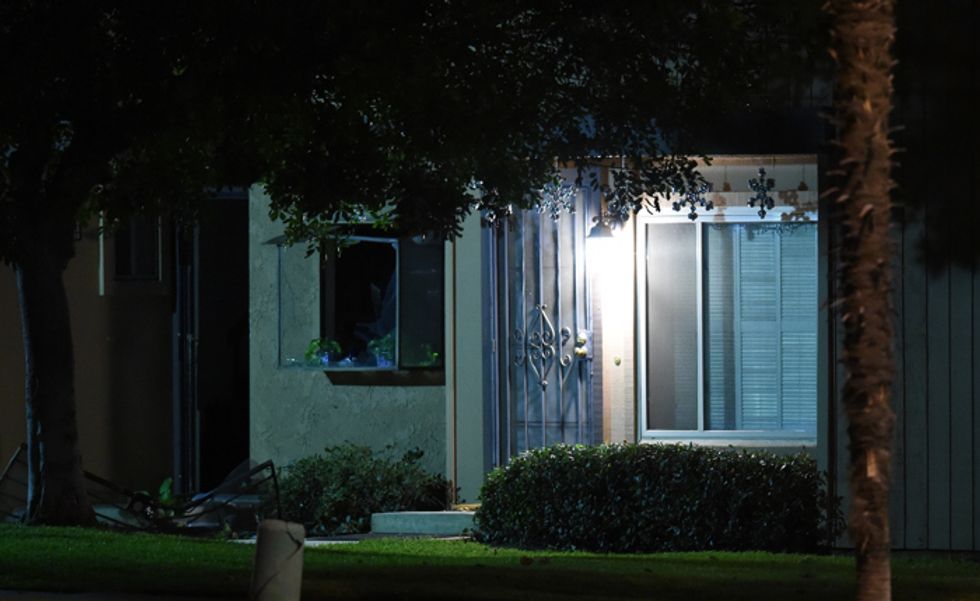 A broken window and crushed fence is seen at a home in Redlands, California linked to the San Bernardino shooting suspects after a SWAT team went in to investigate, in the early hours of December 3, 2015. Redlands police, SWAT, FBI and other law enforcement agencies served a warrant at the home after receiving a tip about a suspicious vehicle at the residence believed to belong to a shooter. A heavily armed man and woman killed at least 14 people and injured at least 17 at a social services center in nearby San Bernardino on December 2, 2015 before the suspects died during a shootout with police. (Photo credit: ROBYN BECK/AFP/Getty Images)
Obama spoke four days after that deadly massacre - and 48 hours after the FBI first described the case as a terrorism investigation. The delay led Republicans to charge him with failing to acknowledge the attack on his watch, a criticism Obama answered clearly on Sunday.
"This was an act of terrorism designed to kill innocent people," he said.
Despite the rash of violence, Obama argued his strategy is appropriate for what he dubbed a "new phase" of terrorism. He argued the U.S. is successfully targeting IS leaders, infrastructure and financing, while Western allies are contributing more to the fight. The effort to train and equip Iraqi and Syrian forces will continue, he said. Meanwhile, diplomatic efforts to forge a cease-fire in the Syrian civil war are making slow progress, Obama said.
But Obama's address failed to quiet his critics.
GOP presidential candidate Jeb Bush told MSNBC's "Morning Joe" that the president should have outlined a "strategy that was much more comprehensive" and been more persuasive "that we're at war with Islamic radical terrorism."
The president's most specific policy announcement was to order a review of the fiancée visa program that the female shooter in California used to enter the U.S.
Obama said he would urge private companies and law enforcement leaders to work together to ensure potential attackers can't use technology to evade detection. But he did not call for legislation to curb the use of encryption, a tool some law enforcement authorities have long sought.
The president also called on Congress to pass new authorization for military actions underway against IS in Iraq and Syria and to approve legislation to keep people on the "no-fly list" from buying guns.
"What we can do, and must do, is make it harder for them to kill," he said.
Obama's gun push has no chance of passing a Republican-led Congress. The Senate last week rejected legislation barring people suspected by the government of being violent extremists from purchasing firearms. Gun-rights advocates say such a ban would violate the rights of people who haven't been convicted of crimes.
Sen. Marco Rubio, R-Fla., dismissed Obama's remarks as "silliness."
"I think not only did the president not make things better tonight, I fear he may have made things worse in the minds of many Americans," Rubio said. "This is not a time for ideological silliness, this is a time for serious action because the future security of our country is at stake."
But Congress and the presidential candidates haven't coalesced behind an alternative. Lawmakers have refused to formally authorize use of force against IS.
Obama repeated his long-standing opposition to an American-led ground war in the Middle East and made no mention of the more aggressive action others have suggested, including enforcing a no-fly zone and safe corridors in Syria. He notably called on Muslim leaders to confront extremist ideology "without excuse."
But Obama's speech was not intended as a policy debate. Instead, it sought to draw the nation's eyes to the problem of terror and reassure Americans he has a plan for addressing the chief foreign policy crisis of his presidency - however briefly.
He dashed from the Oval Office to change from his suit to a tuxedo. Just 18 minutes after his address, Obama slipped into the rear seat of his armored limousine and he was off to a night of festivities at the Kennedy Center.