A national atheist activist group is doubling down on its quest to remove complimentary copies of the Bible from hotel rooms across America, calling on the hospitality industry to "be more hospitable to non-Christian and nonreligious clientele by offering 'bible-free' rooms."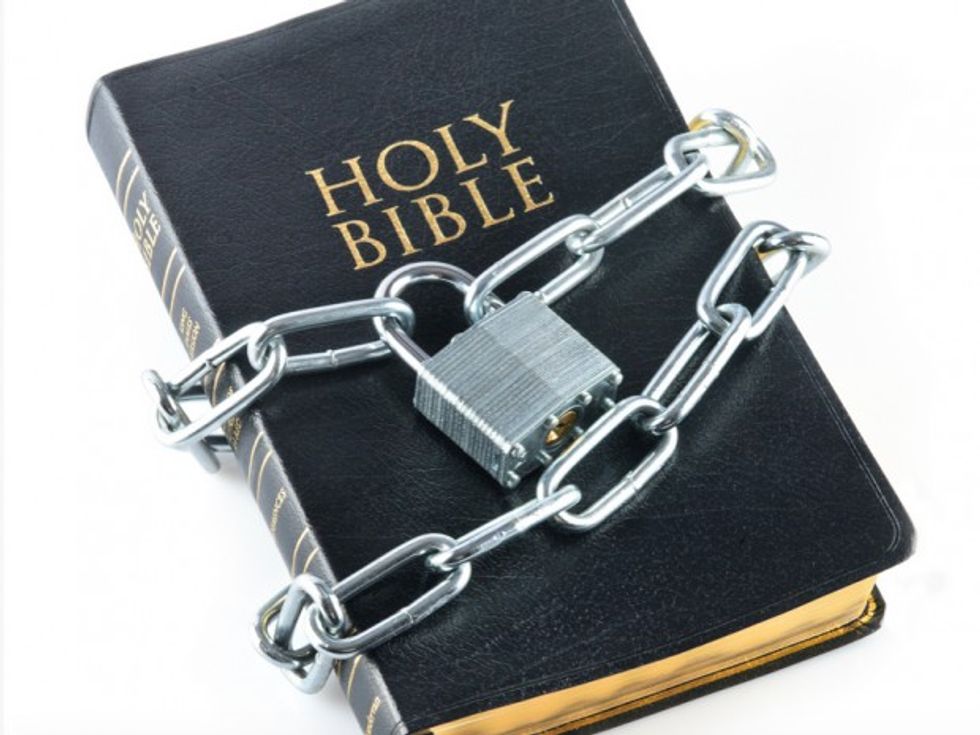 Photo credit: Shutterstock
In a major push back against Gideons International, a Christian organization that places Bibles in hotel rooms free of charge, the Freedom From Religion Foundation, a secular activist group, sent a letter this month to 15 companies that collectively run 33,000 hotels, requesting that the holy book be removed from guest rooms.
"Those who must read the bible every day will surely take precautions to travel with their own copies," wrote Dan Barker and Annie Laurie Gaylor, co-presidents of the Freedom From Religion Foundation. "The rest of us deserve a break from mindless evangelizing when we are on vacation."
The atheist leaders, who are also husband and wife, went on to warn the companies that many of their guests are atheists or agnostics and that these people are "deeply offended to be charged high fees only to be proselytized in the privacy of their own bedrooms."
But the two weren't done there, going on to take aim at some of the messages that they perceive as being embedded in the Christian scriptures.
"The Bible calls for killing nonbelievers, apostates, gays, 'stubborn sons' and women who transgress biblical double standards," they continued.
The letter notes that other companies like Travelodge — a U.K. hotel chain that is different from the U.S.-based hotel company with the same name — have removed Bibles from all of their hotel rooms to avoid upsetting non-Christians, encouraging others to follow suit.
Travelodge makes the Bibles available upon request at the front desk, a representative told TheBlaze last year.
The Freedom From Religion Foundation sent the letter to the following companies, as per a press release: Hilton Worldwide, Wyndham Worldwide, Intercontinental Hotel Groups (Holiday Inn), Choice Hotels International (Quality Inn), G6 Hospitality (Motel 6), Marriott International, Best Western, Carlson Rezidor Hotel Group (Radisson, Carlson, Country Inn) and Starwood Hotels and Resorts (Sheraton).
The atheist group is no stranger to seeking the removal of Bibles from hotel rooms, but recent cases have involved public universities; this more recent letter appears to be an attempt to tackle new ground in placing pressure on businesses that allow Gideons Bibles in their guest rooms.
Photo credit: Shutterstock
Most recently, the couple convinced the Holmes Student Center Hotel at Northern Illinois University in DeKalb, Illinois — a public college — to remove Bibles from guest rooms.
And as TheBlaze previously reported, the Freedom From Religion Foundation previously encouraged at least three other universities — Penn State University, the University of Wisconsin and Iowa State University — to remove Bibles from their hotel rooms as well.
--
Front page image via Shutterstock.com.
--
Follow the author of this story on Twitter and Facebook: