The father of suspected gunman Syed Farook has been placed on the federal government's terror watch list.
According to ABC News, the elder Syed Farook — who previously spoke to the media regarding his son's obsession with the Islamic State and hatred of Israel — has been placed on the list as officials try to learn more about the married couple who opened fire on a holiday party at a social service facility last week, killing 14 and injuring more than one dozen.
"The FBI has identified him [the younger Farook] as a known terrorist," an official told ABC News. "He's dead. But he is now known as a terrorist. His father is an immediate family member who spent extended periods of time in Pakistan. He's watch listed."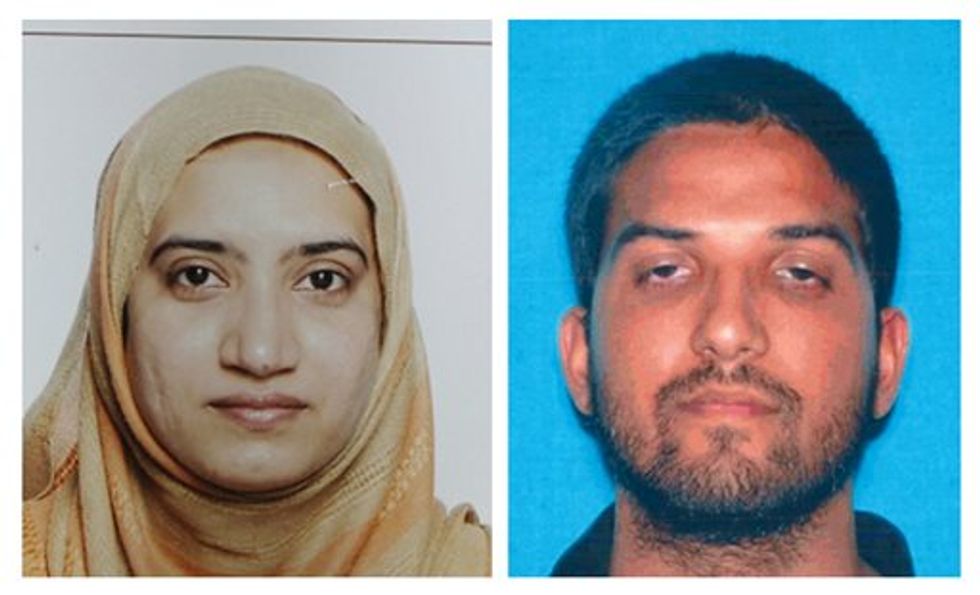 This undated combination of photos provided by the FBI and the California Department of Motor Vehicles shows Tashfeen Malik, left, and Syed Farook. (FBI, left, and California Department of Motor Vehicles via AP)
The elder Farook reportedly arrived in the U.S. in 1972 and became a naturalized citizen in 1999.
A former senior counterterrorism official told ABC that it is not unusual for family members of known terrorists to be placed on the watch list as a precautionary measure.
While Farook spoke to an Italian newspaper recently regarding his son's allegiances, a spokesperson for the Council on American-Islamic Relations said the father did not remember speaking to any members of the media as he is "not stable" and "not handling this well," regarding his son's alleged attack.
The Daily Caller reported that the younger Farook's mother, Rafia, belongs to the Islamic Circle of North America, a Muslim group that promotes the establishment of a caliphate and has ties to a radical Pakistani political group.
Tashfeen Malik, the wife in the alleged killing duo, was reportedly born in Pakistan before she moved to Saudi Arabia with her family at a young age. Eventually, she moved back to Pakistan for a number of years while she completed college.
Officials are still uncertain who radicalized whom in the marriage, but according to ABC News, officials are leaning toward Malik as the "mastermind" behind the deadly attack. She reportedly posted a pledge of allegiance to an Islamic State leader on Facebook around the time of the attack.
(H/T: ABC News)