A conservative government watchdog group released a new Benghazi email Tuesday that then-Department of Defense Chief of Staff Jeremy Bash sent to the State Department offering military forces that could have moved into the area.
Bash sent his email — obtained by Judicial Watch through a Freedom of Information Act lawsuit — to three senior State Department officials just hours after the deadly 2012 attacks initially unfolded.
[W]e have identified the forces that could move to Benghazi," he wrote. "They are spinning up as we speak."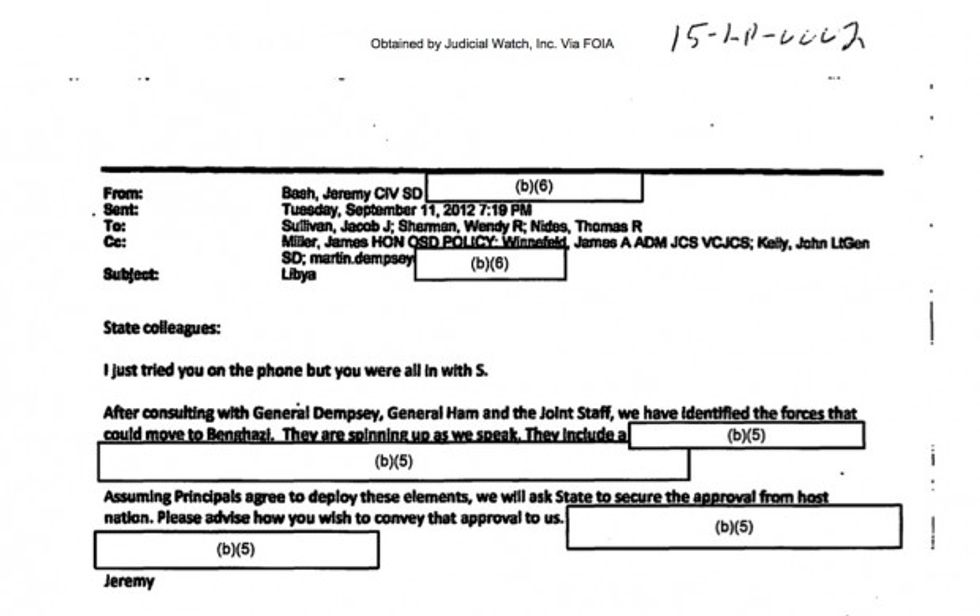 Image source: Screen grab / Judicial Watch
The email was sent to Jacob Sullivan, who served as deputy chief of staff to Hillary Clinton. Wendy Sherman and Thomas Nides were both senior State Department officials.
Much of the email was redacted, but it seemingly contradicted testimony from the Obama administration that an immediate response was not feasible. Then-Secretary of Defense Leon Panetta testified in 2013 that "time, distance, the lack of an adequate warning, events that moved very quickly on the ground prevented a more immediate response."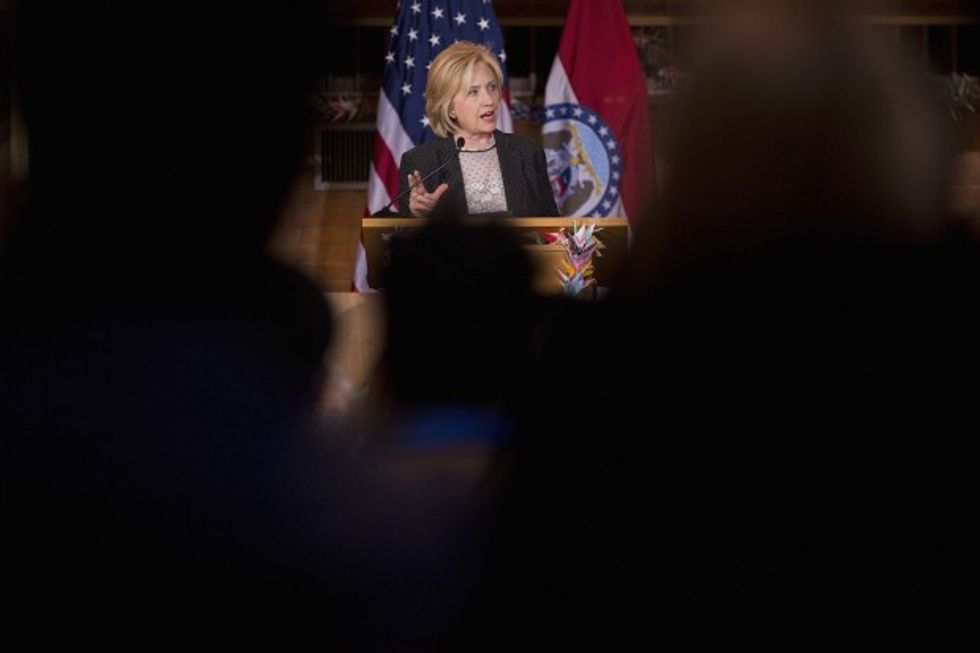 Whitney Curtis/Getty Images

Gregory Hicks, Deputy Chief of Mission to the U.S. Embassy in Tripoli, had previously testified that even a single fighter jet scrambled after the attack "would have been scared to death" the enemy "that we would have gotten a laser on them and killed them."
Judicial Watch President Tom Fitton released a statement Tuesday after the publication of the email.
"The Obama administration and Clinton officials hid this compelling Benghazi email for years," Fitton said. "The email makes readily apparent that the military was prepared to launch immediate assistance that could have made a difference, at least at the CIA Annex. The fact that the Obama Administration withheld this email for so long only worsens the scandal of Benghazi."
Conservative political super PAC American Crossroads also released a statement, going particularly after Clinton.
"After years of spin, deception, and distraction from President Obama and Hillary Clinton, this email makes it clear that the Obama Administration and then-Secretary Clinton had a chance to save the four Americans killed in Benghazi – and shamefully did nothing," said the organization's director, Ian Prior.
The Clinton campaign did not respond to a request for comment from TheBlaze Tuesday evening.
—
Follow the author of this story on Twitter and Facebook: