A win in Monday night's NFL game between the Washington Redskins and the Dallas Cowboys was vital to both teams. A Redskins victory would put Washington atop the NFC East. A Cowboys win would keep Dallas' slim playoff dreams alive.
With 1:47 remaining in the fourth quarter, the longtime NFC East division rivals were deadlocked 9-9, with neither team able to score a touchdown, to that point.
The Cowboys were punting the ball back to the Redskins and appeared to have return man DeSean Jackson trapped deep in Washington's territory when Jackson fumbled the ball and Dallas recovered it.
Uh oh. DeSean Jackson catches the punt, runs backwards & fumbles the ball to give the Cowboys prime field position. https://t.co/ajRPpK4n6Q

— NFL (@NFL) December 8, 2015
Two plays later, Dallas' Darren McFadden scored on a six-yard run up the middle, putting the Cowboys ahead 16-9.
And then, the Redskins answered.
With just 1:14 left in the game, Washington again took possession of the ball. Quarterback Kirk Cousins lead his team down the field and with only 49 seconds on the clock, tossed a 28-yard pass to DeSean Jackson for a game-tying touchdown and redemption for fumbling away the ball a minute earlier.
Cousins to D-Jax: YOU LIKE THAT?! #DALvsWAShttps://t.co/2m2z5ysX5n

— NFL (@NFL) December 8, 2015
The Cowboys got the ball back with just 44 seconds remaining and managed to drive to the Redskins 37-yard line. With just 14 seconds left on the game clock, Dallas kicker Dan Bailey nailed a 54-yard field goal to put the Cowboys ahead for good, 19-16.
Dan Bailey. 54 yards. For The Win! #DALvsWAShttps://t.co/njJkdM8y62

— NFL (@NFL) December 8, 2015
How important was a win on Monday night? Look at the logjam in the NFC East division. With just four games left in the regular season, all four teams still have a chance to make the playoffs.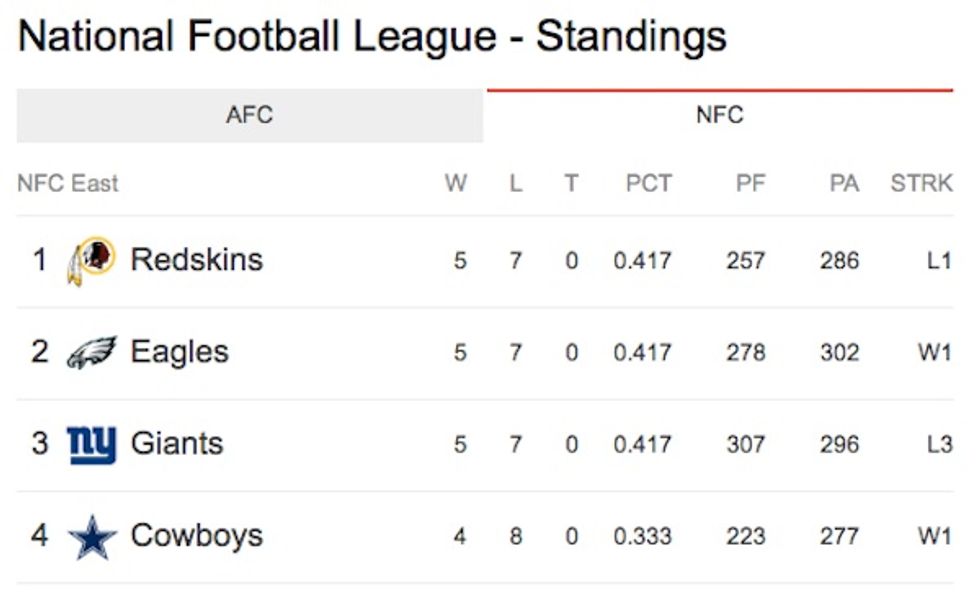 Image source: Screen grab Bing.com
__
Follow the author of this story on Twitter and Facebook: