Donald Trump leads his Republican 2016 rivals handily in New Hampshire, according to a CNN/WMUR poll published Tuesday.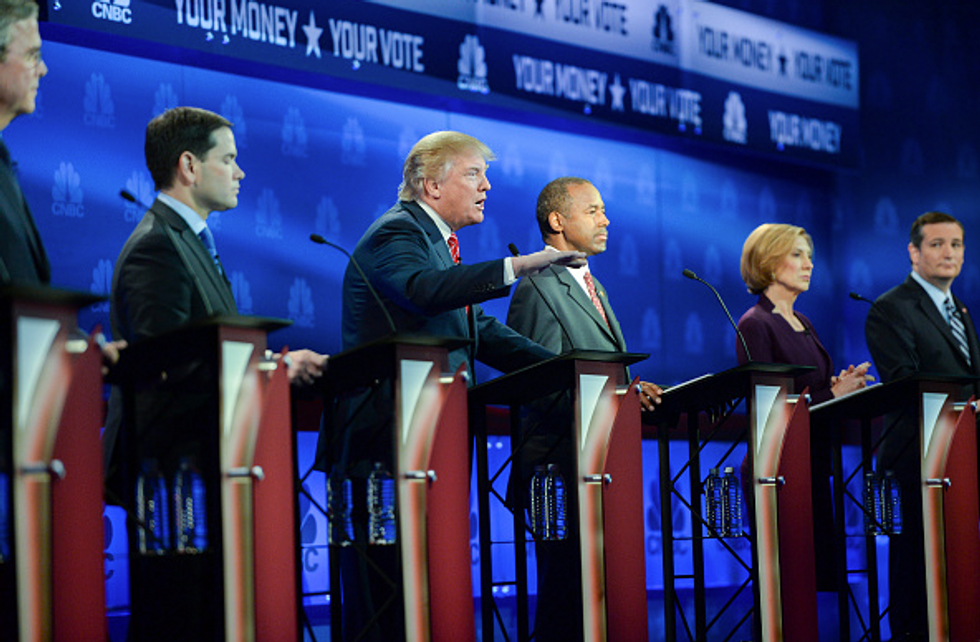 Photographer: RJ Sangosti/Pool via Bloomberg
The real estate mogul easily topped the other GOP presidential hopefuls, earning 32 percent of support from likely Republican primary voters. That's an increase of six points since September.
Marco Rubio placed second, surging to 14 percent of support. He previously had nine percent support in September.
New CNN/WMUR NH poll results: Trump 32% Rubio 14% Christie 9% Bush 8% Kasich 7% Cruz 6% Carson 5% Fiorina 5% Paul 2% Graham 1% Huckabee 1%

— Eric Bradner (@Eric Bradner) 1449612018.0
Chris Christie, who has placed much focus on New Hampshire, also moved up considerably in the poll. The New Jersey governor jumped from five percent support in September to nine percent in September.
Jeb Bush came in fourth in the poll, followed by John Kasich and Ted Cruz.
.@ericbradner Amazingly, Cruz statistically tied with Kasich, Bush and Christie for 3rd place in NH.

— Kyle Cheney (@kyledcheney) December 8, 2015
Ben Carson came in seventh, followed by Carly Fiorina in eighth and Rand Paul in ninth place. Lindsey Graham and Mike Huckabee barely registered, only earning one percent of support among the likely primary voters.
The numbers were based on 402 interviews with Republican primary voters. The margin of error was 4.9 percent. In September, Trump led the N.H. field, followed by Fiorina, Rubio and Carson.
—
Follow the author of this story on Twitter and Facebook: