A petition calling for Republican presidential front-runner Donald Trump to be banned from entering the United Kingdom has surpassed 300,000 signatures as of Wednesday afternoon.
The petition, which is posted to the U.K. Parliament's website, was created Tuesday. By Wednesday morning, the petition had already garnered more than 100,000 signatures.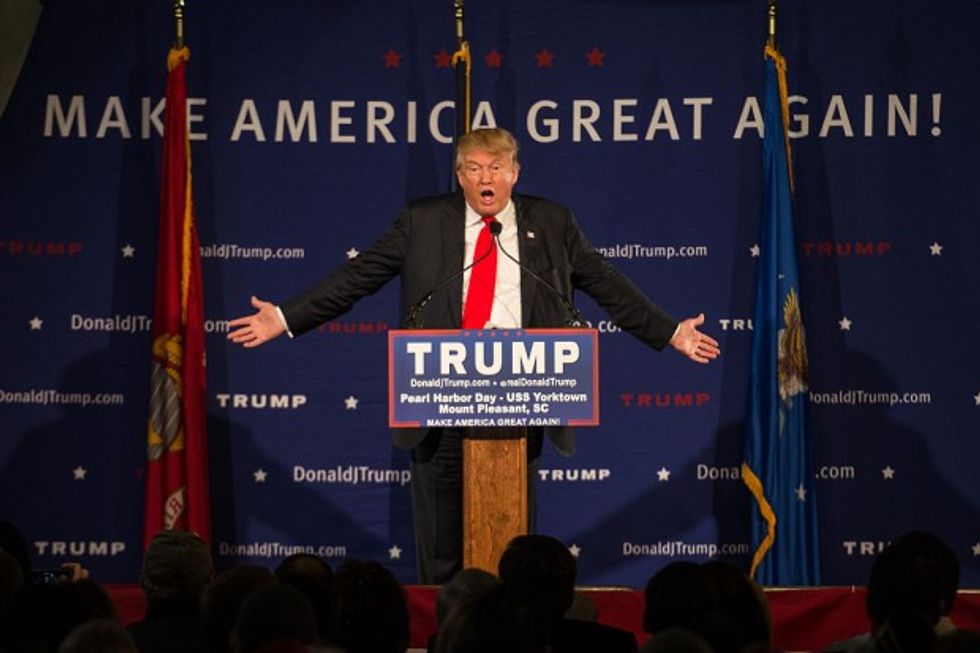 Donald Trump speaks to the crowd at a Pearl Harbor Day Rally at the USS Yorktown Dec. 7. (Getty Images/Sean Rayford)
"The UK has banned entry to many individuals for hate speech," the petition reads. "The same principles should apply to everyone who wishes to enter the UK."
"If the United Kingdom is to continue applying the 'unacceptable behaviour' criteria to those who wish to enter its borders, it must be fairly applied to the rich as well as poor, and the weak as well as powerful," it added.
According to CNN, the petition was created by Suzanne Kelly, a woman from Aberdeen, Scotland, who has reportedly campaigned against Trump in the past.
At 10,000 signatures, the U.K. government is compelled to answer the petition, and by 100,000, Parliament is bound to consider the petition during debate.
The House of Commons information office told CNN that the Parliament's Petition Committee is set to consider the petition's fate Jan. 5.
The petition came just one day after Trump announced his highly controversial plan to bar Muslims from entering the United States.
Despite the outrage, Chancellor and Finance Minister George Osborne said Wednesday that the billionaire businessman would not be barred from entering the country.
At time of publication, the petition had more than 303,000 signatures and was rapidly growing at more than 500 every minute.
—
Follow the author of this story on Twitter and Facebook:
[facebook //www.facebook.com/plugins/like.php?href=