Only days after President Barack Obama called for tighter gun control restrictions, one South Carolina gun and pawn shop owner is firing back at the commander in chief.
According to Simpsonville Gun and Pawn, the best way to get under Obama's skin is to buy a gun.
"Want to piss off Obama? Buy a gun," the shop's sign reads.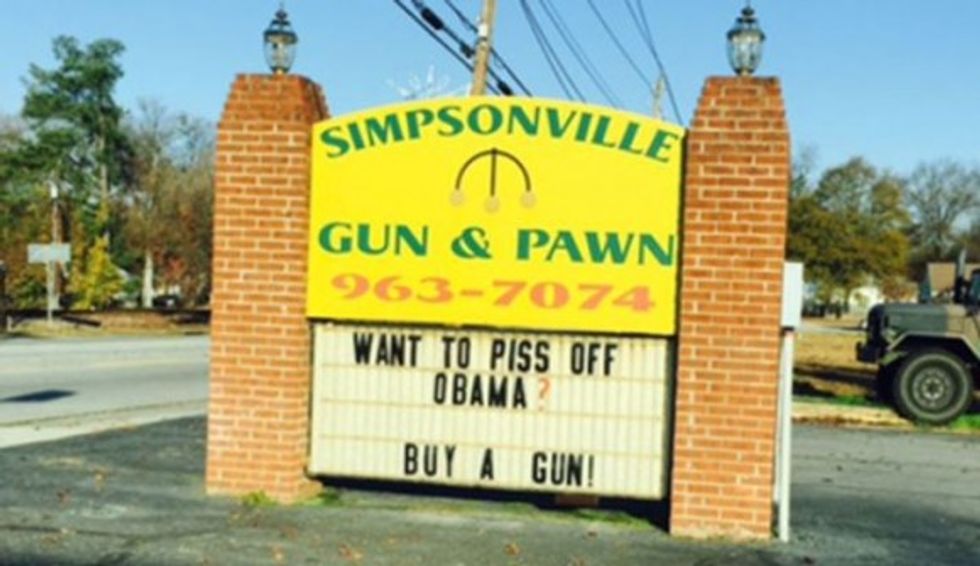 Image source: WNCN-TV
"It's mainly just to sell guns, but there's a little bit of political connotation to it also," store owner Mark Teal told WNCN-TV.
Teal says the sign is in direct response to the president's Sunday comments on terrorism and gun control, and as it turns out, Obama's speech seems to be helping the gun industry.
Gun stocks from both Smith and Wesson and Sturm Ruger rallied in the 48 hours after Obama's prime-time call for increased gun control, according to MarketWatch.
The president called on Congress to restrict anyone who is on the no-fly list from buying firearms and called for legislation to ban so-called "assault weapons" like those used in the San Bernardino, California, attack last week.
"What could possibly be the argument for allowing a terror suspect to buy a semi-automatic weapon," Obama questioned.
Teal found himself at odds with the president's remarks.
"I just think it's strange that he has 24-hour security, his children and wife have 24-hour security with armed guards everywhere they go [and] it's OK for them to have armed guards, but it's not OK for us to protect ourselves," Teal told WNCN-TV.
However, the gun shop owner did say pro-gun control statements often boost his sales.
"When things like this happen — Sandy Hook and with this in San Bernardino — a lot of people who have never thought about owning a fire arm start thinking about it," Teal added.
Teal says he stands behind his message, regardless of whether his spike in sales ever really does anger the commander in chief.
(H/T: WNCN-TV)
—
Follow Tré Goins-Phillips (@tregp) on Twitter