"The Daily Show" host Trevor Noah dubbed Republican presidential contender Donald Trump "white ISIS," or "WISIS."
Noah's comments came during a discussion with the show's senior political correspondent Hasan Minhaj about the real estate mogul's latest push to ban Muslims from entering the U.S. until lawmakers "can figure out what is going on."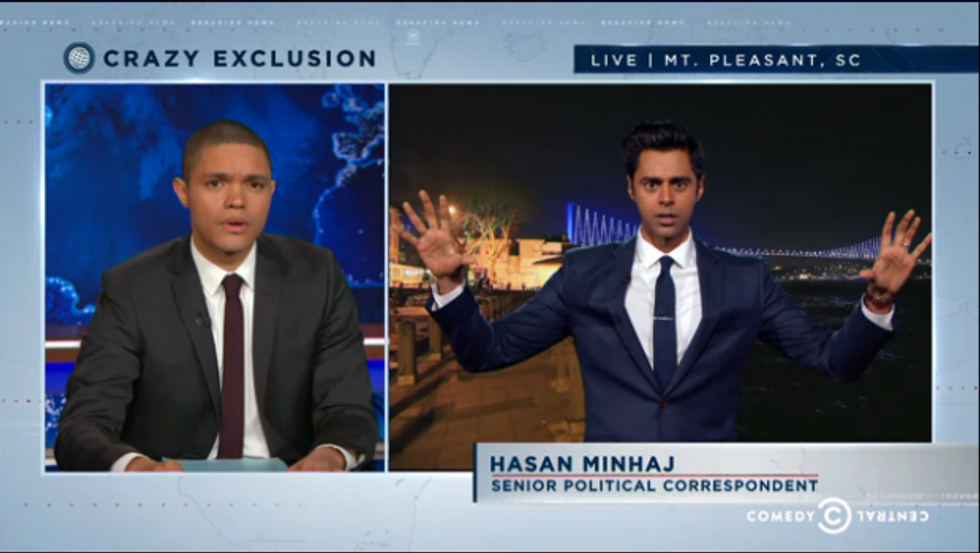 Image source: "The Daily Show"/Comedy Central
Minhaj voiced his agreement with Trump's drastic policy — but for a very different reason. Minhaj said Muslims should not be allowed into the U.S. because they are "in danger."
The Comedy Central correspondent explained his reasoning, but then he went a step further, comparing Trump to the Islamic State. "One-third of a major political party in America is backing a racist maniac. This place is scary right now," Minhaj told Noah. "Donald Trump is an extremist leader who came out of nowhere, he's self-financed, recruits through social media, attracts his followers with a radical ideology to take over the world, and is actively trying to promote a war between Islam and the West. ... That's right, Trevor, Donald Trump is White ISIS — WISIS."
Minhaj continued his commentary, asking, "Where are all the moderate white conservatives?" At that point, Noah shared a reel of comments from several Republican presidential candidates and House Speaker Paul Ryan (R-Wis.) denouncing Trump's proposed plan.
Minhaj also suggested that maybe the business magnate never actually wanted to be president, so now he is "self-sabotaging" his campaign by "crossing the line again, and again, and again."
Toward the beginning of the show, Noah had this to say about Trump: "Everybody has the right to be crazy. What worries me is that people are following the crazy." According to Noah, Trump — as the GOP frontrunner — has given conservatives "permission to shed their shame and say these things out loud."
Watch Minhaj's comments below:
(H/T: Business Insider)
—
Follow Tré Goins-Phillips (@tregp) on Twitter