The New York Post editorial board labeled Democratic presidential candidate Hillary Clinton a "liar" after she claimed she didn't tell the families of the Benghazi victims that an anti-Muslim video was the cause of the terror attack. The editorial is headlined, "Hillary Clinton's most repugnant lie."
Several family members have come forward and said Clinton immediately blamed the video in private conversations following the attack.
"Did you tell them it was about the film? And what's your response?" ABC's George Stephanopoulos asked Clinton on Sunday.
"No," she replied. "You know, look I understand the continuing grief at the loss that parents experienced with the loss of these four brave Americans. And I did testify, as you know, for 11 hours. And I answered all of these questions."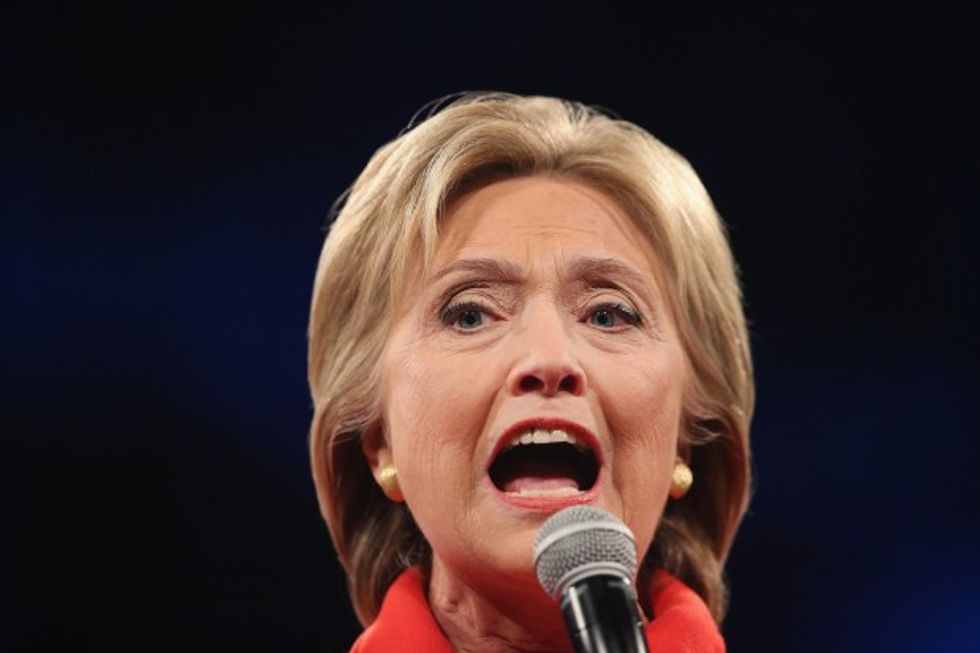 (Scott Olson/Getty Images)
The New York Post provides a recap of what the families of the Benghazi heroes have said on the matter:
Tyrone Woods' father said he hugged Clinton and shook her hand. Then "she said we are going to have the filmmaker arrested who was responsible for the death of my son . . . She said 'the filmmaker who was responsible for the death of your son.'"

Sean Smith's mother said Hillary is "absolutely lying . . . She said it was because of the video." Smith's uncle backs her up.

Glen Doherty's sister agreed: "When I think back now to that day and what she knew, it shows me a lot about her character that she would choose in that moment to basically perpetuate what she knew was untrue."
(Source: Fox News)
The editorial board also points out that Clinton also blamed the "awful Internet video that we had nothing to do with" during a Sept. 14, 2012, ceremony.
"Just why the administration united around this lie is another editorial. The disgrace here is Clinton's refusal to admit her role — even pushing the fib to 'comfort' the bereaved," the editorial board concluded. "Stiff as the competition is, this has to count as her lowest-down, dirtiest lie of all."
---