More than 1-in-3 Republican voters say their choice for the nomination is Donald Trump, a new CBS News/New York Times poll found on Thursday.
According to the poll, 35 percent of Republican primary voters back the real estate tycoon. That's compared to just 16 percent who say they support Texas Sen. Ted Cruz, the poll's second-place candidate.
Retired neurosurgeon Ben Carson followed in third with 13 percent, while Florida Sen. Marco Rubio garnered just 9 percent of support, good enough for fourth.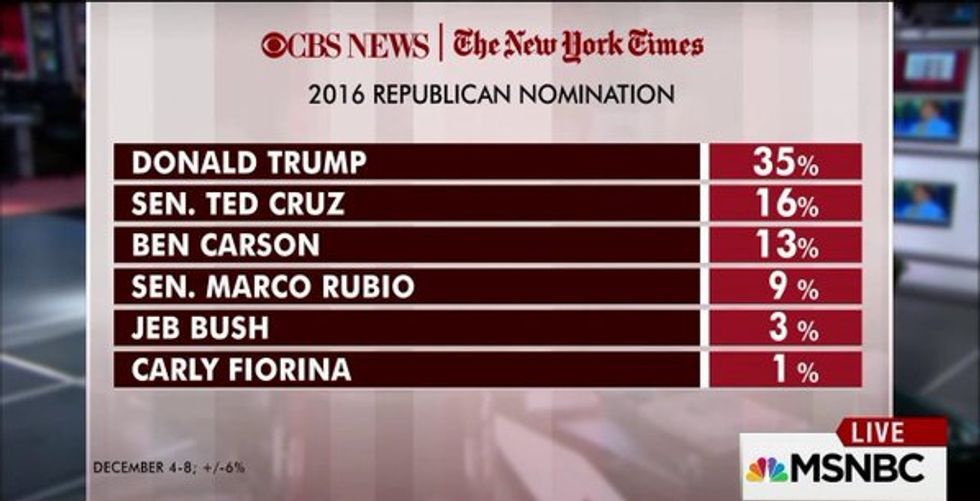 Image credit: MSNBC/Morning Joe
In just two months, Cruz has quadrupled his support compared to the same poll from October, when Cruz only received 4 percent of support. Carson was the recipient of the largest falloff compared to October, slicing his support number in half, 26 percent to 13 percent.
Following the four leaders was Kentucky Sen. Rand Paul with 4 percent and former Florida Gov. Jeb Bush with 3 percent. Former Arkansas Gov. Mike Huckabee, New Jersey Gov. Chris Christie, and Ohio Gov. John Kasich also tied Bush, each receiving 3 percent of support.
Former Hewlett-Packard CEO Carly Fiorina rounded out the top-10 with a single percentage point of support.
South Carolina Sen. Lindsey Graham, former Virginia Gov. Jim Gilmore, and former New York Gov. George Pataki each received no support in the poll.
While Trump may be leading in support, the poll found that overall, 64 percent of voters are either scared or concerned with the notion of a Trump presidency. Meanwhile, only 57 percent said they are scared or concerned by the idea of Democratic presidential front-runner Hillary Clinton winning the White House.
Still, only one-third of Republican-likely voters in the poll say their mind is made up in terms of who they will be voting for come primary season, 34 percent to 64 percent.
The survey of 1,053 registered voters, which included 431 Republican voters, was conducted between Dec. 4-8. It had a margin of error of +/- 6 percentage points.
—
Follow the author of this story on Twitter and Facebook:
[facebook //www.facebook.com/plugins/like.php?href=