Some Palestinians have been aggressively using social media to encourage more stabbing attacks on Israelis. One particularly disturbing post translated to English this week shows a man egging on a young child to push for more of them.
On Wednesday, Palestinian Media Watch published a translation of the video that was posted on the Facebook page of the Jerusalem Intifada's Young People Coalition in November.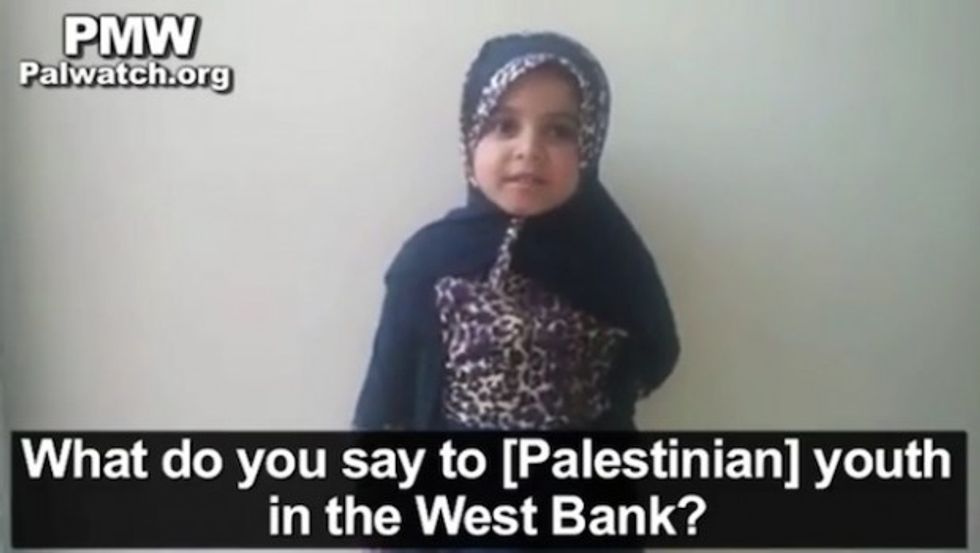 Image source: Palestinian Media Watch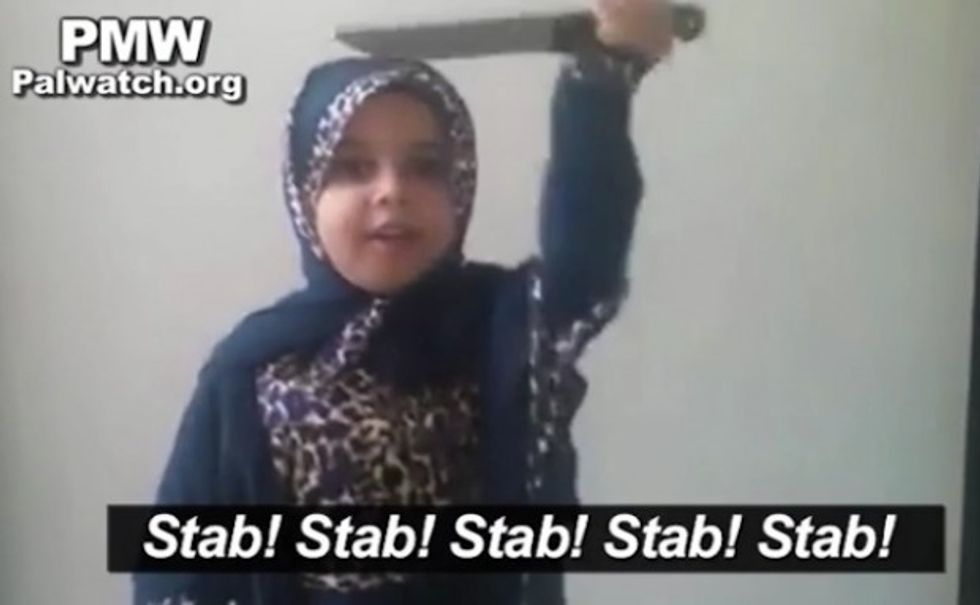 Image source: Palestinian Media Watch
The girl, who is allegedly from Gaza and is dressed in an Islamic headscarf, stands against a wall as a man off-camera plays the role of an Israeli.
He asks her a series of questions which culminates with this disturbing call out of the mouth of the child:
Man posing as "Israeli": What do you tell [Palestinian] youth in the West Bank?

Girl: Stab! Stab! Stab! Stab! Stab!
Earlier in the video, the man offers a series of statements designed to get her to repeat a reportedly popular mantra among many Palestinians: "So what."
The man says Palestinians throw stones at Israelis, chase them with knives and kill them, to which she answers, "So what!"
"Muhannad Halabi stabbed us," the man, playing the role of Israeli victim, said to the girl, referring the Palestinian who stabbed two Israeli men to death in October in Jerusalem during which he also stabbed one of the slain men's wife and toddler in a stroller. 
"So what!" answered the smiling child.
Palestinian Media Watch — an Israeli nonprofit that researches anti-Israel incitement in the Palestinian media — explained that "so what" is a hashtag used by those posting calls for more stabbing attacks.
The stabbing meme has become so popular, business owners are also trying to jump on the bandwagon to make a buck. Recent examples of this include the store in Gaza — called "Hitler" — which tied knives around its mannequins' hands. Another entrepreneur shipped thousands of dolls dressed in keffiyeh Palestinian headscarf and holding rocks.