DUBAI, United Arab Emirates (AP) — The image and name of American presidential hopeful Donald Trump was gone on Friday from much of a Dubai golf course and housing development amid the uproar over his comments about banning Muslims from traveling to the United States.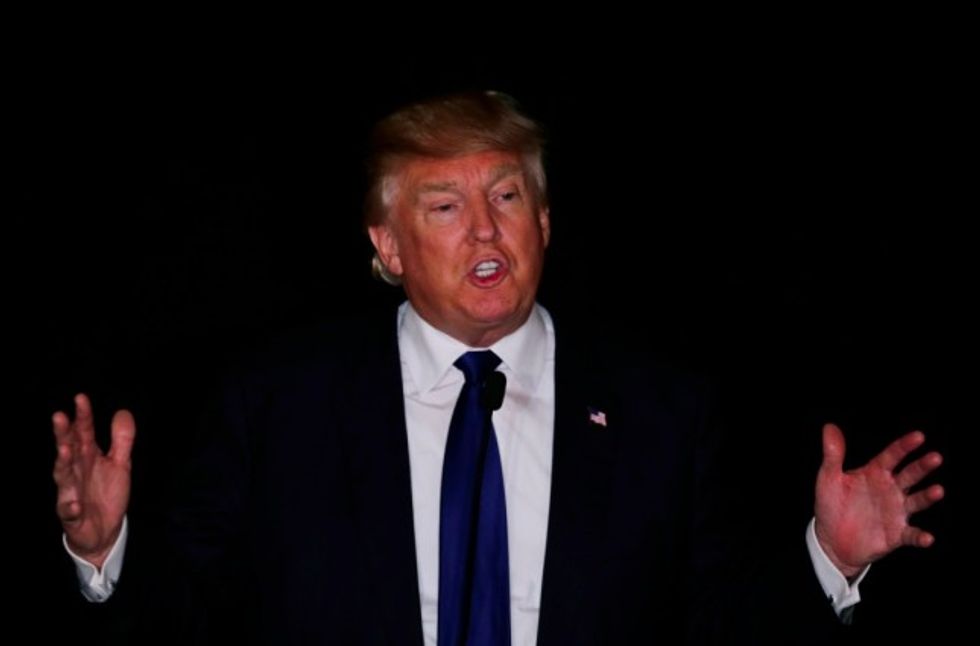 Republican presidential candidate, businessman Donald Trump gestures at a regional police union meeting in Portsmouth, N.H., Thursday, Dec. 10, 2015. (AP Photo/Charles Krupa)
The disappearance of Trump's branding from the multi-billion-dollar development on the outskirts of Dubai comes as concerns over his comments grow in the Middle East, a region in which the businessman long has sought money-making opportunities.
Some of his deals appear to be in jeopardy, with the company behind the Trump Towers in Istanbul now saying it is "assessing" its partnership with the Republican presidential front-runner.
In Dubai, Trump had a deal with Damac Properties to license his name and image for a housing project and two golf courses for an undisclosed sum. A billboard once showing Trump golfing had been at Damac's Akoya development, as well as an image of Trump's daughter Ivanka.
On Friday, all that remained was the board's brown background, though another billboard declaring the development "The Beverly Hills of Dubai" still stood nearby.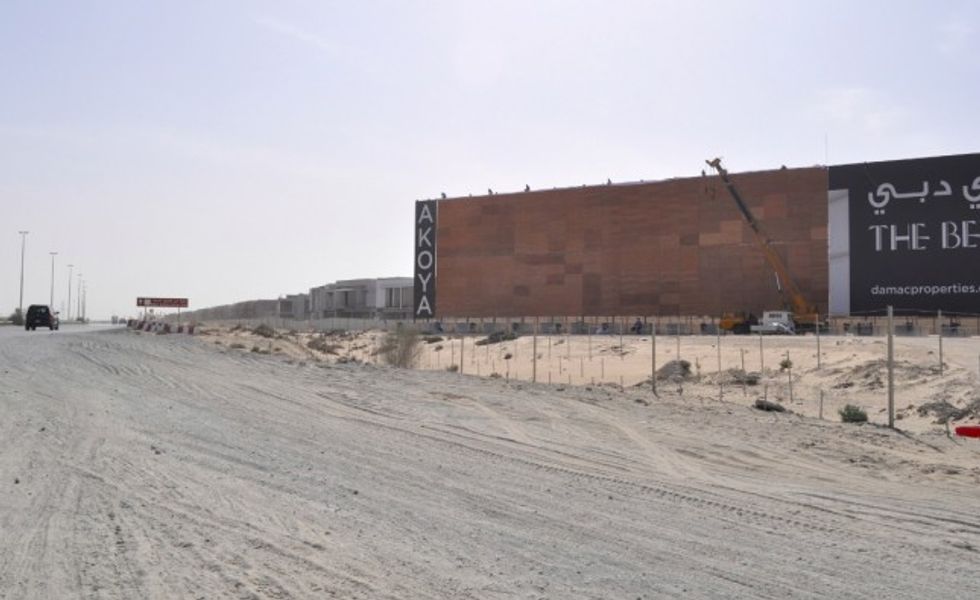 A billboard that had featured Donald Trump sits empty as workers prepare to replace it outside developer Damac's Akoya development in Dubai, United Arab Emirates on Friday, Dec. 11, 2015. (AP Photo/Adam Schreck)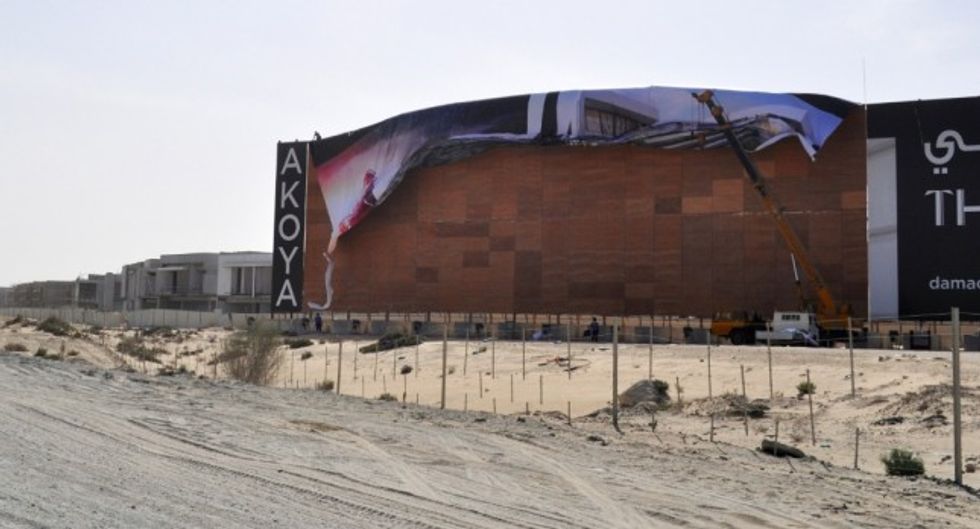 Workers install a new billboard outside developer Damac's Akoya development in Dubai, United Arab Emirates on Friday, Dec. 11, 2015, after one featuring Donald Trump was removed. (AP Photo/Adam Schreck)
Also, pieces of letters that appeared to spell out Trump's name had been pulled down from a stone wall and left lying on the sandy ground. His name was still on at least one other stone wall at the property, which was being patrolled by private security guards and police.
Damac Properties has declined to comment on the removal of Trump's name and billboard from the property. It earlier said it "would not comment further on Mr. Trump's personal or political agenda, nor comment on the internal American political debate scene."
Trump increasingly has used such a licensing model in recent years, lending out his name to others around the world rather than developing big real estate projects himself. Fellow developers have praised Trump as a pioneer of what they call a nearly risk-free business.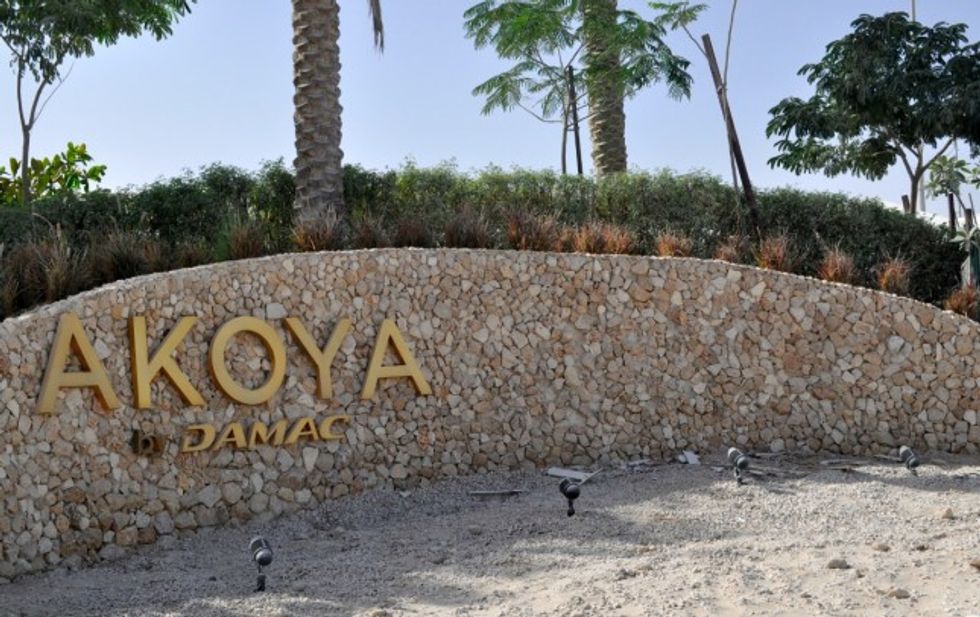 Pieces of letters that appear to spell out "Trump" litter the ground after apparently being removed from a wall at the site of Damac's Akoya development in Dubai, United Arab Emirates on Friday, Dec. 11, 2015. (AP Photo/Adam Schreck)
But some of his rhetoric about Islam on the campaign trail — including his call to monitor mosques and his proposal this week to temporarily bar Muslims from entering the U.S. — has led to increased wariness in the Arab world. Earlier this week, Dubai-based Landmark Group pulled all Trump home decor products at its 180 Lifestyle stores over his comments.
Late Thursday, Bulent Kural, the general manager of Trump Towers in Istanbul, said his company "regrets and condemns" Trump's call to ban Muslims from entering the U.S. The towers are another project for which Trump licensed his brand.
"We are assessing the legal dimension of our relationship with the Trump brand," a statement from Kural said.
Associated Press writer Suzan Fraser in Ankara, Turkey, contributed to this report.
—
Follow Dave Urbanski (@DaveVUrbanski) on Twitter