No one knows exactly who he is, but many are familiar with his Christmas tradition.
Each year, a wealthy businessman, clothed in a red coat, gives away $100,000 in cash to complete strangers across the country. Last year, he enlisted the help of a local police department. But this year, it appears he wanted in on the action.
The man, known only as "Secret Santa," visited a Pittsburgh retail story recently to spread his holiday message of giving back.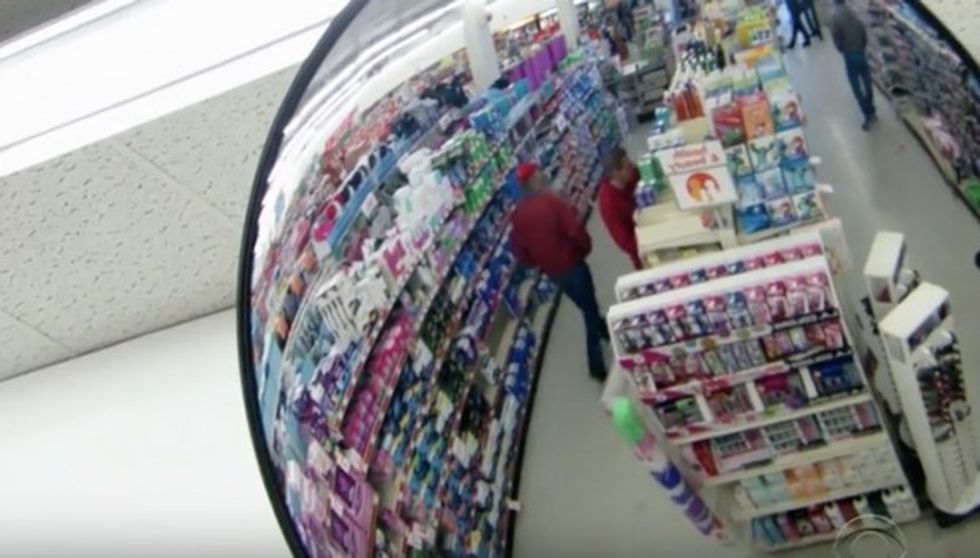 Image source: Screen grab
Followed by an entourage of local police officers and CBS News cameras, the "Secret Santa" approached strangers and handed them $100 bills, asking for nothing in return.
Each person was left in tears.
"I promise, as soon as I get out of here I'm going to call my job," Temika Green, a local YMCA coordinator who said she'd use the money to help her kids, told the man.
"Well put another couple hundred in there. And I've got to quit talking to you I'm running out of money. We love you. You're doing great. Don't stop," he told her.
The magic continued.
"Now this is for you. It's a hundred dollars from Secret Santa," the "Secret Santa" told another stranger, Mildred Morris.
"I just came from chemo," she replied, breaking down in tears. "And I work every day, sir."
The mystery man approached everyone he could find — not discriminating in any fashion.
"Kindness is the bridge between all people. Kindness is the one thing that cuts through everything regardless of your station in life," he said.
—
Follow the author of this story on Twitter and Facebook: