Enrique Marquez — who authorities said bought firearms for childhood friend Syed Rizwan Farook used in the deadly San Bernardino shooting massacre — didn't strike those acquainted with him as very credible when he brought up the topic of terrorism.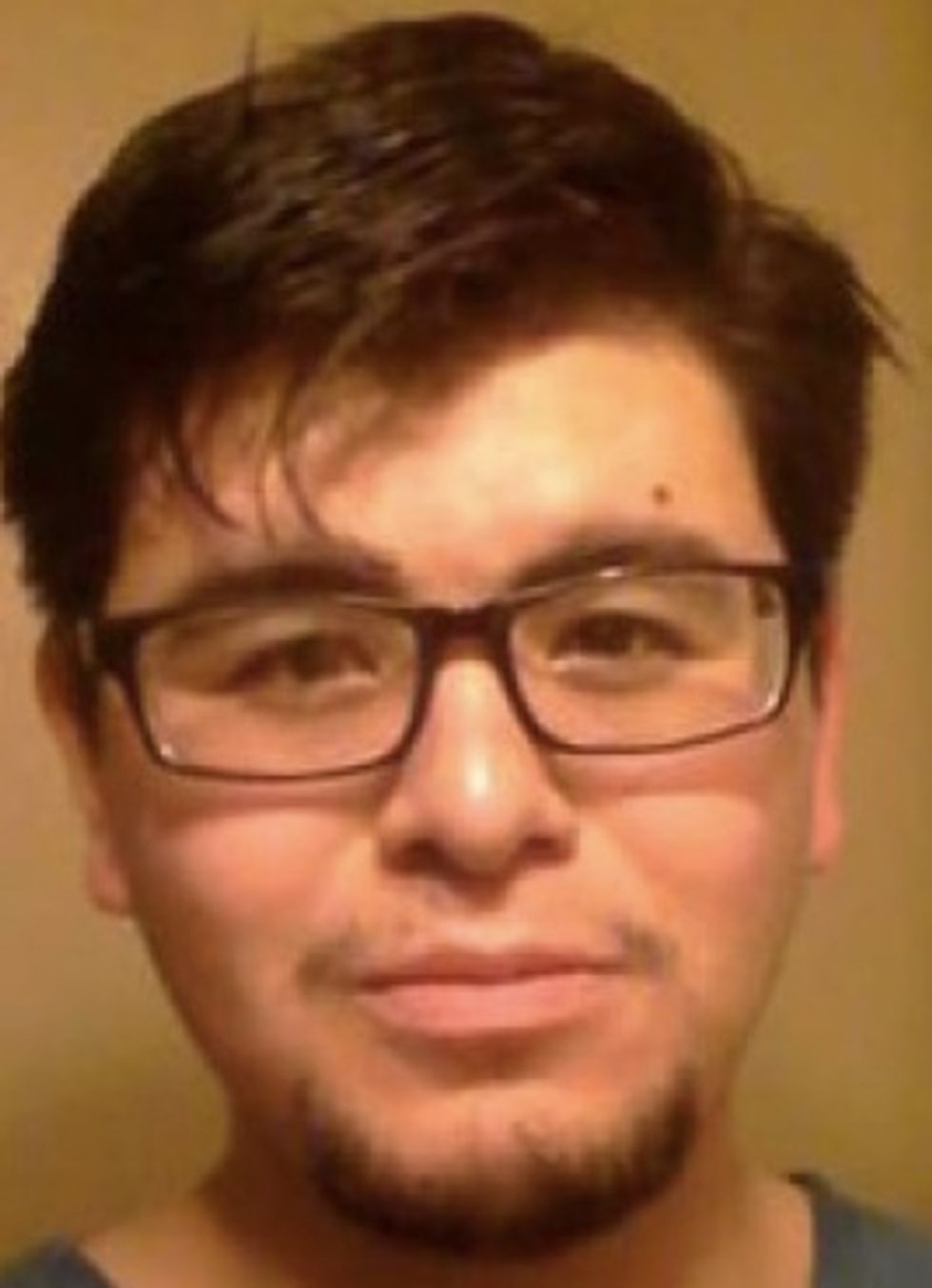 Enrique Marquez via social media post (Image source: New York Times)
"He would say stuff like: 'There's so much going on. There's so many sleeper cells, so many people just waiting. When it happens, it's going to be big. Watch,'" Nick Rodriguez, who knows Marquez from a bar, told the New York Times.
"We took it as a joke," Rodriquez added to the paper. "When you look at the kid and talk to him, no one would take him seriously about that."
Now, Marquez, 24 — who checked himself into a mental-health facility after the Dec. 2 massacre that took 14 lives — is talking to federal investigators who want to know what motivated Farook and his wife, Tashfeen Malik, to carry out the terror attack, one senior law enforcement official told the Times.
In addition to purchasing for Farook the high-powered rifles used in the attack — because Farook didn't believe he could pass a background check — Marquez also told investigators about a 2012 terror plot he and Farook had hatched but then ditched when a Riverside County terrorism ring was prosecuted that same year, the Times reported.
Maintaining to authorities he didn't know the couple was plotting the Inland Regional Center shooting, Marquez — a Muslim convert — hasn't been charged with a crime. But it's expected he'll be indicted.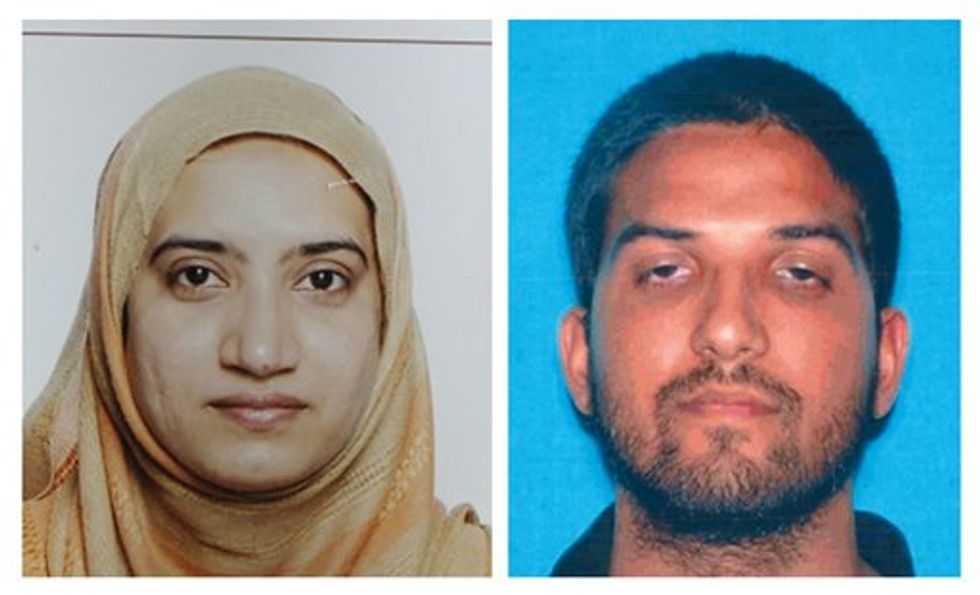 This undated combination of photos provided by the FBI, left, and the California Department of Motor Vehicles shows Tashfeen Malik, left, and Syed Farook. (Image source left to right: FBI, California Department of Motor Vehicles via AP)
And the Times has learned just how deep Marquez's friendship with Farook ran:
Since he was a child growing in a single-level beige home here in Riverside, Mr. Marquez fastened himself to Mr. Farook and his family. He and Mr. Farook tinkered on cars in their driveways. He converted to Islam and attended some of the same mosques as the Farook family. When Mr. Farook's older brother, Raheel, married a Russian woman named Tatiana Gigliotti, Mr. Marquez served as one of the witnesses. The other was Farook.

Last year, Mr. Marquez married the Russian sister of Raheel Farook's wife. He later told a friend and people at the bar that it was a sham marriage for immigration purposes. He told bar patrons he had been paid $5,000 or $10,000 to marry Ms. Gigliotti's sister, Mariya Chernykh.

He announced the arrangement one day when he came into the bar — which the F.B.I. visited earlier this week — and offered to buy everyone drinks, Mr. Rodriguez, the bar patron, said. It was unusual behavior for Mr. Marquez, who was perpetually short on money: sometimes he could not afford gas for his car, or asked people to buy him drinks.

He told Mr. Rodriguez that he had posted up photographs of himself and his wife for the sake of appearances, but that Ms. Chernykh lived at her own apartment, and would not so much as kiss him. Viviana Ramirez, 23, a friend who knew Mr. Marquez through Riverside Community College, said he did not seem happy with the arrangement.

One night, she said, he rode his bike to her house, began drinking and told her that he was married, but that it was an open relationship. "He needed more attention than what she was giving him," Ms. Ramirez said.
Ramirez told the Times that Marquez never indicated a bent toward violence — instead most of what he talked about was music, specifically punk rock. She didn't even know he was a Muslim, the Times said.
"At first he was really shy," she told the paper. "But once you got to know him, he would laugh, joke around. He would never get mad. He had strong feelings that there was no point to getting angry — it was going to pass."
Then came the chilling note Marquez left on his Facebook page not long after the massacre: "I'm. Very sorry sguys. It was a pleasure."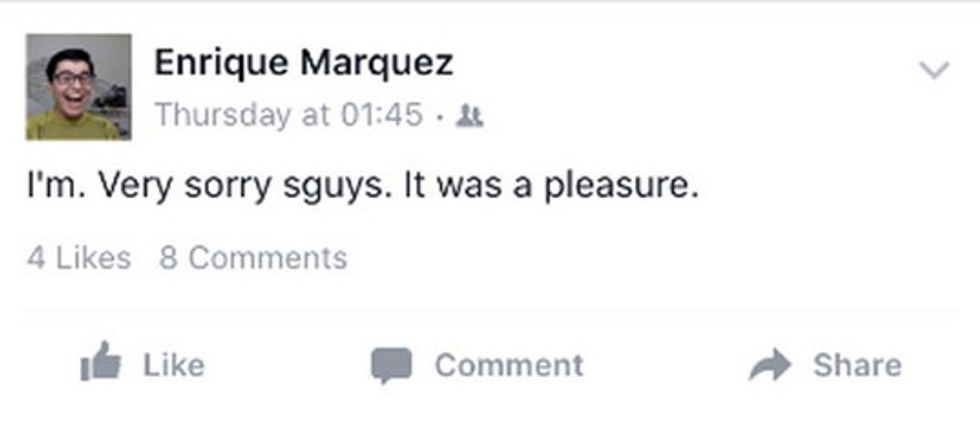 Image source: New York Times via Facebook
(H/T: New York Times)
—
Follow Dave Urbanski (@DaveVUrbanski) on Twitter