In an interview with the New Yorker, Secretary of State John Kerry revealed how just a year before Islamist militants began descending on Syria, he tried to convince Syrian President Bashar Assad to agree to peace with Israel in exchange for Israel withdrawing from the strategic Golan Heights.
What Kerry did not mention was that had the 2010 negotiations succeeded, one year before the outbreak of the Syrian civil war, Israel today might have found itself facing Islamic State militants positioned on the strategic plateau that commands a view of vast swaths of northern Israel.
In the interview, Kerry also appeared to hold Israel responsible for thwarting progress toward peace with the Palestinians.
"It is not an answer to simply continue to build in the West Bank and to destroy the homes of the other folks you're trying to make peace with and pretend that that's a solution," Kerry said, accusing Israel of destroying Palestinian homes for Jewish settlements.
Israeli Defense Minister Moshe Ya'alon said in response, "If we would have implemented Kerry's plans for security [with the Palestinians], which he passed on to us over a year ago, then there would be mortar shells falling on Ben-Gurion Airport today," referring to Israel's international airport outside Tel Aviv.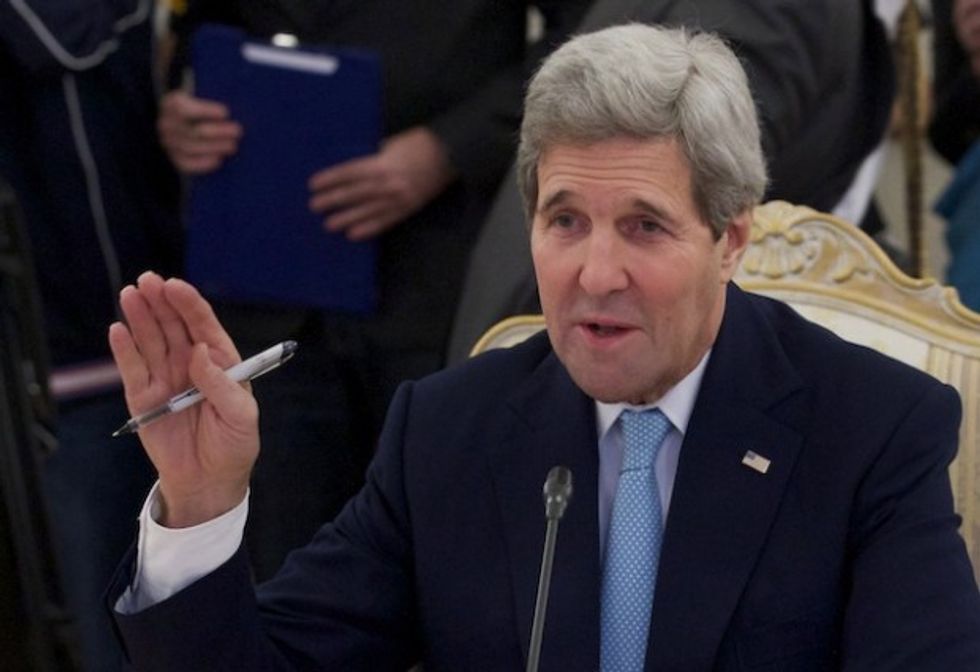 Secretary of State John Kerry speaks during a meeting with Russian Foreign Minister Sergey Lavrov in Moscow Tuesday. (AP Photo/Ivan Sekretarev)
Jerusalem Post op-ed editor Seth Frantzman wrote on his blog Monday that Kerry's effort with the Syrian president was another example of how the Obama administration "has constantly lost touch with reality in the Middle East."
"[N]o one thought about how it would be to have a deal and then have the Golan plunged into chaos by the rebellion that broke out in Syria," Frantzman wrote.
"Why didn't anyone say 'maybe we shouldn't be working with a fragile dictator, perhaps Syria is unstable and this deal won't be worth anything," Frantzman wrote, adding, "No one ever admits they were wrong."
Kerry told the New Yorker that he met several times with Assad in 2010 at President Barack Obama's request.
The secretary of state said that Assad told him that he would make peace with Israel in exchange for getting the Golan Heights. Kerry told him that Syria would have to stop the transit of arms to Hezbollah in Lebanon and to Hamas in Gaza passing through Damascus.
"We basically delivered him a pretty strong message of, 'You better stop this or else,'" Kerry told the New Yorker.
"I don't think I've ever talked about this publicly, but he was ready to make a deal with Israel. And the proof of that is a letter I still have that he wrote and signed proposing a structure by which he was willing to recognize Israel, have an embassy there, make peace, deal with the Golan, et cetera," Kerry told the New Yorker. A Syrian government representative denied to the New Yorker that such a letter existed.
Kerry appeared to blame Israeli Prime Minister Benjamin Netanyahu for scuttling the potential deal.
"Bibi came to Washington, and one of the first things out of his mouth in the Oval Office was 'I can't do this. I'm not going to — I just can't,'" Kerry said, using Netanyahu's nickname.
Frantzman took issue with Kerry's apparent willingness to accept the assertions of Assad who for years aided terrorist groups.
"Of course they believed Assad, of course they sent the 'deal' on to Netanyahu. Netanyahu may be many things, he may be a leader with short term vision, but one thing he got right was not believing in nonsensical stories about 'peace' from Damascus," Frantzman wrote.