UPDATE (3:45 p.m. ET): U.S. House Intelligence Committee member confirms that the Los Angeles school threat is believed to be a hoax.
In an interview with CNN's Ashleigh Banfield Tuesday morning, Democratic Rep. Brad Sherman (Calif.) shared specific and detailed contents of the email threat that led to the closing of all schools in the Los Angeles Unified School District.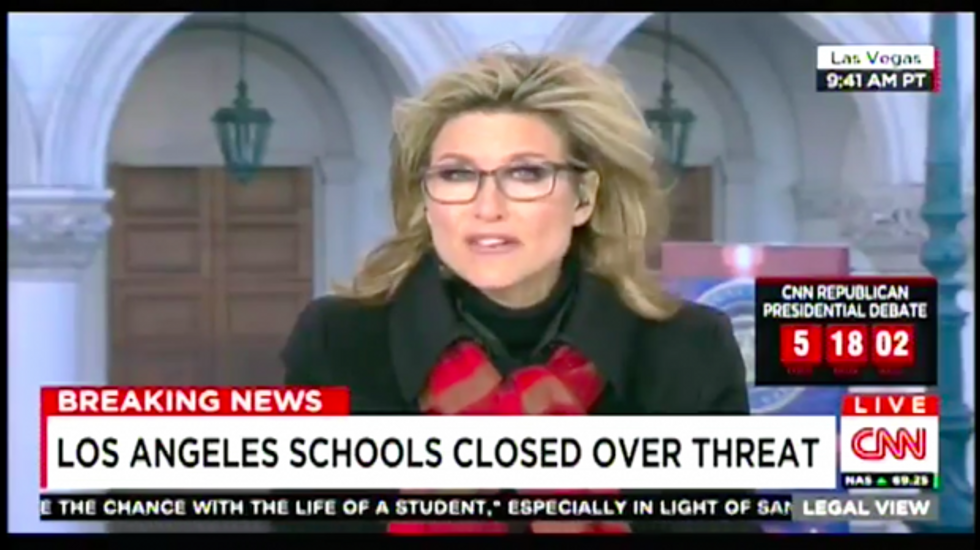 CNN's Ashley Banfield talks to Rep. Brad Sherman (D-Calif.) about the threats to L.A. schools Tuesday. (Image source: YouTube)
Sherman, former chairman of the House Subcommittee on Terrorism, said that the person behind the threat claimed to be an "extremist Muslim jihadist" — but he that there are reasons to doubt that. Additionally, Sherman said that the writer made a "pornographic reference" in the email and described intent to take "terrible action" Tuesday.
"This person claims to be a devout Muslim. I don't think that's consistent," Sherman said. "There is certainly nothing in the text of the email that shows that the person who wrote it had any particular understanding of Islam" — information Banfield described as "extraordinary."
The congressman told Banfield that the email threat could have been sent by a jihadist or by someone with a "different agenda."
Sherman said the email claimed that the writer had 32 accomplices, which he says is "way beyond" what the Islamic State has been able to put together. The threat also outlined that the writer had bombs in backpacks and "nerve agent," something Sherman said he would be "very surprised" if that was true.
"Maybe there is some part of the threat that is true, and acting in an abundance of caution makes a lot of sense," Sherman said. "Maybe this was sent by someone that supports radical jihadism, or maybe by somebody else."
Sherman described the threat's claims as "extraordinary" and said the email is signed by someone with an "Islamic or Arabic male name" but insisted that it is not yet verified what parts of the email are true.
Watch the interview below:
—
Follow Tré Goins-Phillips (@tregp) on Twitter