It all seems to have started when comedian W. Kamau Bell posted a Facebook message that tore into Republican presidential candidate Donald Trump and called out white people to stand against him.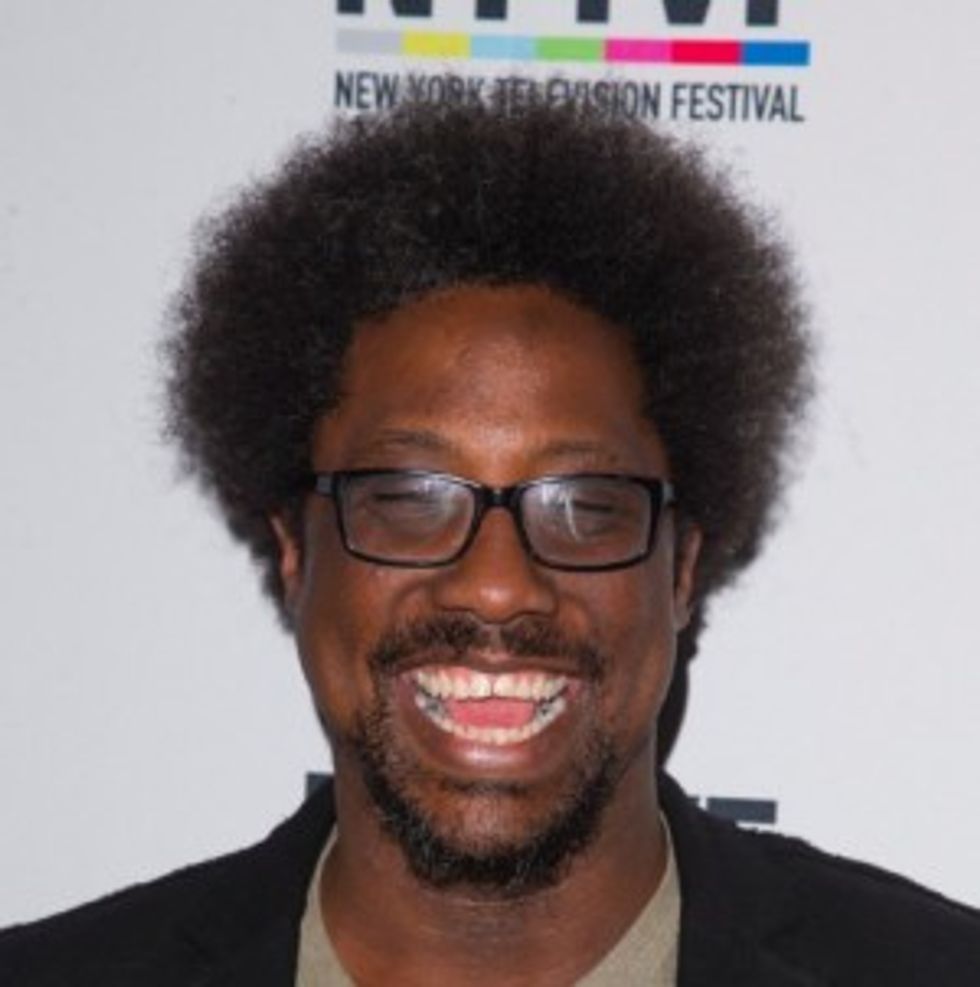 W. Kamau Bell (Ben Hider/Invision/AP)
"Donald Trump isn't a Republican issue or a rich people issue or a human issue. Donald Trump is a white people issue," Bell wrote a week ago. "... It is time, white people, for you to finally step up and recognize that you ... have a responsibility to your race. It is up to you to silence Donald Trump. Don't just insult him and make fun of him. You have to connect it to your race, recognize that he is embarrassing you as a white person. Simple snark won't win here. You have to feel it. ... Stop acting like Trump isn't the pinnacle and the result of America's history and tradition of white supremacy. And again, I don't care if you had no plans to vote for Trump or anybody, if you are white, he is your problem above all else. Simply put, white people, come get your boy."
Things then ignited Tuesday after Bell tweeted about a Salon article he helped write on the same topic — and finished it with a suggestion that white people use a hashtag during the GOP debate: #WhitesAgainstTrump.
White people, while you're watching & making fun of @realDonaldTrump on here how bout using #WhitesAgainstTrump? https://t.co/6vBazRzGxm

— W. Kamau Bell (@W. Kamau Bell) 1450227521.0
Soon #whitesagainsttrump was trending and social media users were employing it:
Finally. A group I WANT to be part of. #WhitesAgainstTrump

— martha frankel (@martha frankel) 1450234231.0
I do not stand with Trump. I do not stand with his hateful speech. I do not stand for his xenophobia. #WhitesAgainstTrump

— Rachel Martin (@Rachel Martin) 1450234019.0
#WhitesAgainstTrump because he's a demagogue who's here thanks to our failings. Time to turn the tide.

— Phil Sanders (@Phil Sanders) 1450233880.0
White. Christian. Military wife, daughter, and mother-in-law. Voter. Educated American woman. I stand with #WhitesAgainstTrump

— Kati Mae (@Kati Mae) 1450233996.0
Hey here's a chance for all people of this ethnic group to disavow the radical extremists among ye: #WhitesAgainstTrump #HashtagActivism

— Write Like a Unicorn (@Write Like a Unicorn) 1450233964.0
Last year, Bell appeared on Bill Maher's "Real Time" and was duped, along with other guests and the audience, when Maher read an allegedly racist quote that was set-up as coming from Republican Congressman Paul Ryan (Wis.) when it was actually uttered by first lady Michelle Obama.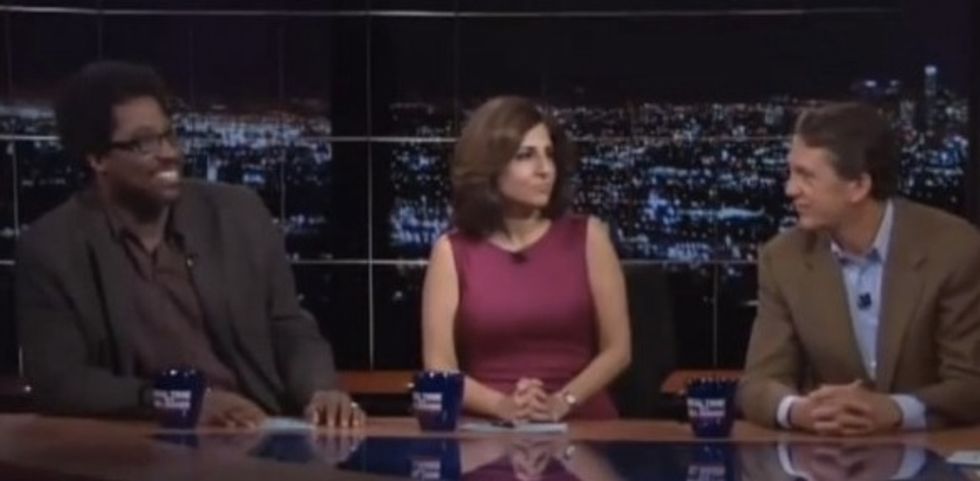 W. Kamau Bell (left) on "Real Time" in 2014. (Image source: HBO)
"When it comes to getting an education, too many of our young people just can't be bothered. They're sitting on couches for hours playing video games, watching TV. Instead of dreaming of being a teacher or a lawyer or a business leader, they're fantasizing about being a baller or a rapper," Maher said, quoting the first lady.
When Maher let everybody in on the gag, Bell was visibly surprised and needed a moment to come up with a reply — and it was similar to how he began his Facebook post on Trump noted earlier.
"I don't think this a Republican or Democrat issue, this is a people issue," Bell said.
"Well, yeah suddenly," Maher joked, adding that Michelle Obama's comments sounded like telling black people not to be "lazy." Bell then defended the first lady, saying, "She was talking to black people — we talk to each other differently than we talk in front of you."
(H/T: Policy.Mic)