Nobel laureate Malala Yousafzai ripped into Republican front-runner Donald Trump late Tuesday, saying that his proposal to ban all Muslims from entering the United States is "full of hatred."
The 18-year-old Pakistani, who was shot in the head by the Taliban in 2012, was speaking at a memorial ceremony for people who died in a Taliban attack last year at a school in Peshawar, Pakistan. Of the more than 150 who were killed, 134 were school children.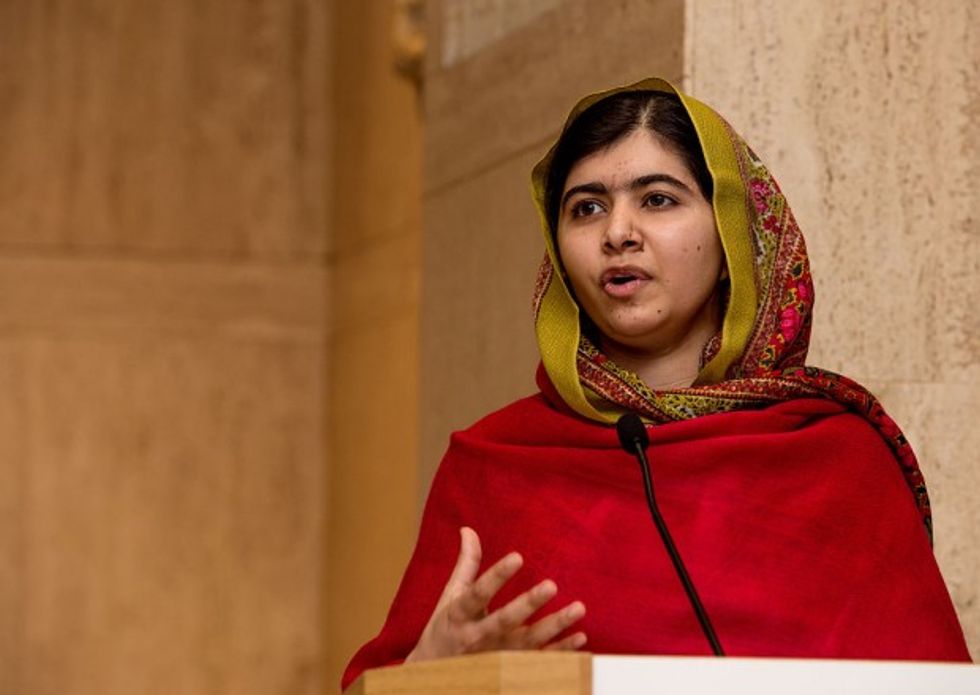 Malala Yousafzai gives a speech during the unveiling of her official portrait Nov. 29. (Getty Images/Richard Storehouse)
"Well, that's really tragic that you hear these comments, which are full of hatred, full of this ideology of being discriminative towards others," she said, according to the AFP, when asked about the billionaire businessman's controversial plan.
Her father, Ziauddin Yousafzai, added, "It will be very unfair, very unjust that we associate 1.6 billion with a few terrorist organizations."
Malala, who is also a women's rights advocate, said that proper education is a channel that could help bring an end to terrorism.
"If we want to end terrorism, we need to bring quality education so we defeat the mindset of terrorism mentality and of hatred," she said.
In a separate interview with the U.K's Channel 4 News, Malala suggested that negative rhetoric directed toward Muslims will only play further into the hands of the Islamic State and other terrorist groups.
"If your intention is to stop terrorism, do not try to blame the whole population of Muslims for it because it cannot stop terrorism," she told the channel. "It will radicalize more terrorists."
—
Follow the author of this story on Twitter and Facebook:
[facebook //www.facebook.com/plugins/like.php?href=