© 2023 Blaze Media LLC. All rights reserved.
I Respect Their Ruthlessness': Dinesh D'Souza Predicts the Next President of the United States
"They're in a knife fight, not a chess match."
Tucked among talk about his new book, upcoming documentaries and the future of the United States, Dinesh D'Souza made a major prediction on the next American president: "If I had to bet now, I regret to say, I would bet on Hillary."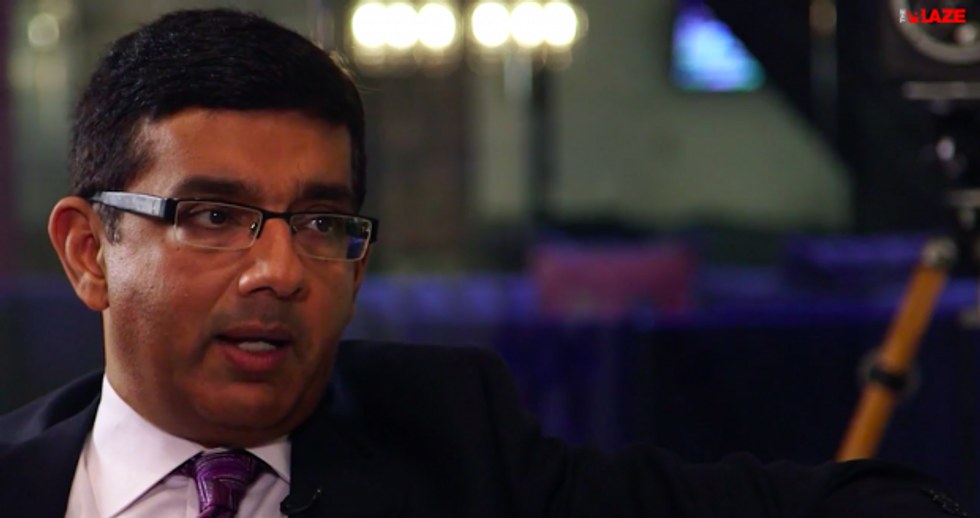 Dinesh D'Souza speaks to Glenn Beck on The Glenn Beck Program on TheBlaze TV (Image source: TheBlaze TV)
D'Souza, in a TV interview with Glenn Beck on that aired Thursday evening, said that, though he doesn't want Democratic front-runner Hillary Clinton to become president, the former secretary of state's "game is really good."
"[Clinton's campaign staff] fight like it matters to them," D'Souza said on The Glenn Beck Program. "They're in a knife fight, not a chess match, and we have to up our game."
D'Souza even went on to say he "respects" the former secretary of state's campaign.
"I respect their ruthlessness," D'Souza said. "If you look at Hillary, her political strategy is to doggedly move ahead and dare everybody else to bludgeon her to the ground and sit on her, otherwise she's going to keep moving — you've got to respect that."
Earlier in the program, D'Souza spoke directly to Clinton's "ruthlessness" in her "ambition."
"Her ambition is to establish a kind of stranglehold of control over the leaders of wealth and power in America," D'Souza posited. "I don't just mean the government. I mean the private sector, over the lives of American citizens."
D'Souza compared the presidential contender's ambition to a "Napoleonic hunger for power" and "tyrannical impulse," claiming Clinton would not be satisfied "if everything is not at your command — if everyone is not at your behest."
D'Souza discusses his claims in depth in his new book "Stealing America."
Complimentary Clip from TheBlaze TV The full episode of The Glenn Beck Program, along with many other live-streaming shows and thousands of hours of on-demand content, is available on just about any digital device. Click here to watch every Glenn Beck episode from the past 30 days for just $1!
—
Follow Tré Goins-Phillips (@tregp) on Twitter
Want to leave a tip?
We answer to you. Help keep our content free of advertisers and big tech censorship by leaving a tip today.
more stories
Sign up for the Blaze newsletter
By signing up, you agree to our
Privacy Policy
and
Terms of Use
, and agree to receive content that may sometimes include advertisements. You may opt out at any time.