President Barack Obama said there is no credible evidence of a terrorist threat against Americans now but added that the country must remain vigilant and united.
"One of our greatest weapons against terrorism is our own strength and resilience as a people," Obama said Thursday at the National Counter Terrorism Center. "If you see something suspicious, say something to law enforcement. It also means staying united as one American family, remembering that our greatest allies in this fight are each other, Americans of all faiths and all backgrounds."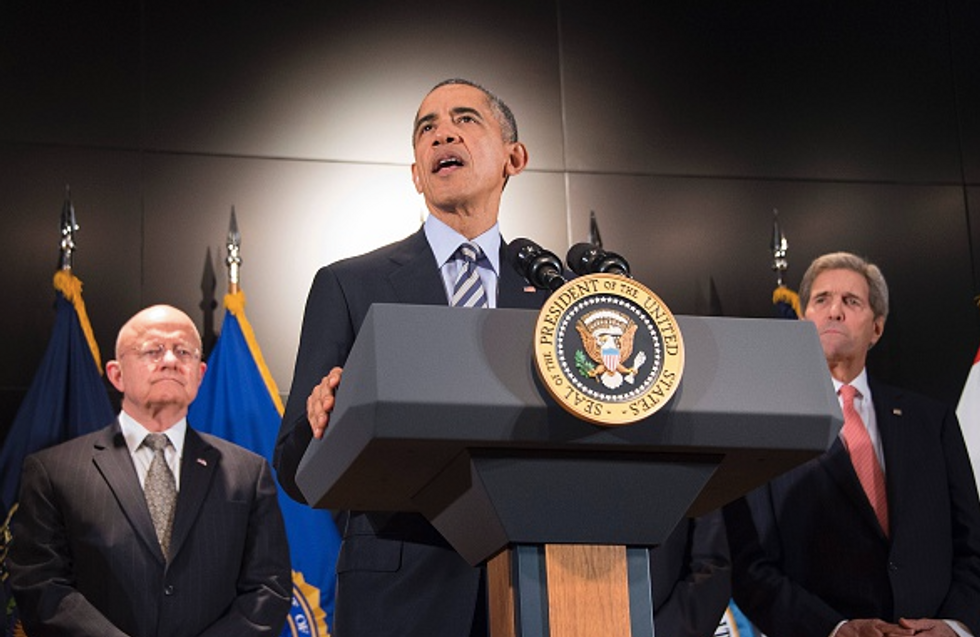 Director of National Intelligence James Clapper, left, and Secretary of State John Kerry, right, flank President Barack Obama during remarks after a national security team meeting at the National Counterterrorism Center in McLean, Virginia, Thursday. (Jim Watson/AFP/Getty Images)
Obama's comments seemed subtly aimed at Republican presidential candidate Donald Trump, who has called for barring Muslim immigrants from entering the United States.
"When Americans stand together, nothing can beat us," the president said. "Most of all, we cannot give in to fear or change how we live our lives, because that's what terrorists want. That's the only leverage that they have. They can't defeat us on a battlefield, but they can lead us to change in ways that would undermine what this country's all about."
The president met with his national security team at the NCTC just days after a similar meeting at the Pentagon. The speech comes after he was roundly criticized for his response to the San Bernardino terrorist attack that killed 14, first suggesting it could be "workplace violence."
"Our intelligence and counterterrorism professionals do not have any specific and credible information about an attack on the homeland," Obama said.
But, in light of recent events, the president said he understood why the country is on edge about terrorism. "After the terrorist attacks in Paris and San Bernardino, I know a lot of Americans were anxious. and that's understandable. It's natural," Obama said.
He assured the country, before setting off on a two-week vacation to Hawaii on Friday, that the country is in good hands.
"What the world doesn't always see are the successes, those terrorist plots that have been prevented, and that's how it should be," Obama said. "This work oftentimes demands secrecy, but as Americans, we should not forget how good these patriots are. Over the years, they have taken countless terrorists off the battlefield, they have disrupted plots. they've thwarted attacks, they have saved American lives."