A veteran's wallet was stolen while he was assisting a woman who was choking, according to a report by KTRK-TV. But it's not the money he misses.
Bob Carbajal, 62, was dining at a Houston restaurant when a fellow diner began choking.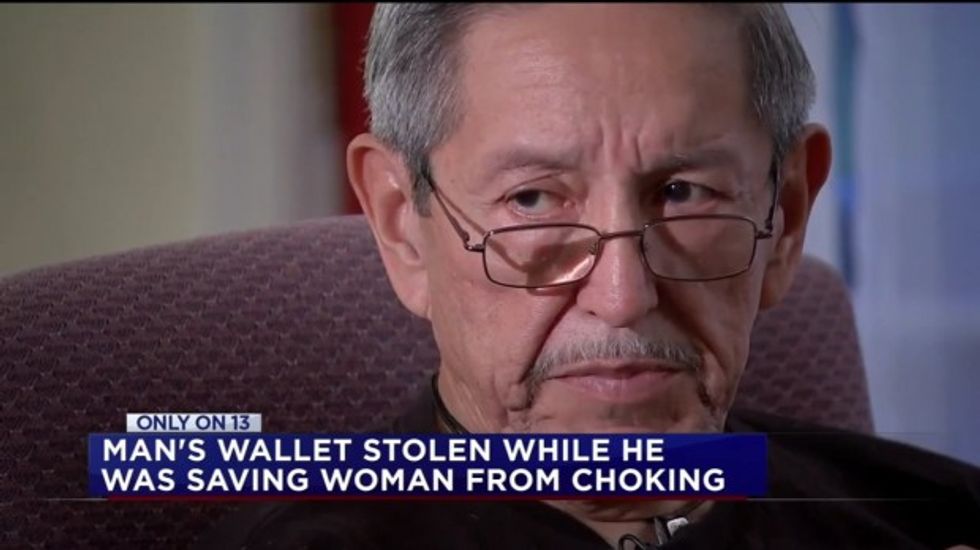 Bob Carbajal (Image Source: KTRK-TV)
"I could hear him saying, 'She stopped breathing. She's not breathing,'" Carbajal told KTRK-TV. "I said put her on her side."
Carbajal assisted the choking woman, and she began to breathe. When he returned for his phone and his wallet, he realized that he had been robbed.
In addition to his credit cards and military ID, Carbajal's wallet contained $300 to buy his grandchildren their Christmas presents.
But the item inside the wallet that is most important to Carbajal: a picture of his late wife as a teenager.
"I carried that picture with me through 22 years of military service," the Army vet said.
Carbajal lost his wife, Linda, to cancer three years ago. The couple married when she was 18, and they were together for more than 40 years.
"They took the stuff and maybe just threw the wallet into a bayou or something, that picture is gone forever. That hurts," Carbajal said.
According to KTRK-TV, police believe that two women are responsible for the theft. The news outlet reported, "One of the women was last seen wearing a white shirt with white and black pants. The other was wearing a tan button down shirt, with blue jeans and tan boots."