DNC Chairwoman Debbie Wasserman Schultz seemed visibly aggravated Friday when CNN anchor Wolf Blitzer asked her if the Democratic Party is trying to work more debates into its current lineup.
The Florida congresswoman's first answer — though tense — seemed friendly.
"We have a combination of candidate forums and debates, and we are continuing to add candidate forums to our schedule, and we have our six debates that are scheduled already," Wasserman Schultz told Blitzer.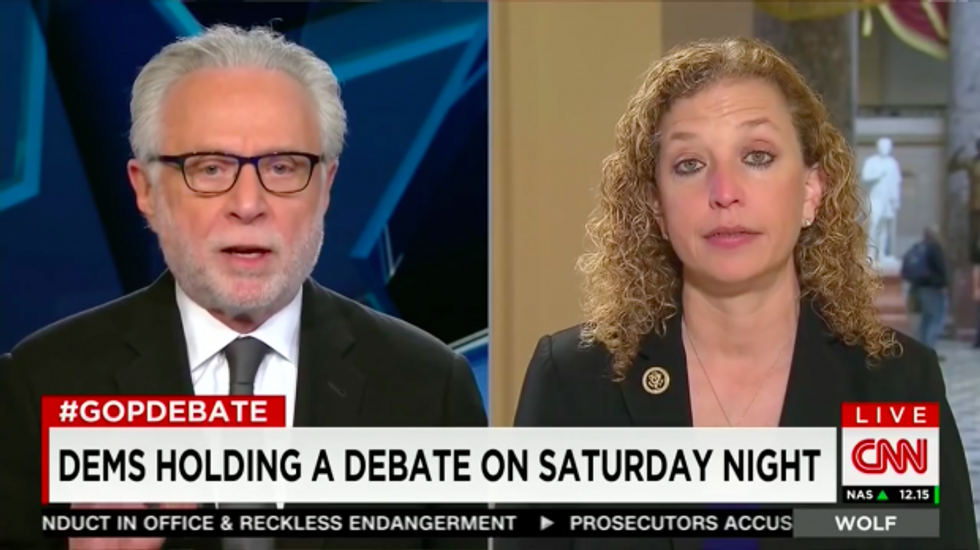 DNC Chairwoman Debbie Wasserman Schultz in an interview with CNN's Wolf Blitzer Friday, Dec. 18. (Image source: YouTube)
As it stands right now, the DNC has six debates, two of which took place earlier this year, and two forums, both in November. It was when Blitzer confirmed the DNC's schedule — repeating what Wasserman Schultz said — that the lawmaker became visibly annoyed.
"So no more debates but just candidate forums, where individuals are interviewed one-on-one, but there's no real debate between the candidates, So you're going to stick with that format. Debbie Wasserman —," Blitzer said before Wasserman Schultz cut him off.
"We're giving them a variety of opportunities to see our candidates while preserving their ability to be out on the campaign trail, so that they can get up close and personal with voters," Wasserman Schultz shot back.
Wasserman Schultz's comments come the same day Democratic presidential hopeful Sen. Bernie Sanders (I-Vt.) filed a federal lawsuit against the DNC for blocking his campaign from accessing the party's voter database.
In RNC spokesman Sean Spicer's response to the DNC's actions, he said every Republican candidate has access to the GOP's databases because "we believe primaries should be a process free from party interference." In his comments, Spicer also took a shot at the DNC's current debate schedule.
"It is so troubling to see the DNC engage in heavy-handed favoritism benefitting Hillary Clinton, a pattern which will continue tomorrow night with another debate deliberately scheduled to limit viewership," Spicer said of the DNC debate scheduled for the evening of Saturday, Dec. 19, at St. Anselm College in New Hampshire.
This criticism is not new to Wasserman Schultz. Both Sanders and Democratic rival Gov. Martin O'Malley (D-Md.) have challenged the DNC's limited debate schedule, along with Vice DNC Chairwoman Tulsi Gabbard (D-Hawaii).
"That's one of the problems with the Democratic debate schedule: It smacks of special treatment, and Clinton, who set up her own home-brewed email account as secretary of state, can't afford to keep giving voters the impression that normal rules don't apply to her," New York Times columnist Frank Bruni wrote Thursday of the DNC's debate schedule.
Moving forward, Wasserman Schultz told Blitzer the party "continuing to add" more forums to the schedule.
Watch the tense on exchange on CNN below:
—
Follow Tré Goins-Phillips (@tregp) on Twitter