Rand Paul said Friday that Ted Cruz has been picking up on his talking points about regime change — and argued that swing within the 2016 race toward debating the merits of intervening in foreign conflicts is of his making.
"My view on toppling secular dictators I think is resonating," the Kentucky senator and presidential hopeful said on a call this morning with reporters.
"If you've noticed some of [Cruz's] rhetoric, particularly in the last debate or two, it looked like it could have come from my speeches," Paul said. "They say imitation is the greatest form of flattery, and so I guess I'll accept that."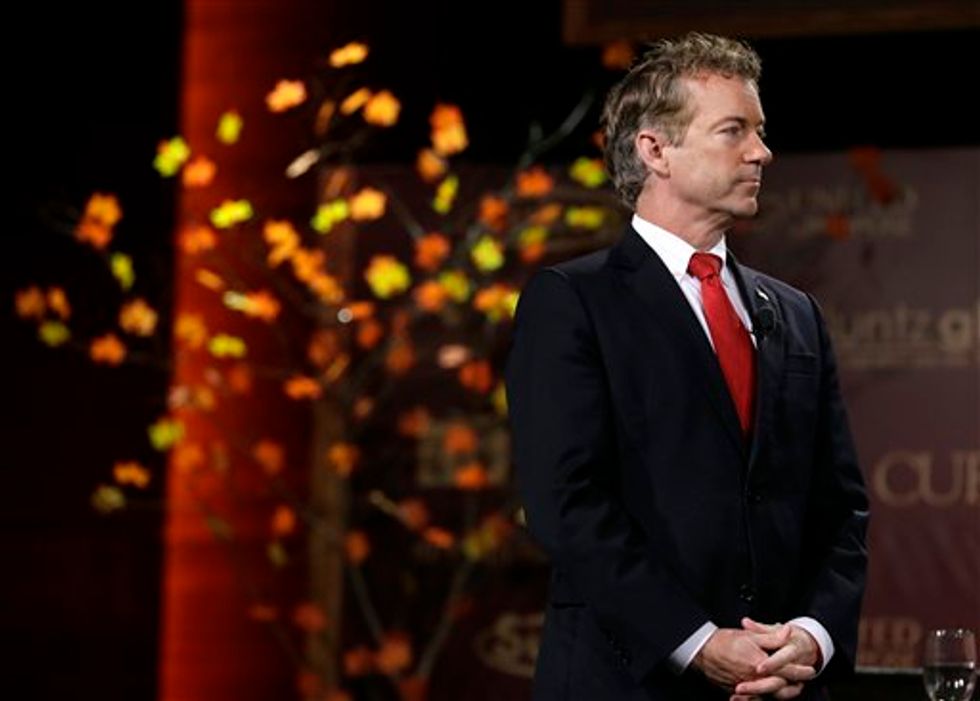 Rand Paul is pictured at an event on Nov. 20 in Des Moines, Iowa. (AP/Charlie Neibergall)
Some have called Paul's brand of foreign policy isolationism — and on Tuesday, Sen. Marco Rubio's spokesman was painting Cruz as an isolationist as well. Paul said he's encouraged that the GOP field is now debating whether toppling dictators like Bashar Assad in Syria is in the best interest of the United States.
Candidates on both sides of the aisle have been aligning closely with President Barack Obama's current strategy in Syria and around the world, Paul said, and he'd like to offer an alternative.
"I'm excited that the issue and idea of regime change, instead of being marginalized, is actually a very central debate," Paul said. "I think it's about time that we debate it not only in our country but in the party. It really ought to be asked of the Democratic candidates as well: Hillary Clinton, Rubio, [Jeb] Bush, they're all the same side on this, they've all been advocates of regime change.
"And I think without question the facts show that regime change has made us less safe, not more safe."
—