KABUL, Afghanistan (AP) -- Six foreign soldiers were killed in a suicide attack near the U.S.-run Bagram Airfield in Afghanistan Monday, NATO said.
Another three NATO troops were wounded in the attack, according to U.S. Army Brig. Gen William Shoffner, head of public affairs at NATO's Resolute Support base in the Afghan capital Kabul.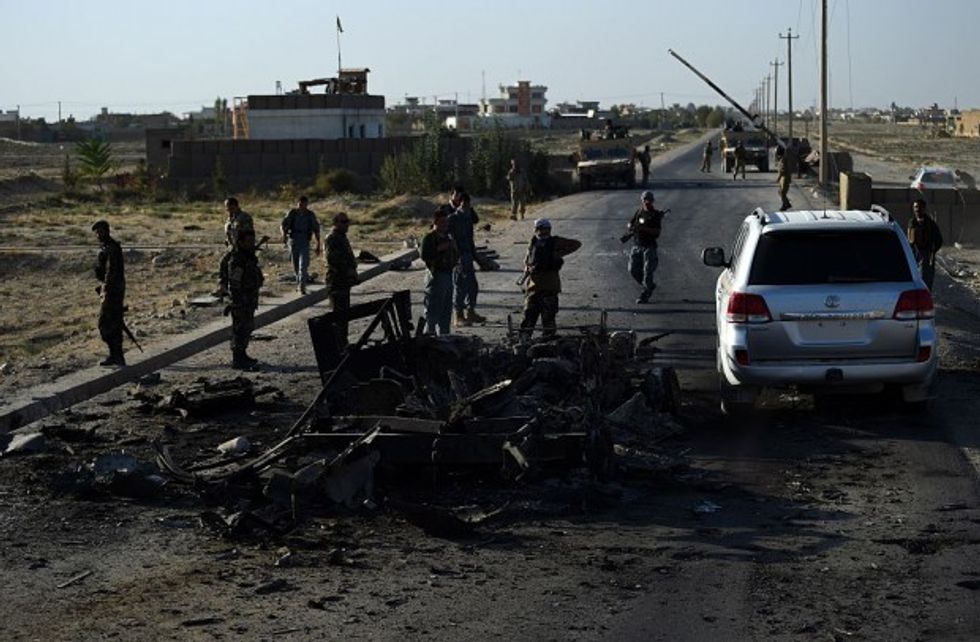 Afghan security forces battle with the Taliban, Oct. 1. (Getty Images/Wakil Kohsar/AFP)
The Taliban claimed responsibility for the suicide bombing, which was the largest attack on foreign troops in Afghanistan since August.
Shoffner said it happened at around 1.30 p.m. local time in the vicinity of Bagram, the largest U.S. military facility in Afghanistan.
NATO could not confirm the nationality of the dead, according to policy that requires identification to come from casualties' home countries.
Earlier, an Afghan official put the number of NATO personnel dead at three, with another two wounded.
Mohammad Asim Asim, governor of Parwan province, where Bagram is located, said that a suicide bomber rammed an explosives-laden motorcycle into the combined NATO-Afghan foot patrol as it moved through a village close to the base, which is 45 kilometers (28 miles) north of Kabul.
He also said that two Afghan police officers were wounded in the attack.
It is the first major attack on a NATO military convoy since August 22, when three American contractors with the RS base were killed in a suicide attack on their convoy in Kabul. On August 7 and 8, Kabul was the scene of three insurgent attacks within 24 hours that left at least 35 people dead. One of the attacks, on a U.S. special operations forces base outside Kabul left one U.S soldier and eight Afghan civilian contractors dead.
The U.S. currently has about 9,800 troops in Afghanistan, some of which are involved in counterterrorism missions. With NATO contributions, there are about 13,000 foreign troops in Afghanistan.
Editors note: This article has been updated to correct the spelling of "soldiers" in the headline.