An MSNBC panel was left momentarily speechless Tuesday after former Vermont Gov. Howard Dean defended Hillary Clinton's claim that the Islamic State is using videos of Donald Trump to recruit new members.
Dean was asked by "Morning Joe" cohost Mika Brzezinski about the Clinton campaign's defense of the allegations she made at Saturday night's Democratic primary debate, which fact checkers have not yet been able to confirm.
"The video of Donald Trump is all over the air, all over the Arab world," the former governor said, in response to the liberal cohost.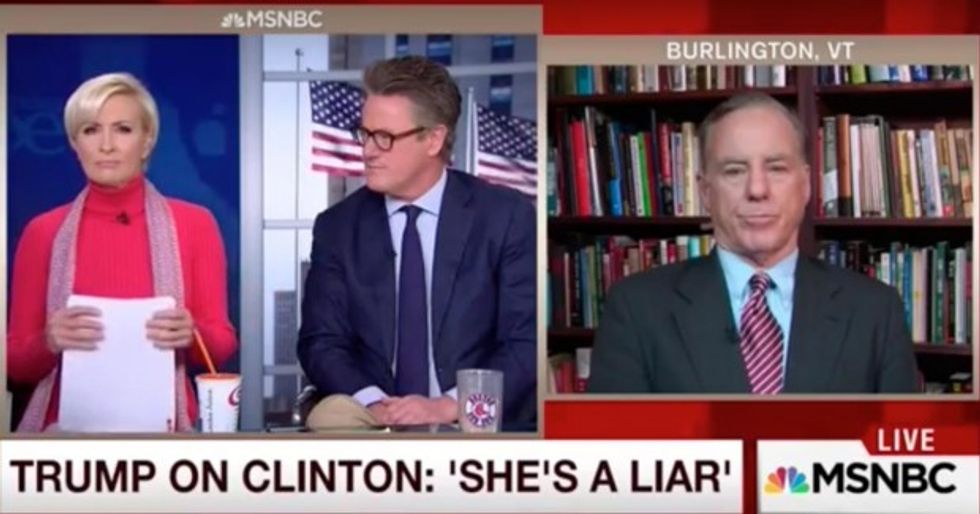 Image source: YouTube
"The video of Donald Trump is all over the world, but it's not being used by ISIS to recruit as far as anyone can confirm," Brzezinski said. "Are you saying that she was saying something that was truthful?"
"Yeah, I think so," Dean replied. "If you look at Twitter, you'll see ISIS supporters saying, 'This is what Americans believe about Muslims, we ought to get going and do some more damage,' basically."
His response was followed by temporary silence as the panel, particularly Brzezinski, appeared stunned.
"That's just — what's going on? Anybody want to help me out?" Brzezinski said.
Dean broke the silence, adding, "I don't think ISIS itself has made a video, but it's all over the Arab world and ISIS is using the video of Donald Trump trashing Muslims to recruit. That is true."
But Brzezinski wasn't buying it.
"I'm sorry, where are you getting this?" the female host asked Dean.
"Just look on Twitter," he replied.
[sharequote align="center"]"I'm sorry, where are you getting this?"[/sharequote]
The New York Times' Nick Confessore pressed Dean, suggesting that if he's going to call out Carly Fiorina on the Planned Parenthood video and Donald Trump on Muslims cheering in New Jersey, then he should also criticize Clinton in this instance.
"This is the same thing, isn't it?" Confessore said.
"I think I'd respectfully disagree," Dean replied.
(H/T: Mediaite)
–
Follow Jon Street (@JonStreet) on Twitter