Thirty-two members of Congress, led by Sen. Ted Cruz (R-Texas) and Rep. Mark Meadows (R-N.C.), sent a letter to Secretary of State John Kerry Friday asking that he take steps to close the office of the Palestine Liberation Office in Washington, D.C., which serves as a quasi-Palestinian embassy in the nation's capital.
The lawmakers told Kerry that the U.S. should "hold the PLO and its leaders accountable" for offering incentives — including salaries — to Palestinians who have committed violent attacks on Israelis.
"The spike in violence in Israel is directly connected to the Palestinian government's teaching of hate and glorification of terrorism," the lawmakers' letter read.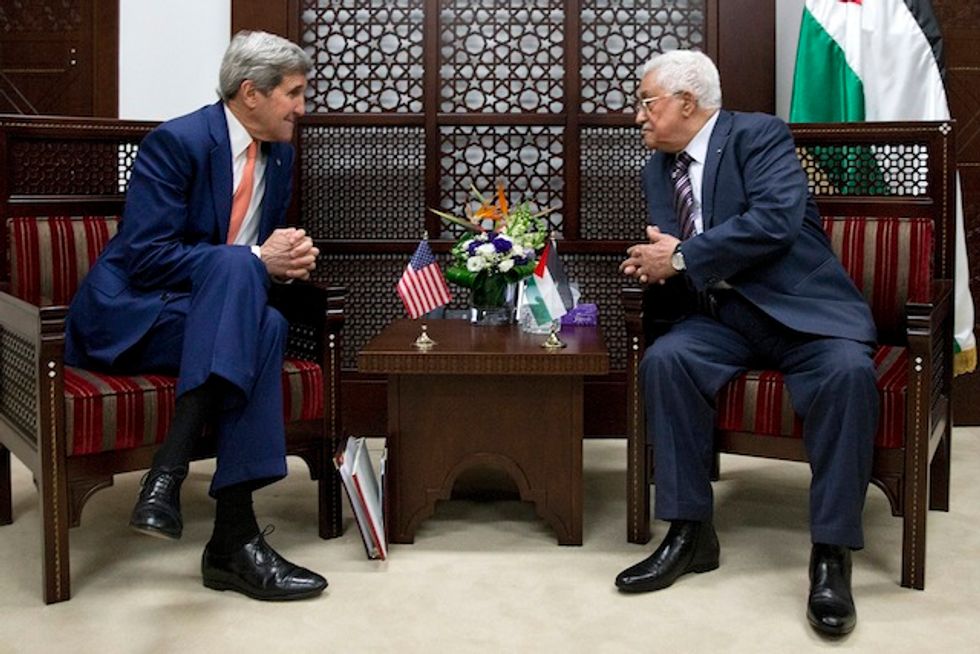 Secretary of State John Kerry, left, leans in to begin his meeting with Palestinian President Mahmoud Abbas in the West Bank city of Ramallah Nov. 24. (AP Photo/Jacquelyn Martin, Pool)
Cruz and his colleagues cited the Israeli research group Palestinian Media Watch, which has reported on Palestinian Authority government salaries to convicted terrorists in which "the longer the term, the higher the salary." The compensation reaches a total budget of approximately $150 million per year to terrorists serving in Israeli prisons and the families of deceased terrorists.
"Shockingly, despite being complicit in spreading hatred and terror, the PLO retains an office in Washington, D.C.," the lawmakers wrote.
The lawmakers noted that under the Anti-Terrorism Act of 1987, "Congress forbade the PLO from establishing or maintaining an office in the United States."
But every year since the Oslo Peace Accords were signed under then-President Bill Clinton, each president has signed a waiver allowing the D.C. office to remain open.
The members of Congress called on Kerry to "immediately revoke" the waiver.
"Closing the PLO office in Washington, D.C., would send a clear statement that the kind of incitement to violence perpetrated by the PLO and its leaders will not be tolerated," the lawmakers said.
Israel is facing a wave of nearly daily Palestinian stabbing and car-ramming attacks. Prime Minister Benjamin Netanyahu has blamed the Palestinian Authority for encouraging the continuation of violence.
Some examples of incitement include the Palestinian Authority's honoring of terrorists with state funerals, President Mahmoud Abbas calling on Palestinians to defend Jerusalem's Al-Aqsa mosque from being desecrated by the "filthy feet" of Israelis, and claiming erroneously that Israel in October had executed a Palestinian boy in the street. The teenager in fact had gone on a stabbing rampage in Jewish neighborhood in Jerusalem and is alive today.