This morning, on one of the quietest news days of the year, the Office of the Director of National Intelligence (DNI) released a stack sensitive documents regarding the terrorists attacks that took place in Benghazi, Libya on September 11, 2012.
The DNI files included information about suspected Benghazi terrorist, Anwar al-Awlaki and 16 pages of heavily censored emails about the events surrounding the deadly attack on the American diplomatic compound.
The emails regarding Benghazi are blacked out in multiple places, and appear to reveal little new information.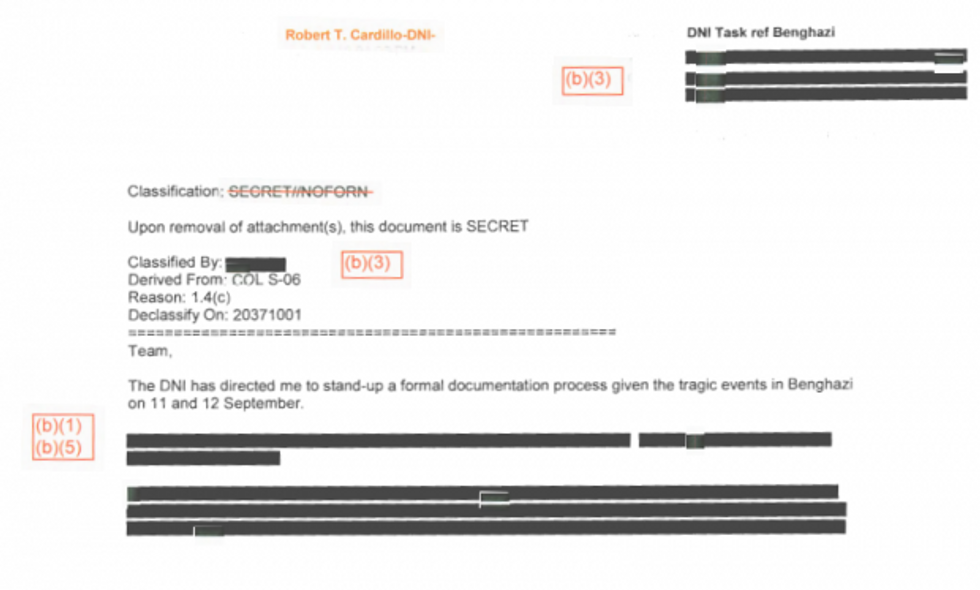 DNI
A collection of emails, dated October 2012, discuss the development of an assessment of the threat level to prior to the September attack that killed four Americans.
The documents also included a small collection of press clippings that track further violent events like shootings and car bombs that surrounded Benghazi in the years following the attack.
A memo to the State Department was among the documents released in the Christmas Eve dump. Signed by the DNI, the memo dated February 2011 details a proposal to revoke al-Awlaki's U.S. passport. Al-Awlaki was killed by a U.S. airstrike in Yemen the following September.
In the memo, the DNI told the State Department that it "concurs with the proposal to revoke the U.S. passport of Anwar Nasser al-Aulaqi."
News that al-Awlaki's passport was revoked by the State Department before he was killed wasn't reported until 2012.
A Justice Department memo from that time revealed that the government did not see any constitutional problems with killing al-Awlaki, a U.S. citizen, because of his alleged strong ties to Al Qaeda.
Other documents released Thursday include a 2013 update regarding how to mark sensitive human intelligence. Another, dated 2015, details the schedule of National Counterintelligence Executive William Evanina.
Thursday's document dump was part of a "proactive disclosure" guaranteed in the Freedom of Information Act.
--
Follow Carly Hoilman (@carlyhoilman) on Twitter