Teachers on the karaoke microphone in front of students in the high school cafeteria — all the requisite elements for a rollicking good time just before Christmas break.
But the crowd at Souderton High School got quite a bit more than it was expecting when Becky Alderfer stepped up to the mic during Tuesday's fundraiser for the United Nations Club.
Alderfer is one of the lunch ladies.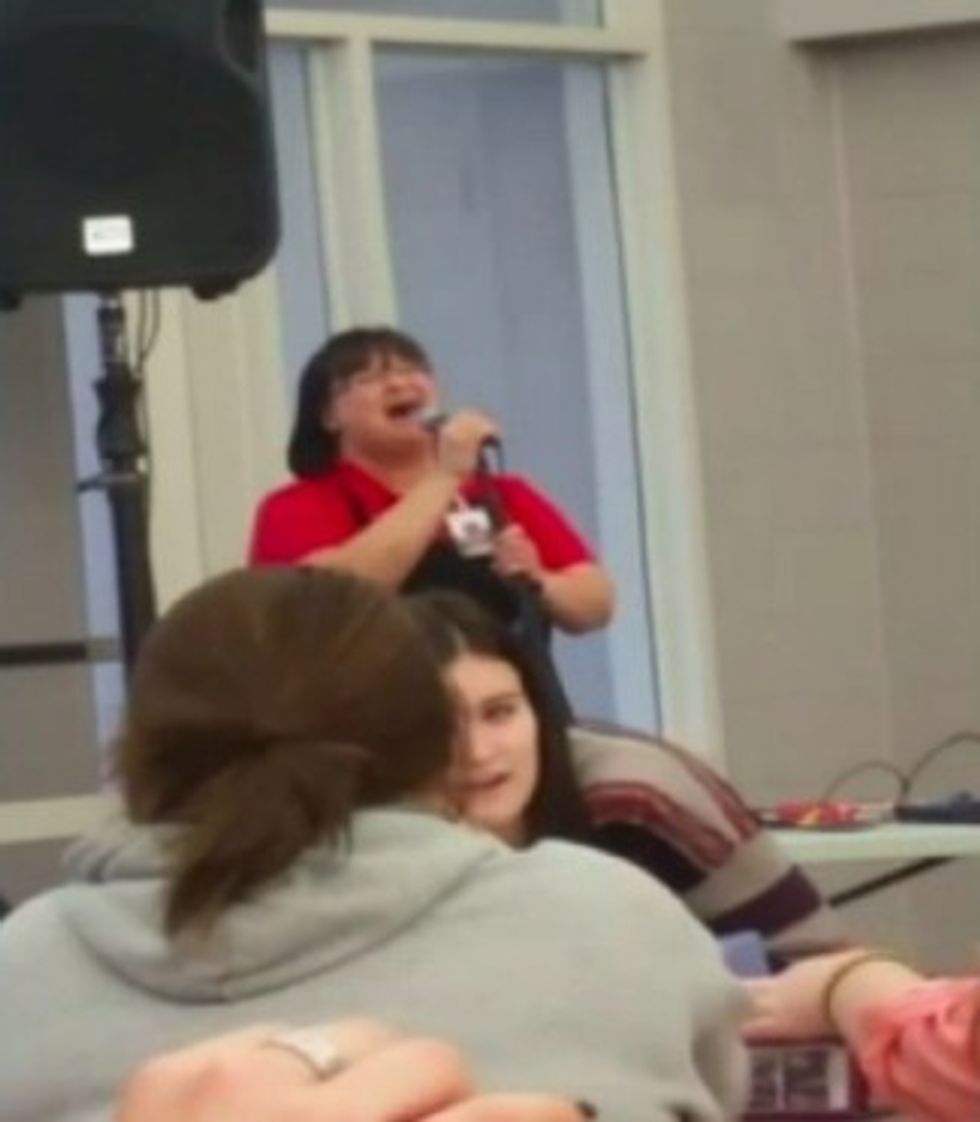 Beck Alderfer belts it out. (Image source: WCAU-TV)
"I think it surprised them that the lunch lady started singing," Alderfer told WCAU-TV.
The 52-year-old chose "Have Yourself a Merry Little Christmas" and dedicated the tune to her fellow lunch ladies: "I thought it had a nice message and I felt like I knew it well enough that I could get through it."
She did a bit more than that.
As Alderfer made her way through the classic holiday song, students at the suburban Philadelphia school barely paid attention, looking away from the makeshift stage and chattering away over the performance.
But then the 52-year-old Harleysville resident hit her first big note — and brought the house down.
"I know what a wonderful voice she has," her boss Pam Forster told WCAU-TV about convincing Alderfer to show off her talent. "So my staff was like, 'Well, let's see if we can get her up there.'"
It's not as though Alderfer isn't used to singing — just not in front of students in the cafeteria. She's been the music director for over 30 years at her father's church, Family Worship Center in Lansdale — and cut her teeth in the choir and student productions at Souderton High when she was a student there in the 1980s, the station said.
Still, the experience got her heart beating a little faster than usual.
"I can count on my hand how many times I've done karaoke," Alderfer told WCAU. "It's a little nerve-racking. It works if you can find a song you're really familiar with; otherwise it might be a disaster for anyone!"
Check it out: