UPDATE 1:14 a.m. Sunday ET: (AP) — Three more people are confirmed dead from the storms near Dallas, the latest fatalities located in Collin County.
Sheriff's Deputy Chris Havey gave no other details of the deaths.
Collin County is about 45 miles northeast of Dallas.
The fatalities in Collin County bring to seven the number of confirmed deaths from a series of storms that spawned tornadoes after dark on Saturday evening.
—
UPDATE 10:55 p.m. ET: (TheBlaze/AP) — The four reported deaths amid the Dallas-area tornadoes occurred as a result of vehicle accidents near the intersection of two major highways in Garland, east of Dallas.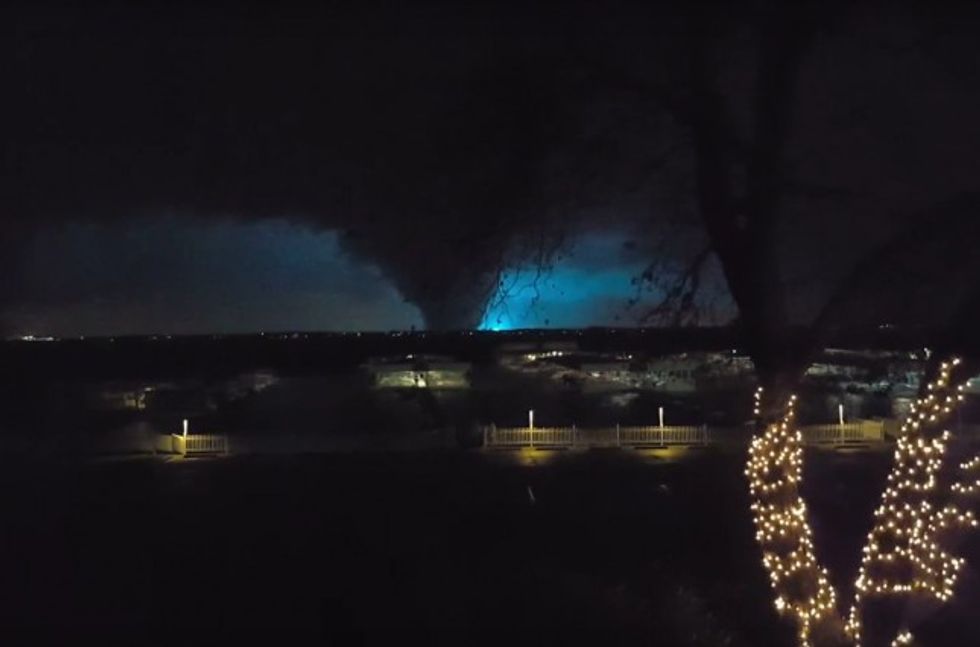 Image source: YouTube
Officer Joe Harn, a Garland police spokesman, said Saturday night it's unclear if all four were in the same vehicle or how they died.
A tornado is reported to have gone through the suburb east of Dallas, damaging several homes.
Harn says there are no active rescues underway, though first responders continue to search houses for anyone trapped after the storms passed.
Numerous tornado videos from the Dallas storm have been posted to YouTube.
—
UPDATE 10:13 p.m. ET: (TheBlaze/AP) — Four deaths in Garland, Texas, have been confirmed following tornadoes that ripped through the area Saturday night, KDFW-TV reported.
"@artniu: #Texasweather #Tornado #Rowlett #dallastornado #Dallas pic.twitter.com/1F5Ww3k4pZ"

— Patricia Sanchez (@patysnchez) December 27, 2015
An official with the Dallas County Sheriff's office says deputies are responding to damages caused by a tornado east of Dallas, including a trailer park ablaze.
Spokeswoman Melinda Urbina said while several emergency teams had been dispatched to Sunnyvale, just east of the Dallas city limits, following reports of trailers on fire and possible injuries in a mobile home park.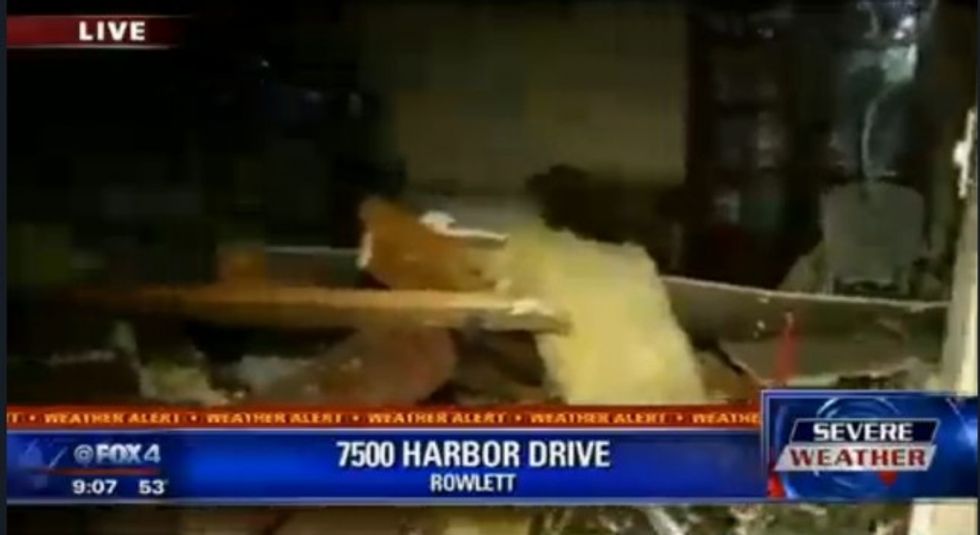 Image source: KDFW-TV
Urbina said the extent of the damage was still uncertain but that nearby roads had been shut due to debris and that the damage to the homes was likely extensive enough to render some "inhabitable." The Red Cross was also responding to the scene, she said, and trees were down.
Original story below
(TheBlaze/AP) — Some homes have been destroyed and damaged during a fierce storm that spawned tornadoes Sunday evening, the emergency manager for a county south of Dallas said.
Here is a screen grab of the tornado near Glen Heights and Red Oak. Will post video later. #txwx @TxStormChasers pic.twitter.com/uXoRF9OZa7

— Brian (@BrianKhoury) December 27, 2015
VIDEO of #Rowlett tornado from @NBCDFW viewer. pic.twitter.com/NMEovFCUnm

— Amanda Guerra (@AmandaNBC5) December 27, 2015
Stephanie Parker, emergency manager for Ellis County, which is about 30 miles south of Dallas, posted on Twitter: "We have destroyed and damaged homes. Please do not get out on the roads if you do not have to."
Mobile home destroyed north east of the airport in Waxahachie TX @wfaachannel8 #wfaaweather ##@wfaaweathertoo pic.twitter.com/uAsxYAkmmC

— Nefty Gonzalez (@WFAAPhotog) December 27, 2015
Here's one of destroyed homes from tornado in Cross Creek subdivision off 664. PD estimate 7 homes destroyed @NBCDFW pic.twitter.com/PE1gyYJAGg

— Jeff Smith (@JeffSmithNBC5) December 27, 2015
The National Weather Service in Fort Worth confirmed that a tornado touched down south of Dallas earlier this evening. No other details of damage were immediately available.
This story has been updated..