Israeli archaeologists announced Sunday the discovery of a ram statue in the ancient port city of Caesarea they believe may have been meant to depict either Jesus or the Good Shepherd's flock.
"In ancient Christianity Jesus was not portrayed as a person. Instead, symbols were used, one of which was the ram," excavation directors Dr. Peter Gendelman and Mohammad Hater said in a joint statement announcing the Christmas Eve discovery of the marble ram.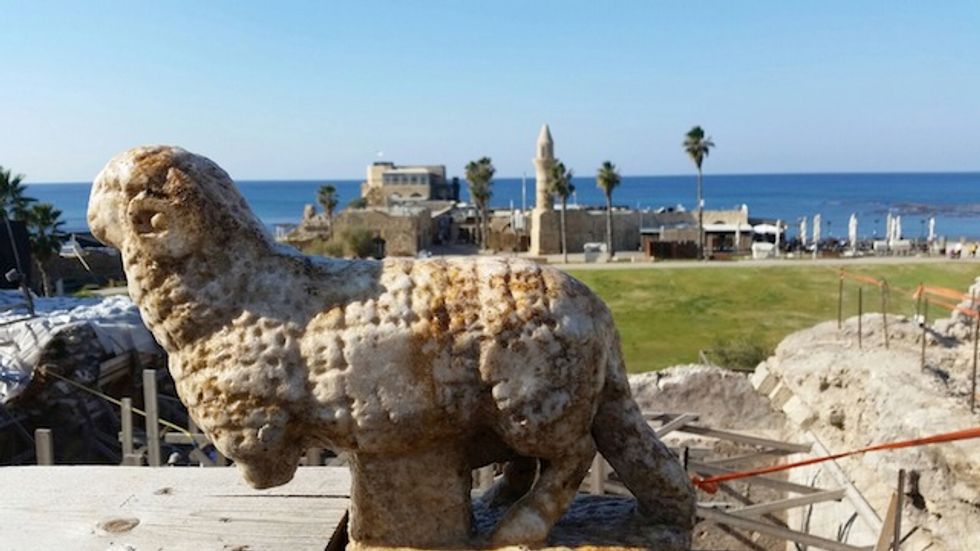 The ram with the Caesarea coast in the background (Photo courtesy: Vered Sarig/The Caesarea Development Corporation)
The Israel Antiquities Authority offered this historical background on the biblical narrative that may have inspired the artist who created the sculpture:
In Christian art the ram is often depicted carried on the shoulders of the "Good Shepherd" (that is, Jesus, who is portrayed as the shepherd tending his flock), and sometimes the ram is situated to the left or right of Jesus. In Christianity the ram, like the lamb, represents the faithful, or Jesus himself, whose anguish and death were meant according to Christian belief to atone for original sin.
John 1:29 reads, "The next day John saw Jesus coming toward him and said, 'Look, the Lamb of God, who takes away the sin of the world!'"
The Israeli archaeologists took note of the special timing of the discovery.
"It may or may not be a coincidence, but the statue was uncovered on Christmas Eve," Gendelman and Hater said.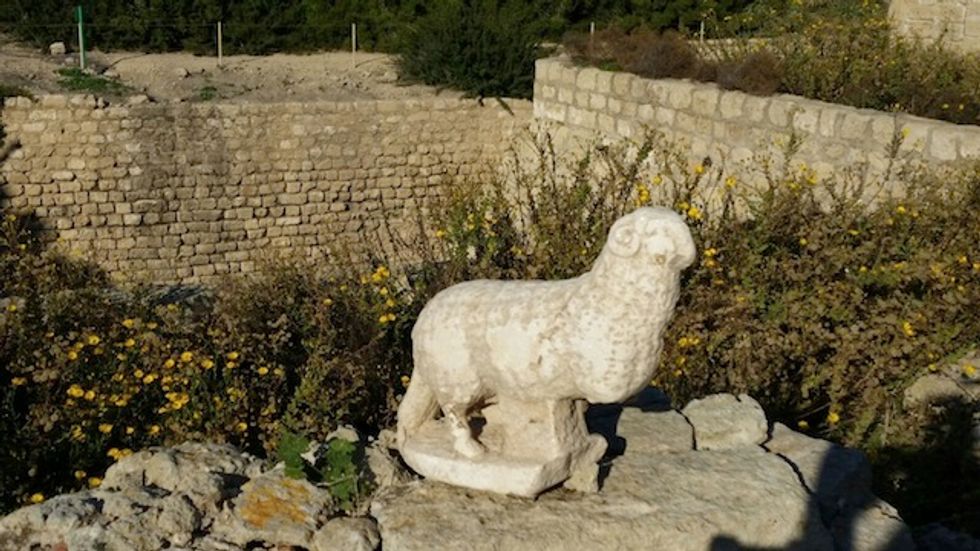 Archaeologists explained that the ram has been used to portray both Jesus and his flock in ancient art. (Photo courtesy: Vered Sarig/The Caesarea Development Corporation)
The ram depiction – which the archaeologists described as "impressive" - was found near an ancient Byzantine period church in the city along Israel's northern Mediterranean coast.
"The statue that we found might have been part of the decoration of a Byzantine church from the sixth–seventh centuries CE at Caesarea. By the same token it could also be earlier, from the Roman period, and was incorporated in secondary use in the church structure," the excavation directors said.
In addition to the Christian significance, the ram was used in Greek and Roman art, sometimes appearing alongside the Greek god Hermes and his Roman equivalent Mercury. It was also used to represent the Egyptian god Amun.
The excavation is being conducted by the Israel Antiquities Authority and the Caesarea Development Corporation.