Republican presidential frontrunner has "toned down the rhetoric" and could become a "unifier" as a candidate, according to Ohio Gov. John Kasich.
Kasich, who vowed Trump would never be the nominee at the end of November, said during an interview with ABC's "This Week" that he hopes Trump "becomes a unifier" as the eventual GOP nominee will not be able to "win the White House without winning Ohio."
"I've been listening to him lately. And you notice he's toned down the rhetoric," Kasich said. "I listened to your six minute coverage of him, and he's toning it down. And I'm just hoping that as we go forward he's going to be a unifier."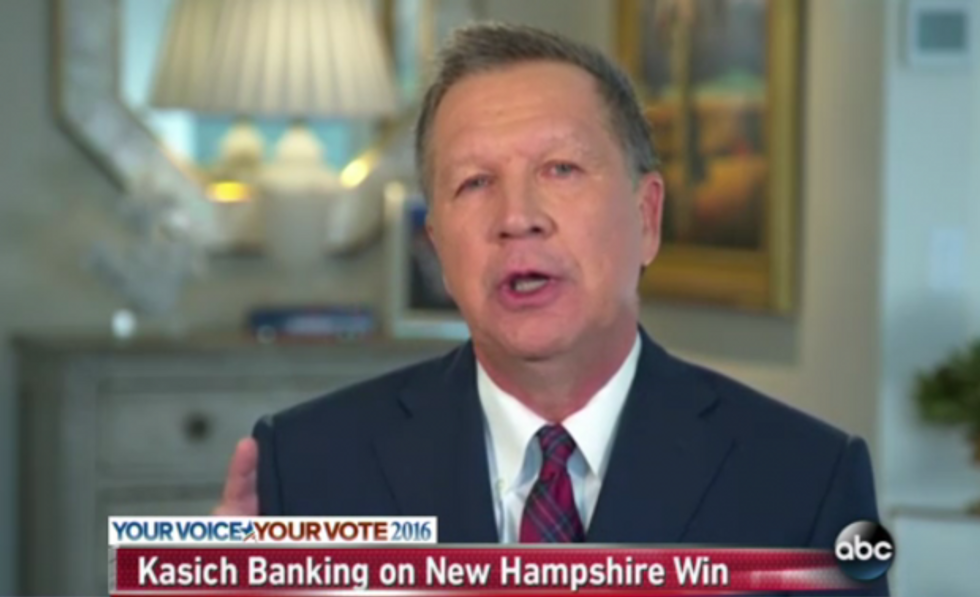 Image source: ABC News
Kasich, who is running for the Republican nomination as well, would not say whether or not he'd support Trump should the real estate mogul get the nomination. However, despite his assertion that Trump has "toned down the rhetoric," Kasich still slammed his opponent on women's issues and immigration.
"What Trump does is he complains about everything. And, look, these attacks on women, the attacks, you know, on [Democratic presidential frontrunner Hillary Clinton] not getting back to the stage on time, the attacks on Hispanics and Muslims — look, we haven't started the vote yet, Jon, I mean it's a really good top of the story, you know, Trump is rising and everything," Kasich said. "Wait until we start voting. And then we're going to know. We're going to know where people are."
According to Real Clear Politics' aggregated polling data, Trump leads the vast field of Republican presidential candidates with 36.5 percent. Kasich trails in 9th place with 2.0 percent.
WATCH: @JohnKasich again declines to answer whether he'll support Trump as GOP nominee: https://t.co/Em81J4i8F3 https://t.co/573P2MYD6F

— This Week (@ThisWeekABC) December 27, 2015