Police say three masked gunmen forcibly entered a home in Trotwood, Ohio, early Monday, demanding money — but they soon found out the homeowners were armed.
The Montgomery County coroner's office said one of the three men, now identified as 29-year-old Azikiwe Presley of Dayton, Ohio, was fatally shot during the alleged home invasion. Police are looking for the other two men who escaped.
The woman said she was in the laundry room when the men broke in and held her and two children, who were sleeping, at gunpoint. Home surveillance video captured part of the incident on camera.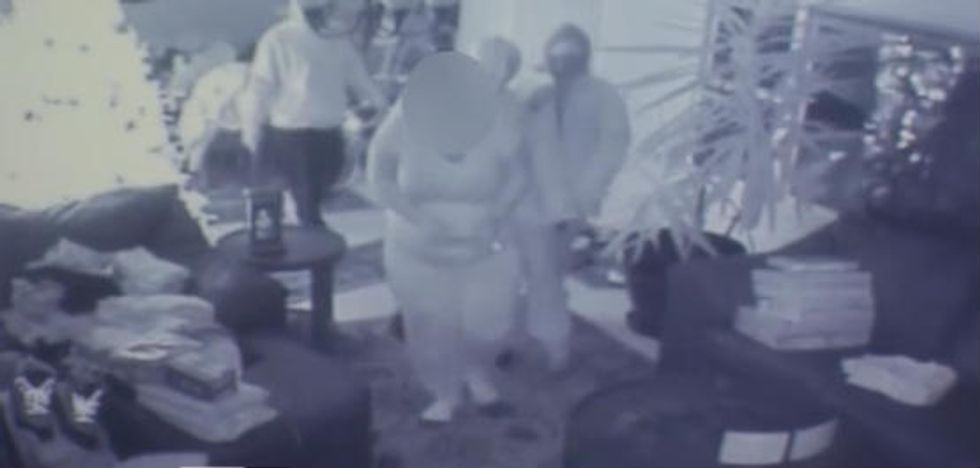 Image source: WRGT-TV
"He hit me in the head with the gun," the woman said, WRGT-TV reported.
The men then reportedly demanded that she lead them to "the money," so she showed them a safe in the room where the children were sleeping. According to the victim, two of them tried to steal the safe while the third kept her and the two children at gunpoint.
But at one point the woman was able to get away and grab a gun she had hidden nearby.
"I started shooting and they ran!" the homeowner told emergency dispatchers. "They must not have had bullets, because after I pulled the trigger they just took off, instead of firing back."
Police later found Presley lying on the ground dead between the victim's house and another home, still armed. It was not clear whether the gun had any ammunition.
The woman said she didn't know what type of vehicle the other two men used to get away, because it wasn't parked in clear view of her house. Police are still searching for the two escaped individuals.
(H/T: WRGT-TV)