Donald Trump has released a list of approximately 200 New Hampshire town chairmen for his presidential campaign, but some of them have no intention of voting for him, according to a report by the Union Leader.
According to the report, several individuals across the Granite State were listed as chairmen by the Trump campaign after merely expressing interest in learning more about the candidate. Some granted the title of chairman by the Trump campaign told local media they intended to vote for a different GOP candidate.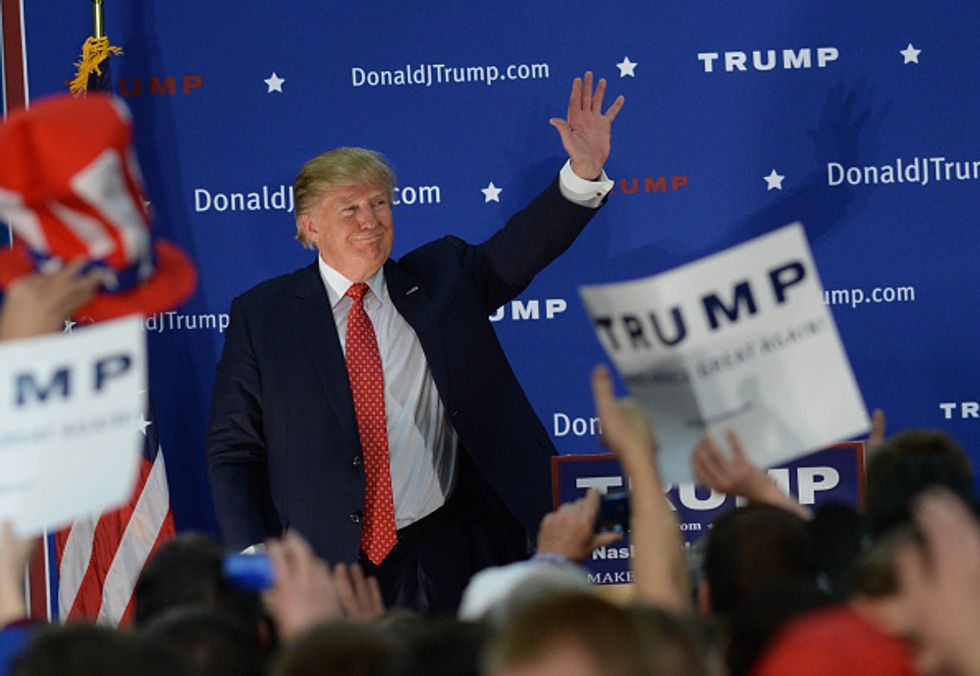 Republican presidential candidate Donald Trump waves to the crowd after speaking at a rally at Pennichuck Middle School Dec. 28 in Nashua, New Hampshire. Trump has seen his lead in the polls slip in Iowa but still remains in the lead in New Hampshire for the Republican nomination. (Darren McCollester/Getty Images)
A reporter, Daymond Steer, was listed as Trump's Tamworth chair, but in an interview with the Union Leader, he "underscored that he remains neutral."
Nancy Partington, listed as Trump's Woodsville town chairman, said that she intends to vote for former Florida Gov. Jeb Bush in the state's GOP primary.
John Hartman, listed as Trump's chairman in Eaton, said that he is not involved with the Trump campaign and must remain neutral as chairman of Eaton's Republican committee.
"I guess they made a mistake," Hartman said. "The Trump organization is quite aggressive, which they should be."
In recent days, Trump has been highly critical of the Granite State's leading newspaper after its publisher, Joseph McQuaid, ran an editorial calling him a "crude blowhard with no clear political philosophy and no deeper understanding of the important and serious role of President of the United States than one of the goons he lets rough up protesters in his crowds."
McQuaid added that Trump "reminds us of the grownup bully 'Biff' in the 'Back to the Future' movie series."
At a recent New Hampshire rally, Trump called the paper "garbage" and tossed a copy into the crowd.
He also called McQuaid "stinky" on Twitter.
I predict that dying @UnionLeader newspaper, which has been run into the ground by publisher "Stinky" Joe McQuaid, will be dead in 2 years!

— Donald J. Trump (@Donald J. Trump) 1451535097.0
New Jersey Gov. Chris Christie won the endorsement of the paper's editorial board.