New Jersey Gov. Chris Christie has secured the much coveted endorsement of the New Hampshire Union Leader, the first primary state's largest newspaper, as his Republican presidential campaign trudges along.
"We don't need another fast-talking, well-meaning freshman U.S. senator trying to run the government. We are still seeing the disastrous effects of the last such choice," Joseph McQuaid, the venerable newspaper's publisher, wrote, seemingly swiping at Christie's opponents in the Senate: Florida's Marco Rubio, Kentucky's Rand Paul and Texas' Ted Cruz.
McQuaid went on to praise Christie as a "solid, pro-life conservative" and lauded his work with unions and those "across the aisle" without getting "rolled in by the bureaucrats."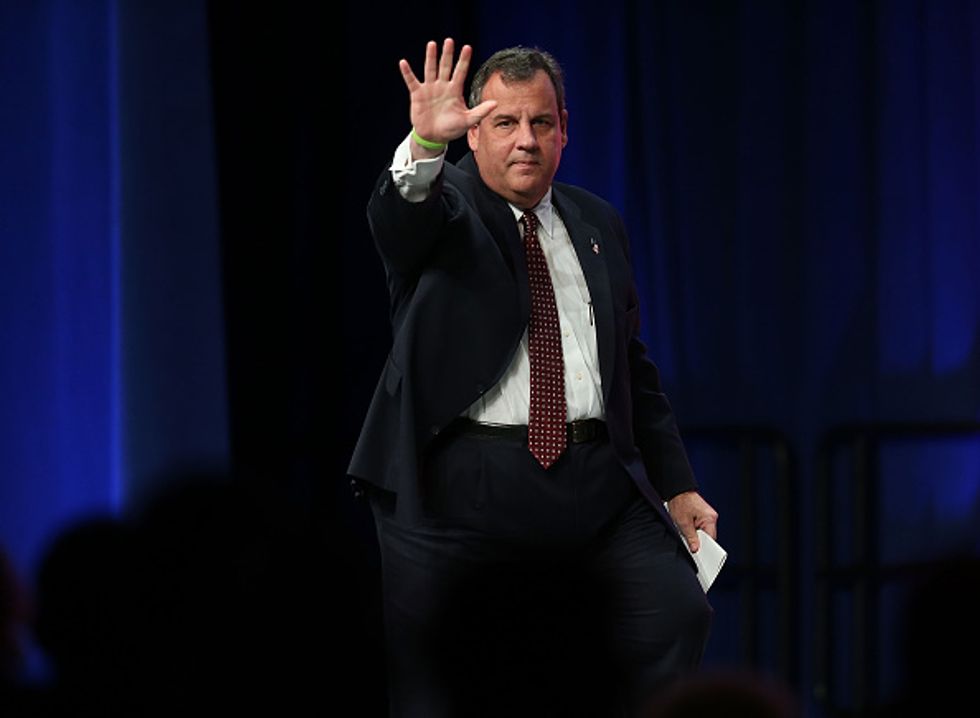 ORLANDO, FL - NOVEMBER 14: Republican presidential candidate New Jersey Governor Chris Christie speaks during the Sunshine Summit conference being held at the Rosen Shingle Creek on November 14, 2015 in Orlando, Florida. The summit brought Republican presidential candidates in front of the Republican voters. (Photo by Joe Raedle/Getty Images)
"Other candidates have gained public and media attention by speaking bluntly. But it's important when you are telling it like it is to actually know what you are talking about. Gov. Christie knows what he is saying because he has experienced it. And unlike some others, he believes in what he says because he has a strong set of conservative values," McQuaid said. "Gov. Chris Christie is exactly the conservative Republican needed to take the fight to Hillary Clinton next fall and then get about the serious business of defending us and rebuilding our economy."
The endorsement also appeared to take a jab at Carly Fiorina, Ben Carson and Donald Trump as it declared, "we don't need as President some well-meaning person from the private sector who has no public experience."
The Union Leader's endorsement is a much-needed gain for Christie's presidential campaign. According to Real Clear Politics aggregated polling data, Christie is polling at 2.7 percent behind Trump, Carson, Rubio, Cruz, former Florida Gov. Jeb Bush, Fiorina and former Arkansas Gov. Mike Huckabee.
As the Bangor News pointed out, the Union Leader, although coveted among federal and state candidates during campaign cycles, endorsed former Georgia Rep. Newt Gingrich in 2012 although former Gov. Mitt Romney not only won the state, but also secured the Republican nomination.
Honored to receive the support of New Hampshire's @UnionLeader tonight. https://t.co/ZhT8W4OFiE#FITN#Christie2016

— Chris Christie (@ChrisChristie) November 29, 2015
Mon will be my 49th day in NH. I'll keep working hard to earn the trust of voters. Thx 4 the confidence @UnionLeaderhttps://t.co/ZhT8W4OFiE

— Chris Christie (@ChrisChristie) November 29, 2015
Check out the front page of the New Hampshire Sunday News. Thank you for the support @UnionLeader#FITNpic.twitter.com/0wu3lyyfJY

— Chris Christie (@ChrisChristie) November 29, 2015
Read the full endorsement at the New Hampshire Union Leader here.