From talking to other libertarians, Carla Gericke of Manchester, New Hampshire, knows there is an enthusiasm gap between Texas Republican Rep. Ron Paul's 2012 presidential run and the current presidential campaign of the congressman's son, Rand Paul.
"Rand is not his father," Gericke, president of the Free State Project, told TheBlaze. "I have friends and colleagues who have gone door knocking for Rand Paul. They are hearing people say 'I'm not as enthusiastic about Rand as I was Ron.'"
In 2014, the New York Times asked in a headline, "Has the Libertarian Moment Finally Arrived?" The question seemed well-founded considering that most polls then showed Rand Paul, a Kentucky senator, standing firmly in the top three among potential Republican presidential candidates and topping some polls.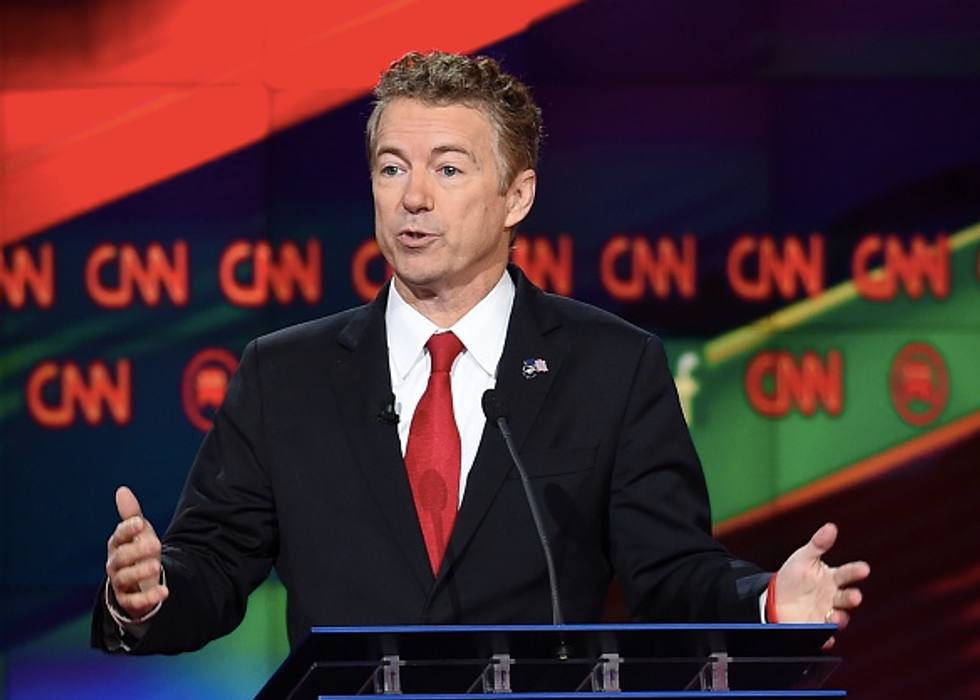 Republican presidential candidate Kentucky Sen. Rand Paul gestures during in the Republican presidential debate in Las Vegas Dec. 15. (Robyn Beck/AFP/Getty Images)
The senator, many believed, was better positioned than his father to win the Republican presidential nod. But the more staunchly libertarian Ron Paul came in at an impressive third place in the 2012 Iowa Caucus and second place in the New Hampshire primary.
By contrast, going into 2016, Rand Paul stands at below 3 percent in the Real Clear Politics national polling average, about the same as his standing in Iowa polls. Paul does only slightly better in New Hampshire, coming in at ninth place with 3.5 percent.
"Senator Paul is uniquely qualified to appeal to various factions of our party unlike any other candidate," Paul spokesman Sergio Gor told TheBlaze. "From students to fiscal conservatives and from libertarians to independent voters, we are confidant that Iowa and beyond remain very competitive to us."
Is the answer to the New York Times question about he libertarian moment "no"? And is the measure of Ron Paul's performance versus Rand Paul's performance in a presidential race a real barometer? No votes have been cast yet, and the movement is perhaps larger than one candidate — or even a powerful father-son duo.
"Barry Goldwater tanked in 1964, but built the conservative movement, which Ronald Reagans was able to win on in 1980," David Boaz, the executive vice president of the libertarian Cato Institute, told TheBlaze.
Boaz added that even with the government growing, libertarians are achieving big victories.
"More people are operating outside the realm of government, home-schooling their children, using email instead of the Post Office, using Uber and Bitcoin," Boaz said. "At the same time libertarians have seen victories this year in gay marriage and marijuana legalization."
As for New Hampshire, a presidential candidate's performance is not the only measure of the success of libertarianism, Gericke said. The Free State Project is 90 percent of the way to its goal of moving 20,000 libertarians into New Hampshire to become a powerful voting bloc and serve as a model for other states.
"We've seen bumper growth in the libertarian movement here," Gericke said. "The trend in libertarianism is moving away from national politics with more of a focus on states with low taxes and a high quality of life. The idea is to build New Hampshire as a place where personal freedom and economic freedom works. Ultimately, we'd like to transport that notion to other states."
She believes some of the problems with Rand Paul have stemmed from his compromises with the Republican establishment, such as a wholehearted endorsement of Senate Majority Leader Mitch McConnell in the 2014 Kentucky Republican Senate primary.
"Ron Paul, Dr. No, was so principled. He was a hero to libertarians because he would say what he believed in regardless of the circumstances, and that resonated with people," Gericke said. "Rand tried to work with the Republican establishment. It's hard to keep a foot in both camps."
Bill Irwin, a philosophy professor at Kings College and author of "The Free Market Existentialist: Capitalism without Consumerism," said that, as a libertarian, he is actually glad to see the decline of Paul's campaign.
"Rand Paul's failure is a good thing because he is not a real libertarian," Irwin told TheBlaze. "Whoever is elected president will be a colossal disappointment in many ways and will spur the growth of the libertarian movement."
Irwin said that Paul would make enough big government compromises as president, which would allow the right and the left to claim libertarianism had failed, when it had not really been tried.
"He has compromised with Republicans in ways his father never would have," Irwin said. "I understand the strategy, but it's a bad strategy. When you try to please everyone you end up pleasing no one."
Former Texas GOP Rep. Ron Paul, right, and son Kentucky Republican Sen. Rand Paul (AP)
Such a strategy is probably necessary in electoral politics, Boaz of the Cato Institute said.
"Ron Paul could only get 10 to 20 percent of the Republican electorate, so it was always clear Rand Paul would have to expand beyond that," Boaz said. "I thought Rand would have another advantage over his father because he's 50 and not 75, and a senator, not a House member. But that percentage supporting Ron is harder to get for Rand who is not as uncompromising as his father. If you don't build on the gung-ho libertarians, where is your base?"
Boaz does believe some libertarian voters will eventually see that Paul is the only major party candidate "that supports more limited government on issues ranging from surveillance and spying to criminal justice reform and taxes and spending."
Further, Boaz thinks there might still be a strategic path for Paul to win the Republican nomination, because he anticipates a mass migration of Donald Trump and Ben Carson supporters to other GOP candidates when voting starts.
"Neither Trump nor Carson is nominatable, and I think about 50 percent of the Republican electorate is up for grabs," Boaz said. "Those voters aren't going to Jeb Bush. Ted Cruz is basing part of his strategy on this. But Donald Trump is the most non-interventionist candidate except Rand Paul. Voters who care about that might find Rand Paul more acceptable."