A veteran Israeli reporter, who for decades has been covering the police beat, pointed out the vastly different outcome of Friday's attack in Tel Aviv as compared with recent Palestinian terrorist attacks in Jerusalem because in Tel Aviv there were no citizen gun carriers nearby to stop the gunman.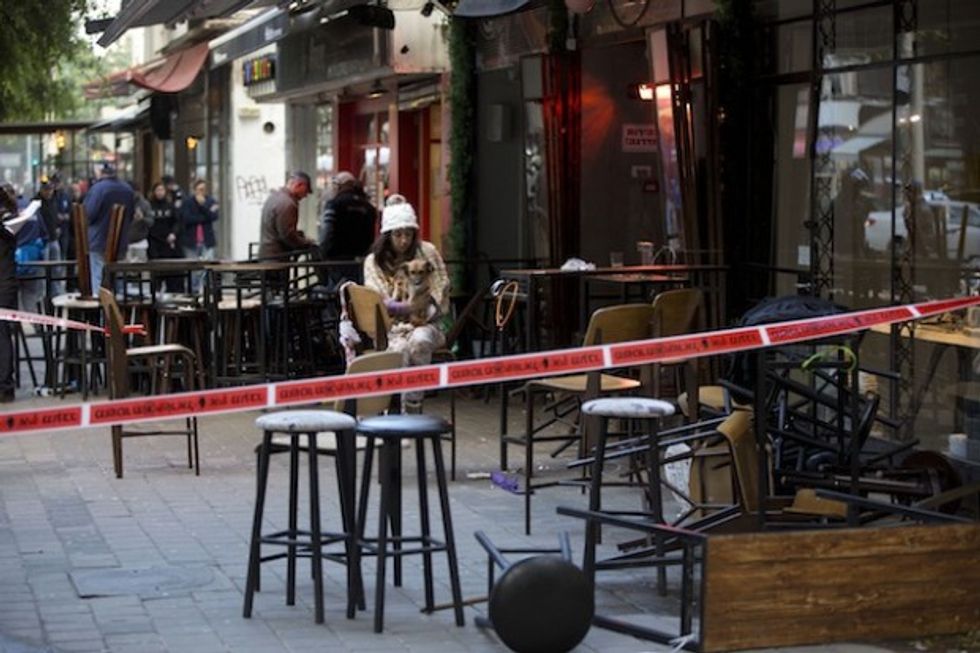 An Israeli eye witness sits with her dog at the scene of a shooting attack in Tel Aviv, Israel, Friday, Jan. 1, 2016. A gunman opened fire at a popular bar in the central Israeli city of Tel Aviv on Friday afternoon, killing two and wounding at least three others before fleeing the scene, police said. (AP Photo/Oded Balilty)
Two Israeli men were killed and two others were seriously wounded Friday at a bar in a trendy area of Dizengoff Street in Tel Aviv when the gunman shot at patrons and then into the street. Police have identified the suspect as an Arab citizen of Israel who as of this writing was still at large.
"Notice the the unfathomable difference between incidents that occurred in Jerusalem -- whether they were shooting attacks or stabbing attacks -- which always ended when one of the citizens or one of the guards … there was always someone who shot at the terrorist or the shooter as opposed to the incident in Tel Aviv," Moshe Nussbaum, Israel Channel 2 television's police reporter, said during the network's Saturday night broadcast.
The anchor of the news program responded to his observation: "On Dizengoff [Street] on Friday afternoon, they don't go out with guns. Let's hope it stays that way. Maybe it will change, to my regret."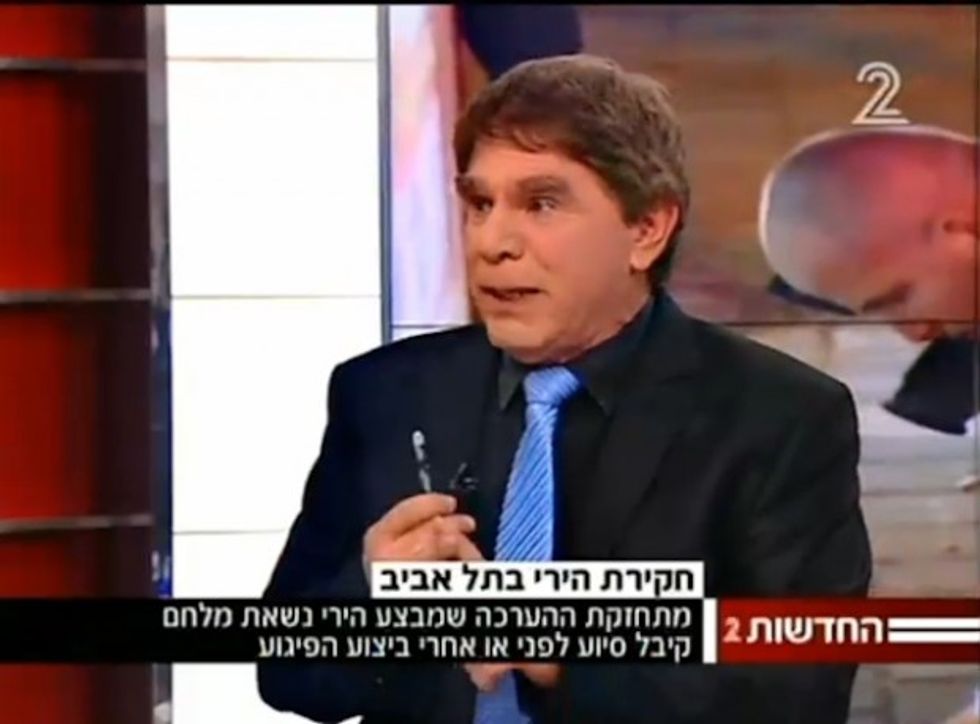 "There was always someone who shot at the terrorist or the shooter as opposed to the incident in Tel Aviv," said Moshe Nussbaum, Israel Channel 2's police reporter, comparing the Tel Aviv attack to previous shootings and stabbings. (Screenshot: Channel 2)
According to figures compiled by the Washington Post Thursday, 91 Palestinians have been killed while they were carrying out attacks on Israelis since Oct. 1.
Given that some of the attacks have been stopped by gun-carrying civilians, Israeli Public Security Minister Gilad Erdan in October eased citizens' access to guns, calling gun owners a "force multiplier" in combating the nearly daily Palestinian stabbing and car-ramming attacks since September.
Channel 2 reported Saturday that Erdan was examining further easing citizen access to guns to prevent another situation like Friday's in which the shooter escaped.
Gun permits are required for owning guns in Israel. While gun laws vary in different U.S. states, in Israel licensed gun owners are free to carry their guns at all times. In addition, off-duty police and IDF soldiers carry their guns off their bases. Erdan was also considering a move to allow those employed as security guards to take their weapons home, Channel 2 reported.
Prime Minister Benjamin Netanyahu announced Sunday that in the coming days, police would begin "collecting illegal weapons that are found in very great quantities in the Arab sector."
"The citizens themselves are suffering there; they are suffering from increasing crime," Netanyahu said, referring to crime in Arab towns.
Israeli police have not said if Friday's attack was motivated by Palestinian nationalism. Netanyahu's statement described the gunman as the "Tel Aviv murderer." Following previous attacks, he and other government ministers have referred to the attackers as "terrorists."
The suspect's father — a police volunteer who reported that his son was the man seen in security video — told Israeli media that his son was under psychiatric care, while another relative of his said he was "not of sound mind."
However, Channel 2 reported that investigators were trying to determine if the gunman had an accomplice, which would strengthen the terrorism motive.