In a wide-ranging interview with Vanity Fair, Megyn Kelly, host of "The Kelly File" on Fox News, revealed 12 tough questions she has for public figures from Caitlyn Jenner to Brian Williams, from Ted Cruz to Hillary Clinton.
During the interview, Kelly also addressed a controversy that erupted after she asked Republican presidential candidate Donald Trump a tough question at the Fox News GOP debate in August and revealed that Trump allegedly tried to garner her support through flattery prior to the launch of his presidential campaign.
"He would send me press clippings about me that he would just sign 'Donald Trump.' And he called from time to time to compliment a segment. I didn't know why he was doing that," Kelly said. "And then when he announced that he was running for president, it became more clear."
"But I can't be wooed. I was never going to love him, and I was never going to hate him," Kelly added.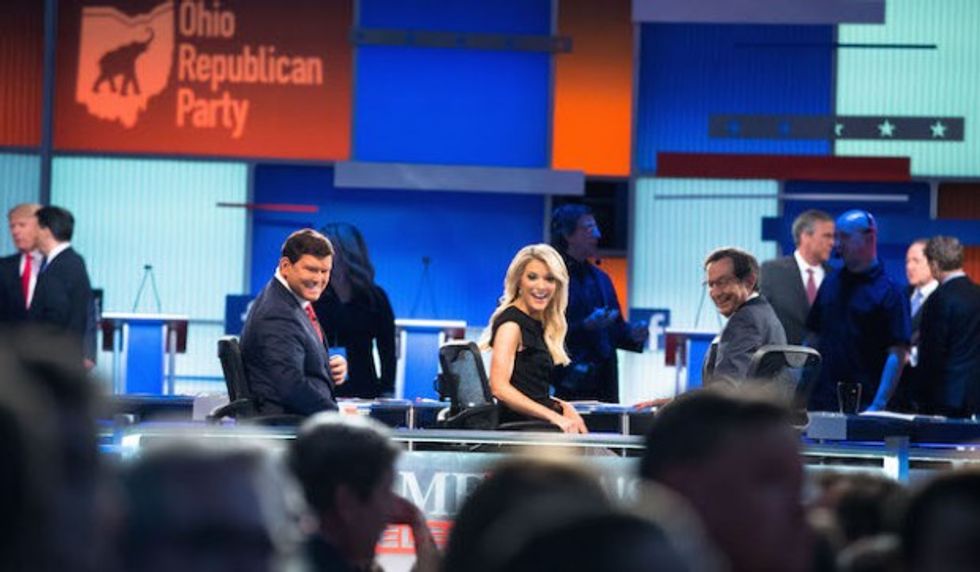 From right, Fox News moderators Chris Wallace, Megyn Kelly and Bret Baier wait through a television commercial break during the first Republican presidential debate at the Quicken Loans Arena Aug. 6, 2015, in Cleveland. (AP Photo/John Minchillo)
Kelly also addressed Trump's criticism of her line of questioning during the debate about various statements he had made in reference to women.
During the August debate, Kelly asked Trump:
"You've called women you don't like fat pigs, dogs, slobs, and disgusting animals. … You once told a contestant on Celebrity Apprentice it would be a pretty picture to see her on her knees. Does that sound to you like the temperament of a man we should elect as president, and how will you answer the charge from Hillary Clinton … that you are part of the war on women?"
"I wrote it. I researched each line item myself," Kelly said. "It was interesting to me after the debate when people started fact-checking my question. My own reaction was 'Bring it on.' You think I'd go out there and ask a question like that at the first GOP debate without making sure I was bulletproof on every single word?"
Kelly said that her fellow moderators at the debate — Chris Wallace and Bret Baier — warned her that "there clearly was going to be pushback" to her question.
Kelly was determined to ask the question — even though she had been ill the morning of the debate.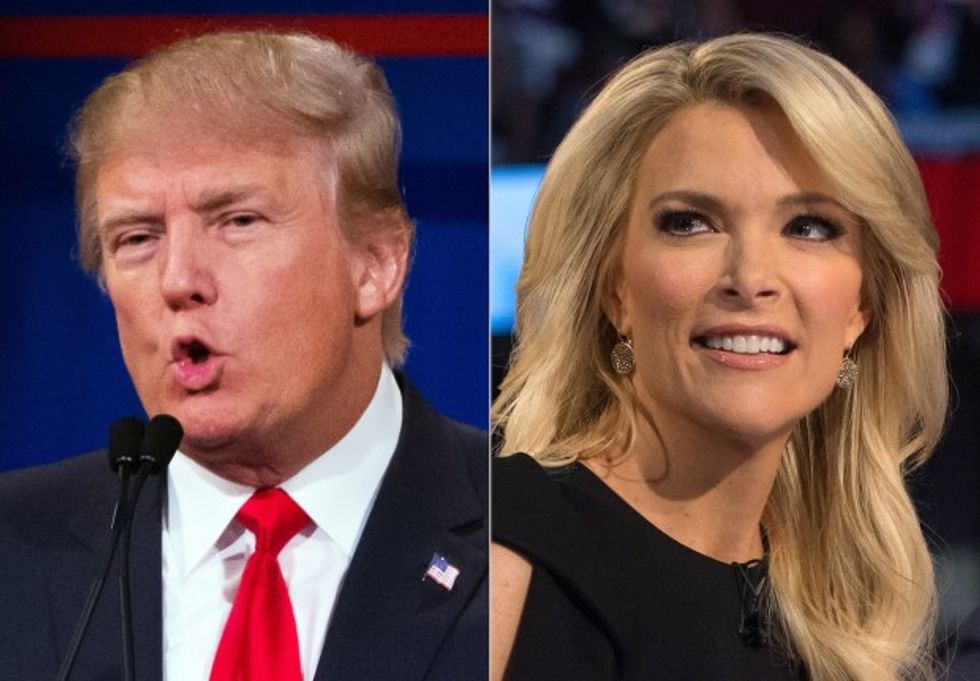 AP Photo/John Minchillo
"I would have crawled over a pile of hot coals to make it to that debate," Kelly said. "No one was going to be sitting in for me, reading my questions. And I can say with confidence that neither Bret nor Chris wanted to read my questions — for many reasons!"
According to Vanity Fair, Kelly "did the debate with a blanket over her legs and a bucket to throw up in by her side."
Her fellow moderators were correct — there was pushback to Kelly's question. Referring to Kelly's questioning, Trump said, "You could see there was blood coming out of her eyes. Blood coming out of her — wherever."
In the resulting controversy surrounding the question, Kelly said, "I felt like Alice Through the Looking Glass."
According to Vanity Fair, Kelly enjoyed a 9 percent increase in her viewership following the controversy.
Kelly also revealed that another Republican presidential candidate didn't appreciate her tough questions.