At least 50 residents in Williamson County, Texas, are taking issue with a local museum's Civil War-themed public dance because it would show "white privilege."
The controversial "Old South Ball," which is supposed to be a fundraiser for the Williamson Museum in Georgetown, Texas, is scheduled for Jan. 30 at the historic Williamson County Courthouse. Participants are being asked to dress in costume from the Civil War era, will dance to tunes from the 1860s and partake in refreshments similar to the ones served during that time, the Austin Statesman reported.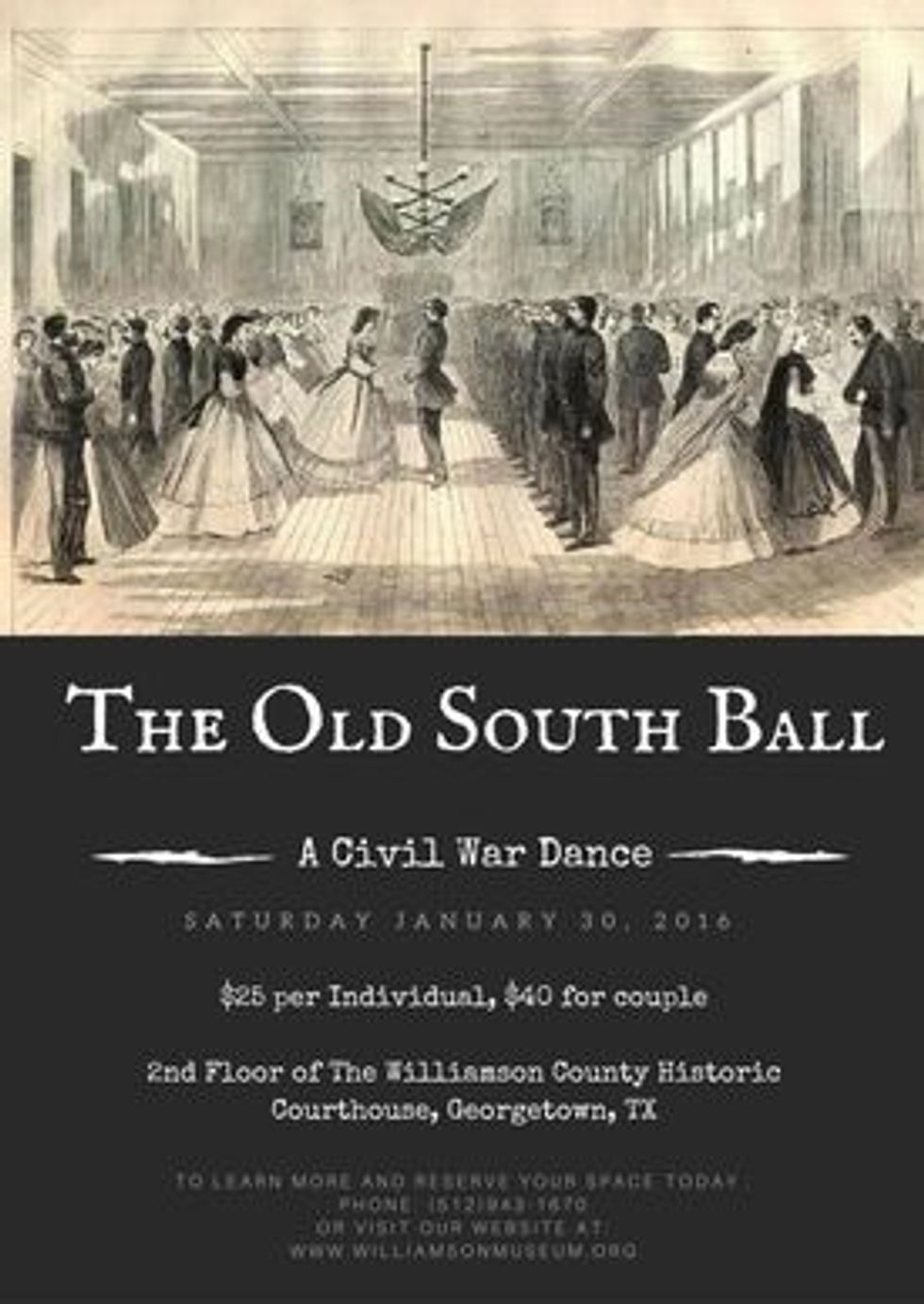 Image source: Austin Statesman
A group called "Positive Change for Georgetown" is sponsoring a petition, which at least 50 people have now signed, that asks the museum to reconsider its theme.
"A grand Southern Ball with uniformed soldiers and ladies in grand antebellum dresses does not in any way accurately reflect the period or time in Williamson County. Back in the 1860s, a party would more likely have been a small dance in day clothes at someone's house," the petition says. "What is being created is a slaver's plantation ball with all the finery and trimmings and glory of the Deep South."
Georgetown resident Dr. Sherwin Kahn, who helped start the petition, criticized the event, saying, "There is nothing more white privilege than an old Southern ball."
"Do we really want that to be the message sent to the county that has mixed races?" Kahn asked.
And Lou Snead, another Georgetown resident, suggested the theme could even promote segregation.
"It feels like it's a party for white folks, although they probably didn't intend it to be that," Snead said. "You may call it kind of a politically correct backlash, but what we're calling for is a sensitivity to the racial history issue and how white privilege kind of overlooks or denies the ugly history about racism."
But Mickie Ross, executive director of the museum, said the fundraiser is not meant to promote slavery — or war for that matter.
"We are just telling the story of the people who lived here during the Civil War," Ross told the Statesman. "This is not a Tara 'Gone with the Wind' event; it's a very simple dance."
Tommy Gonzalez, a member of the Georgetown City Council who loaned some of the Union and Confederate medals as well as other Civil War artifacts he has collected to the museum for the Civil War exhibit, said he sees nothing wrong with the dance.
"It's an old Southern custom," Georgetown city council member Tommy Gonzalez added. "People try to add connotations to things, and that's usually where they go wrong."
(H/T: Austin Statesman)