Nearly 570,000 British citizens have put their names to a petition to ban Republican presidential candidate Donald Trump from entering the United Kingdom.
After Trump first suggested temporarily barring all Muslims from entering the United States back in November, Britons filed a petition to deny the controversial political figure entry into their country.
So far the petition has garnered in excess of 568,000 signatures — more than five times the number of signatures required for Parliament to review the subject for debate.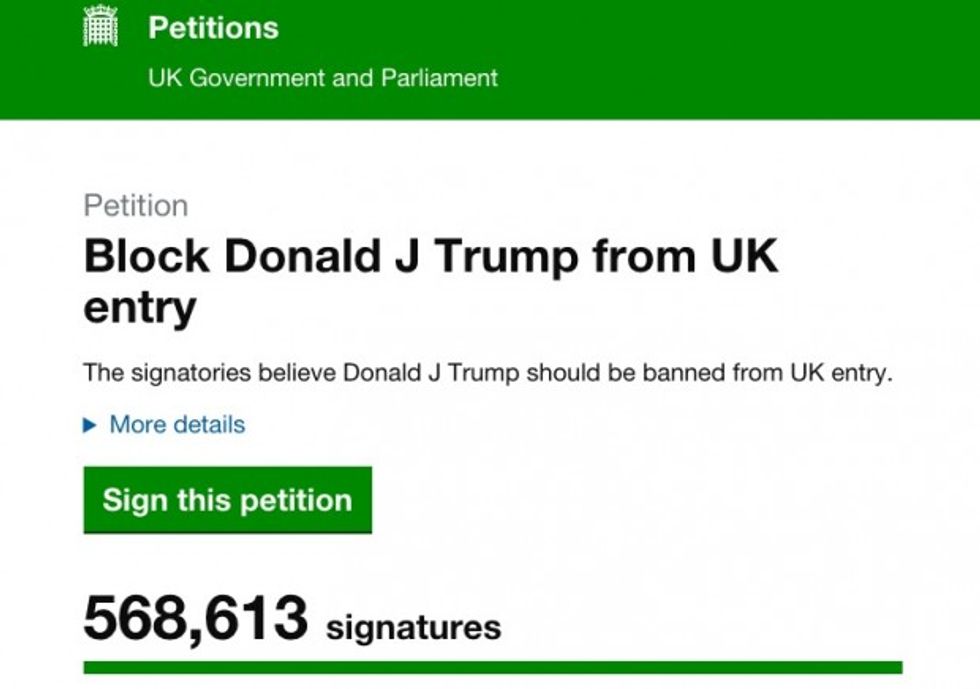 Image source: U.K. Government and Parliament.
"The U.K. has banned entry to many individuals for hate speech," the petition stated. "If the United Kingdom is to continue applying the 'unacceptable behaviour' criteria to those who wish to enter its borders, it must be fairly applied to the rich as well as poor, and the weak as well as powerful."
The government responded to the petition, saying that "coming to the U.K. is a privilege and not a right" and that if necessary, it is prepared to ban those who "seek to harm" British society or oppose basic British values.
"The Prime Minister has made clear that he completely disagrees with Donald Trump's remarks. The Home Secretary has said that Donald Trump's remarks in relation to Muslims are divisive, unhelpful and wrong," the response read.
Acknowledging the petition, the government wrote that it "recognizes the strength of feeling against the remarks and will continue to speak out against comments which have the potential to divide our communities, regardless of who makes them."
Parliament is scheduled to debate the petition to bar Trump from crossing British borders Jan. 18.