President Barack Obama when announcing executive actions on gun control, said some "constraints on the freedom" are acceptable to protect innocent people.
"This is a ritual about this whole thing that I have to do. I believe in the Second Amendment. It's there written on the paper," the president said in the East Room Tuesday morning, flanked by family members of people killed in mass shootings. "It guarantees a right to bear arms. No matter how many times people try to twist my words around, I taught constitutional law and I know a little bit about this."
However, Obama noted that 30,000 people are killed by guns each year.
"I also believe that we can find ways to reduce gun violence consistent with the second amendment," Obama said. "I mean, think about it. We all believe in the First Amendment, the guarantee of free speech, but we accept that you can't yell fire! in a theater. We understand that there are some constraints on the freedom in order to protect innocent people. We cherish our right to privacy, but we accept that you have to go through the metal detectors before being allowed to board a plane."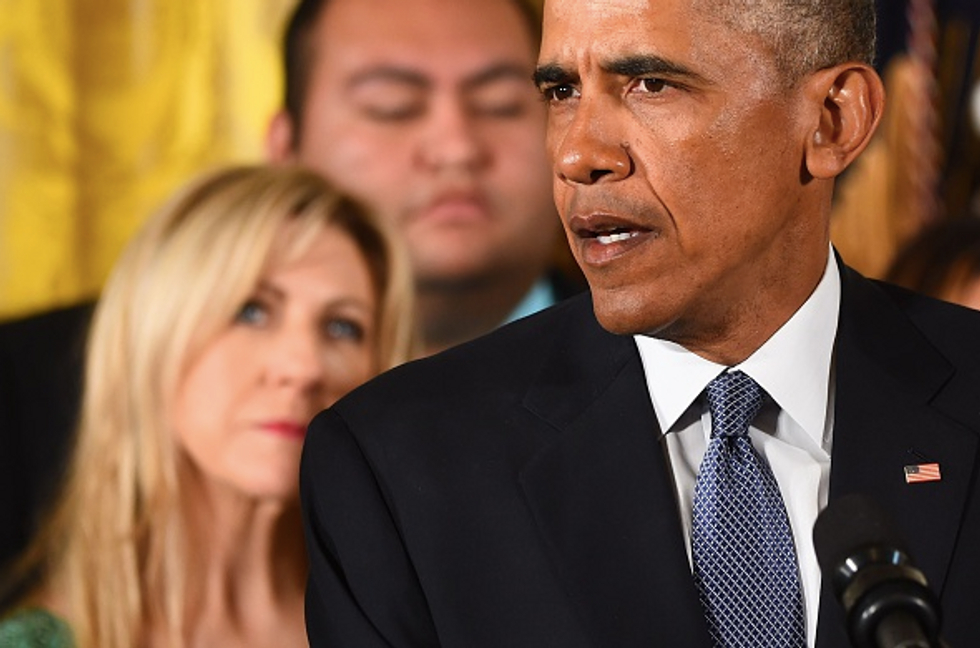 President Barack Obama delivers a statement on executive actions to reduce gun violence on January 5, 2016 at the White House in Washington, DC. (JIM WATSON/AFP/Getty Images)
Obama also attacked the National Rifle Association and other organizations. "The gun lobby might be holding Congress hostage, but they cannot hold Americans hostage," Obama said. "We cannot accept this carnage as the price of freedom."
But he said the right to worship and right to assembly has been infringed on by mass shootings in churches, schools and movie theaters.
"Every time I think about those kids it makes me mad, and by the way, it happens on streets of Chicago every day," Obama said, seeming to choke up and become silent.
One of the core pieces of his package of executive actions on guns is expanding the background check requirement — something Obama has failed to push through Congress.
What isn't clear is whether the Obama administration is simply increasing enforcement of existing regulation — which already requires a licensed firearms dealer to conduct a background check at a gun show — or if the administration will expand background check requirements to other gun sellers. Legal experts said the constitutionality of the executive action weighs on whether the administration is seeking to redefine a gun dealer.
Additionally, the White House has been vague thus far, asserting only, "The Bureau of Alcohol, Tobacco, Firearms and Explosives (ATF) is making clear that it doesn't matter where you conduct your business — from a store, at gun shows, or over the Internet: If you're in the business of selling firearms, you must get a license and conduct background checks."
Federal law, U.S. Code 18, Section 921, defines who can be regulated as a gun dealer as: "a person who devotes time, attention, and labor to manufacturing firearms as a regular course of trade or business with the principal objective of livelihood and profit through the sale or distribution of the firearms manufactured." The law clearly notes that  "such term shall not include a person who makes occasional sales, exchanges, or purchases of firearms for the enhancement of a personal collection or for a hobby, or who sells all or part of his personal collection of firearms."
Further, the ATF is finalizing a regulation to require background checks for anyone trying to buy weapons deemed to be the most dangerous from a trust, corporation or other legal entity, while the FBI is hiring more than 230 additional staff to help process background checks and to overhaul the system.
Other actions Obama announced were less far reaching, while some are budget requests: The president will direct the Departments of Defense, Justice and Homeland Security to jointly research the availability of smart gun technology.
The 2017 White House budget proposal will request another 200 ATF agents. The ATF has also established an Internet Investigation Center to track illegal online gun sales and will be spending $4 million on the National Integrated Ballistics Information Network.
The administration will also propose $500 million more in spending to mental health care.
"We are the only country on earth that sees this kind of mass violence erupt with this kind of frequency," Obama said. "It doesn't happen in other advanced countries. It's not even close. Somehow we've become numb to it and start thinking this is normal. Instead of thinking about how to solve the problem, this has become one of our most polarized partisan debates."
"We know we can't stop every act of violence, every act of evil in the world," Obama said. "But maybe we could try to stop one act of evil, one act of violence."
Republican National Committee Chairman Reince Priebus said this is a case of Obama seeking to bypass Congress and the Supreme Court, which has already reaffirmed the right of gun ownership.
"The recent tragedies that have gripped our country are heartbreaking, but none of the unilateral restrictions President Obama is proposing would have prevented them, making his proposal all the more insulting and political," Priebus said. "The truth is, this executive overreach is all about burnishing the president's legacy and boosting Democrat enthusiasm in a presidential election year. But that's no excuse for subverting the will of the people's representatives in Congress, and the American people won't tolerate President Obama's dangerous power grab."