Tech news website Recode reported Tuesday morning Twitter was considering extending its signature 140-character limit to a far less demanding 10,000 characters — and Twitter CEO Jack Dorsey just confirmed the rumors in, what else but, a 10,000-character post.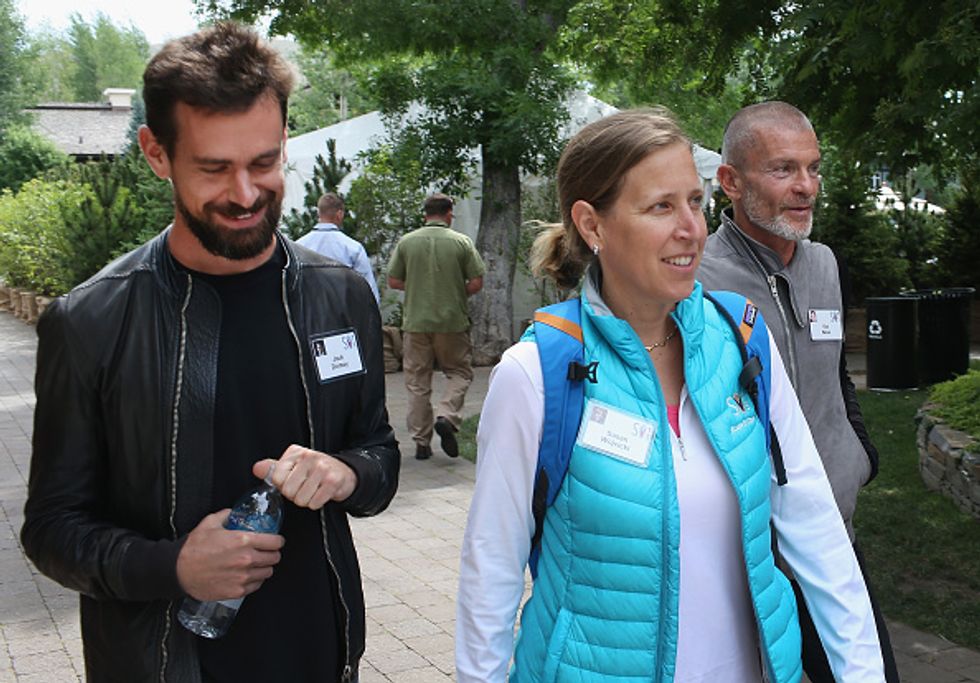 Jack Dorsey (L), co-founder of Twitter and founder and CEO of Square, Susan Wojcicki (C), CEO of YouTube and Aviv 'Vivi' Nevo, venture capitalist, attend the Allen & Company Sun Valley Conference in July 2015. (Photo by Scott Olson/Getty Images)
In the post, Dorsey noted that Twitter didn't always have its iconic 140-character limit, which he acknowledged to be a "beautiful constraint" for Twitter users. He wrote, however, that the company sees the 10,000-character limit as having the potential to add more "utility and power" into the service.
"We've spent a lot of time observing what people are doing on Twitter, and we see them taking screenshots of text and tweeting it," Dorsey explained.
Simply put, the people get what the people want.
Dorsey indicated that expanding the character limit would make it possible to search and highlight longer sections of text, rather than having to transcribe words from a screenshot.
He also praised the tweetstorm, which has become a popular method used by individuals to tell longer stories on the social media platform.
Dorsey did not say that the company would get rid of the 140-character limit, though he made it clear that the idea was being thought over by Twitter higher-ups such as himself.
To the Twitter diehards still upset over the company's move to replace its traditional 'favorite' button with the new 'like,' Dorsey seemed to think that they won't know if they 'like' the new character limit until they try it.
Read Dorsey's augural tweet here:
—